Diwali is one of the most popular holidays in India and it's even celebrated around the world by Hindu people. The festival lasts 5 days, and in 2022, it will go from October 22nd until October 26th, with different rituals each day.
During those 5 days, the celebration focuses on cleaning the house, buying new items for your home, and exchanging gifts with people you love. Other traditions include acquiring kitchen utensils to bring good fortune. On these dates, locals also celebrate the Hindu New Year. For this reason, most of the rituals are associated with reset and a new start.
Before you start dreaming about Diwali, you can confirm with iVisa.com which travel documents you'll need for a smooth entry to India. The Tourist eVisa may be necessary for your trip. Before returning to the US, you may need to have the eMed self-testing COVID-19 kit online. This testing kit will permit you to have your required COVID test results.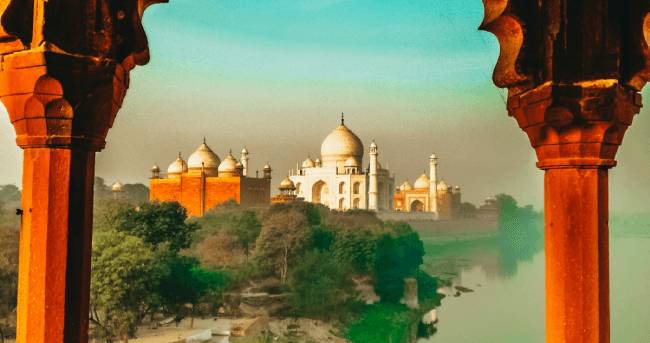 TRAVELING TO INDIA FOR DIWALI
Once you decide to celebrate Diwali in India, you must check whether you need the Tourist eVisa or not. Over 160 nationalities need to have this travel document before traveling to India. You can use the Visa Checker on our homepage to confirm which India visa you need to travel to India from your country of origin or nationality.
You will also need to obtain the India Self Declaration Form, pre-arrival, as well, you can add the form onto your visa application if you decide to process it with us.
WHAT IS DIWALI?
Diwali is a massive celebration in India that has expanded to most parts of the world, where Hindus have established themselves. The name comes from Deepawali, a Sanskrit word that means row of clay lamps. Therefore, during the celebrations, people in India will light lamps outside their houses to show their inner light safeguards them from the darkness. The holiday symbolizes the triumph of good over evil.
The celebration is about the return of Rama and Sita, two deities, to Ayodhya, an ancient city in India. Locals will light around 1 million lamps in total, along the river banks. According to local belief, Ayodhya is the birthplace of Lord Ram, and he returns home after fighting against a demon. All of India celebrates Diwali with fireworks and music.
International travelers are welcome to join the celebrations and have fun with these rituals and overall festivity.
WHAT ARE THE DATES FOR DIWALI?
Diwali lasts 5 days, and each day rituals and celebrations are different:
Diwali Day 1: October 22nd, 2022 Trayodashi - Dhanteras
Diwali Day 2: October 23rd, 2022 Chaturdashi - Choti Diwali
Diwali Day 3: October 24th, 2022 Amavasya - Diwali
Diwali Day 4: October 25th, 2022 Pratipada - Padwa *Diwali Day 5: October 26th, 2022 Dwitiya - Bhai Duj
Still, the most relevant date is October 24th.
Frequently Asked Questions
WHAT IS THE INDIA TOURIST EVISA?
The Tourist eVisa for India is the official electronic travel document that allows you entry to India for tourism. It permits a stay of 30 days in Total and a Double Entry. Also, it's only available for tourism. If you want to travel for medical or business reasons, you need to apply for another type of travel visa.
WHAT ARE THE CURRENT COVID GUIDELINES IN INDIA?
First of all, you don't need a COVID vaccine to enter India, but we recommend being fully vaccinated before travel.
Unvaccinated travelers must take a PCR test within 72 hours before arrival and show a negative result. Children under 5 and travelers with recognized proof of vaccination are exempt from taking the test. Travelers will be considered fully vaccinated if 15 days have passed since the completion of a COVID-19 vaccination schedule.
2% of arrivals are tested, if your country is considered at risk, you may be eligible for a test on arrival. There are currently no quarantine rules in place for travel to India. As these health protocols can change at any moment, we recommend checking our India Tourist eVisa product page for the most updated details about traveling to India during the pandemic.
WHAT IS THE APPLICATION PROCESS WITH IVISA.COM?
iVisa.com provides an easy to use platform to process your application. All you need to apply is the following:
Valid passport: Send us the scan of your information page.
Applicant photo - If you don't have a recent passport-style photo you can obtain one in no time using our passport photo service.
Email address: Expect electronic communication from us.
Payment method: Pay for the service with a credit or debit card.
WHAT ARE THE COSTS AND PROCESSING TIMES?
Standard processing time:

5 days

-

USD 70.62

Rush processing time:

3 days

-

USD 100.62

Super Rush processing time:

36 hours

-

USD 135.62
CAN I RELY ON IVISA.COM?
Of course! We have been providing travel documents for years. We can help you with the Tourist eVisa and any other travel requirement for your trip to India. Explore the reviews from our previous customers to confirm the safety and efficiency of our services.
I HAVE MORE QUESTIONS. WHO CAN HELP ME?
Connect with our incredible customer support agents team, available 24 hours a day.
iVisa.com Recommends
India has so much to offer the world. Don't miss the famous Taj Mahal. This massive building is a testimony to the power of love. Emperor Shah Jahan built this mausoleum upon the death of his wife in 1631. The construction lasted until 1648. We invite you to appreciate the Islamic design, such as arches, minarets, the dome, and gorgeous entrances. The delicate floral patterns and precious stones complete this incredible place. We recommend visiting during dawn or dusk to get the best pictures. Also, try to catch the reflection of the Taj Mahal on the bank of the Yamuna River.
Continue with the Holy City of Varanasi, a site dating back to the 8th century BC, one of the oldest places in the world. Varanasi is a pilgrimage center for Hindus and venerated dye to the Ganges River, a religious symbol for Hindus. Check the Old Quarter, where you can see the beautiful Kashi Vishwanath Temple, built-in 1780. Also, you can explore the New Vishwanath Temple which offers seven temples within.
Explore Hyderabad's Mecca Masjid, one of the largest mosques in the world. The construction started in 1614, and it took about 80 years to complete. Mohammed Quli Qutub Shah led this construction. It can accommodate 10,000 worshipers, and it features 15 arches and pillars. Also, you can explore the huge plaza, main gateway, and a large pond. India has all you want from a destination. What are you waiting for?