India is one of the countries most visited by Canadians. Due to its great cultural diversity, beautiful landscapes, gastronomic diversity, and also because it attracts attention to customs that one is not used to seeing normally in certain countries this destination has become one of their favorites. Truly knowing a new culture with a different reality than Canada is what draws the attention of thousands of Canadians.
Despite how wonderful that country can be, you should know that it is not such a safe country. But, if you take all precautions, you will not have any problem while you are in the Indian territory.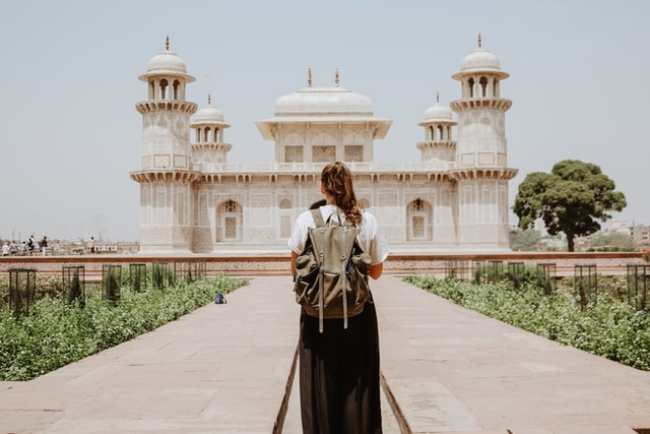 This blog will present to you everything you need to know about India so that in this way you are not surprised by certain customs and beliefs. In other words, there is no culture shock. In addition to that, we will let you know how to be informed and alert in real-time during your journey in this gorgeous country.
Many times we ask ourselves:
Is India safe for Canadians?
This is a safe nation; nonetheless, as everywhere you have to be aware of any circumstance that may happen, in reality, it is not a big deal because we live it day by day in thousands of countries. In addition to this, it is important that when you are in this territory you respect and understand the traditions, cultures, and beliefs.
Although we see that it is a country that has certain traditions and restrictions, we must not stop visiting India, since it has many things to explore.
While it is true today we are facing a global pandemic due to Covid-19, that does not mean that we do not stay informed of everything that India has for tourism and among other activities. Moreover, it's vital to acquire an Embassy Registration so that you can stay alert in case of an emergency that can occur in India, such as the health emergency that we are experiencing due to Covid-19.
It is now where you must read more about this nation and plan your next destination in advance and take all the necessary measures.
So, what is an Embassy Registration?
It's a registration that is carried out online and your personal information is required so that in this way everything is registered. Also, this registration gives you some benefits like assistance in the event of an emergency (natural disasters, dangerous situations, or pandemics like Covid-19.
Why is it important to receive safety alerts from the Embassy?
It is very crucial to always be alert to any situation that may happen. That is why we want to make you aware of this registration that is made through the page of the Indian Embassy. For this, it is vital to have a valid email address. We provide this service to make your life easier, which means that we do all this process for you, and once we have finished, you will automatically start receiving notifications. Definitely, these messages will keep you alert to many things that happen in India.
When we plan to travel, and even more to countries that are vastly different from where we live, we must seek more information.
Indian Security advises for Canadians:
Now, we will let you know some essential aspects that you need to keep in mind before traveling to this wonderful country.
1. How safe is the public transportation in India for Canadians?
Transportation is not very safe in India, due to the informality that exists and in the streets, you will see many Rickshaws (motorcar) that generate real chaos in the streets and this causes a lot of theft because the same citizens of that country take advantage of the foreigners to be able to take away their belongings and sometimes one as a foreigner usually carries travel documents and money.
A good option is to take a taxi per application from your smartphone since this is safer. But, you should know that there is the option to be able to take a wagon especially for women in case you want to go to more distant places, that way, you will not feel uncomfortable and you could be safer there.
If you want to take these Rickshaws, do it, but remember to be very careful with your personal items.
2. Why be very careful with health safety?
This is an extremely important question because without health there is nothing. That is why I must tell you that in India there are certain very common diseases such as malaria, dengue, cholera, diphtheria, Chikungunya fever, and so on.
It is worth noting that many visitors request travel insurance so that this can cover any accident they have during their stay in the Indian territory. In addition to that due to the Covid-19, it will be important to show a Health Declaration to enter India. So, do not forget to take the necessary measures to avoid any problem with your health.
If you want to know more about this new service that we have about the Health Declaration Form, you can enter on this page.
IMPORTANT: If you are a person with a disease and you always need to take certain medications, do not forget to always take them with you on your trip.
3. Is it safe for a woman to walk alone through the streets of India?
It is really recommended that women go out with someone else to avoid making them feel uncomfortable; however, it should be mentioned that in the streets of India, there will be men who when they realize that there are foreign women, they will start to whistle or flirt so if you as a woman do not like those things, you should simply look at them with a very serious look and they will understand that they shouldn't bother you anymore. In addition, it is recommended to reject any type of invitation by unknown people such as drinking water, tea, and other drinks in the areas of the tourist circuits, especially in the Paharganj area of Delhi.
4. Is there any kind of harassment of women in India?
For many years until today, in India, there is a lot of harassment of women, and this is due to the male chauvinism that exists in that country. To avoid any problems, foreign women must first respect the culture that India has such as dressing correctly without showing legs, shoulders, trying to cover the head with a cloth if possible. Asking you for this may be very uncomfortable for you, but if you really decide to travel to India and do not want to feel that someone is looking at you very strangely and with very bad intentions then try to take certain precautions regarding clothing.
5. Are there many pickpockets around the cities of India?
Talking about this is very common since it not only happens in the Indian territory but in different nations of the world, so it is important to emphasize that when you travel to any country you must be very careful with the things you carry such as purse, backpack, wallet or even with the things that you can have in your pocket, that way, you can avoid having something stolen; however, this does not mean that India is not a safe country to travel, visit, and enjoy all the beautiful things it has. Just take into account that wherever you go you must be very careful with your personal things.
IMPORTANT: Truly the country of India is quite a fantastic place to travel and explore new adventures and experiences. Unfortunately, today due to the coronavirus pandemic, some travel restrictions have been made so that for now you cannot enter the country. For this reason, it is important to stay informed in order to take the necessary measures and the importance of being able to have an Embassy Registration must also be highlighted.
In conclusion, India is a safe country to visit. But, remember that not all streets in India are 100% safe. So you should always be very careful when you are on the streets. Also, many times when we are in another country, we do not see or read news about what is happening in that country and that is why we suggest you register at the Indian Embassy in case something happens. For example, due to Covid-19, now the Canadian Embassy located in India is looking at ways to return many people to their home country.
If you are one of the people who does not like to be aware of everything that can happen in a country, then we recommend that you request this service that will really facilitate your life in a very effective way, since that way you will receive different messages with different information about India.
Do not miss the opportunity to get this Embassy Registration us. We will do that work for you.
If I have more questions about this service, where can I have more info?
In case you need some help, do not hesitate to contact us at any time, just click here and our customer support team will be happy to assist you by chat. We are available 24/7.
Do not leave for tomorrow what you can do today, request your Embassy Registration with iVisa.com now!