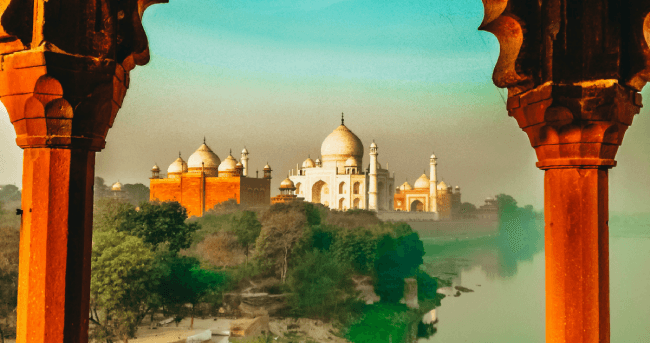 India is a beautiful country, and if you want to enjoy everything that the amazing country of India has to offer, it's important to know all about the India Vaccination requirements. Getting all the necessary vaccines and documents, is just part of planning your trip so you can enjoy your experience to the fullest.
One of the mandatory forms to fill in pre-arrival is the Self Declaration Form which you can acquire in 3 simple steps with iVisa.com. In this article, we'll share with you some essential information about the vaccination requirements to visit India and some handy tips and tricks to make the most of your trip, be well prepared and avoid any infectious diseases during your trip to India.
Which vaccines do I need to travel to India?
You are not required to get any vaccines before your trip to India. However, if you have travel plans to India and to avoid any risk, it is recommended to have the following vaccines up to date: hepatitis A, hepatitis B, typhoid, cholera, yellow fever, Japanese encephalitis, rabies, polio, and tetanus. It's essential to carry the vaccination certificates.
Bear in mind that a yellow fever vaccination is mandatory for travelers arriving from countries regarded as having a high-risk of yellow fever transmission. If you come from the countries below, you'll be required to present a yellow fever vaccination certificate upon arrival.
In Africa, the countries are Angola, Benin, Burkina Faso, Burundi, Cameroon, Central African Republic, Chad, Congo, Côte d'Ivoire, the Democratic Republic of the Congo, Equatorial Guinea, Ethiopia, Gabon, Gambia, Ghana, Guinea, Guinea-Bissau, Kenya, Liberia, Mali, Mauritania, Niger, Nigeria, Rwanda, Senegal, Sierra Leone, Sudan, South Sudan, Togo, and Uganda.
In the Americas: Argentina, Bolivia, Brazil, Colombia, Ecuador, French Guiana, Guyana, Panama, Paraguay, Peru, Suriname, Trinidad and Tobago (Trinidad only), and Venezuela (the Bolivarian Republic of Venezuela).
Additionally, due to the current health emergency, it's recommended that travelers get a COVID-19 vaccine. This is not a mandatory requirement when traveling to India, but those travelers who have received at least two doses of a valid COVID-19 vaccine and have their certificate can skip other requirements, like PCR testing.
What are the requirements for my COVID-19 vaccination certificate?
It is not mandatory to be fully vaccinated to travel to India, but it is highly recommended for international travel. If you have a recognized vaccination certificate, you are exempted from testing requirements.

Vaccine certificates from Albania, Algeria, Andorra, Angola, Antigua & Barbuda, Argentina, Armenia, Australia, Austria, Azerbaijan, Bahamas, Bangladesh, Bahrain, Belarus, Belgium, Bhutan, Brazil, British Virgin Islands, Brunei, Botswana, Bulgaria, Canada, Cambodia, Cayman Islands, Chad, Chile, Colombia, Dominica, Costa Rica, Côte d'Ivoire, Croatia, Cuba, Cyprus, Czech Republic, Denmark, Dominican Republic, Ecuador, Egypt, El Salvador, Estonia, Eswatini, Finland, France, Gabon, Georgia, Germany, Grenada, Guatemala, Guyana, Honduras, Hong Kong, Hungary, Iceland, Indonesia, Iran, Iraq, Ireland, Israel, Italy, Jamaica, Japan, Kazakhstan, Kenya, Kuwait, Kyrgyzstan, Laos, Latvia, Lebanon, Liberia, Liechtenstein, Lithuania, Malaysia, Maldives, Mali, Mauritius, Mexico, Moldova, Mongolia, Morocco, Mozambique, Myanmar, Namibia, Nauru, Nepal, New Zealand, Netherlands, Nicaragua, Nigeria, North Macedonia, Norway, Oman, Paraguay, Panama, Peru, Poland, Portugal, Philippines, Qatar, Fiji, Republic of Korea, Romania, Rwanda, St. Kitts and Nevis, San Marino, Saudi Arabia, Serbia, Seychelles, Sierra Leone, Singapore, Slovakia, Slovenia, South Africa, Spain, Sri Lanka, Palestine, Suriname, Sweden, Switzerland, Syria, Taiwan, Thailand, The United Kingdom, Trinidad & Tobago, Turkey, Turks & Caicos Islands, UAE, Uganda, Ukraine, United States of America, Uruguay, Venezuela, Vietnam, Zimbabwe are accepted.

Travelers will be considered fully vaccinated if 15 days have passed since the completion of a COVID-19 vaccination schedule.
Besides the vaccination certificate, you'll also need to complete an India Self Declaration Form to enter India. We'll share more information about this mandatory document below.
Since the information regarding COVID-19 restrictions changes rapidly, we recommend that you stay tuned to our product page. We have created a user-friendly widget that will give you a bird's eye view of all COVID-19-related restrictions. You can find it on the right side of the page.
Are there other COVID-19-related requirements to enter India?
Most travelers entering India will need to present a negative PCR test on arrival. The test cannot be older than 72 hours before their arrival in India. People who have a full vaccination schedule against COVID-19 are exempt from taking the test as long as they carry a valid COVID-19 vaccination certificate. Children under 5 are also exempt from testing.
There's a test on arrival enforced randomly to 2% of all incoming travelers.
There are no quarantine requirements. Travelers don't need to have health insurance, though it is recommended to protect yourself in case of severe disease.
All international travelers must process their India Self Declaration, a health form that provides the Indian government with the necessary information to assess the risks related to the pandemic. All arrivals, both foreign and nationals, must get this document before their trip.
How can I apply for the India Self Declaration?
It's quite easy. If you are traveling to India, besides a tourist visa depending on your nationality, all you need to do is fill out an online application form. You'll have to provide information about your health and recent trips. Unvaccinated travelers will need to provide a negative PCR test result to obtain the health declaration. Fully vaccinated travelers need to provide a vaccination certificate.
After you complete the form and upload your documents. Our team of travel experts will check everything is correct before processing it. You'll get your document via email.
If you are applying for another product with us regarding your trip to India you can simply add the Self Declaration Form to your India eVisa application.
Get your India Self Declaration
What are the costs and processing times for the Self Declaration?
We offer all travelers three options for processing their application:
Standard Processing Time:

24 hours

-

USD 30.99

Rush Processing Time:

8 hours

-

USD 67.99

Super Rush Processing Time:

4 hours

-

USD 98.99
What other documents do I need for my trip to India?
Besides your vaccination certificate and your Self Declaration, some countries require an Indian visa. The Tourist eVisa can be processed online through iVisa.com. To get your Indian visa all you need is to fill out an application form, upload some documents, and pay the fee. We recommend using our visa checker tool to confirm if you need an Indian visa.
What additional health precautions should I consider for my trip to India?
If you have all your vaccines up-to-date, you're one step ahead in protecting yourself from India's endemic diseases. However, you cannot let your guard down if you want to enjoy every hour in the country. Many common diseases afflict travelers, but there are also easy ways to reduce risks.
How to prevent Delhi Belly (Traveler's diarrhea)
This is a widespread illness that affects up to 70% of travelers that visit India. The causes can be different from traveler to traveler, from viral or bacterial infections to gastrointestinal intolerances or foreign cuisine. To prevent Delhi Belly, you'll need to be intelligent and cautious.
Wash your hands - It might sound obvious, but we touch many things when we travel, and then touch our faces and mouths, and that's the perfect passageway for bacteria and viruses to enter our body. Especially in India, where it's customary to eat with our hands, there's an increased risk of getting contaminated food into your body. That's why it's essential to wash your hands frequently.
Watch what you eat and drink - If possible, drink bottled water or beverages. Do not drink anything with ice, as it might be made with tap or unclean water. And by all means, use your judgment when selecting a place to eat to avoid contaminated food. Avoid street carts if you have a susceptible digestive tract and always be careful when choosing a restaurant.
Be prepared - If all fails, you need to be ready to face it. If possible, bring Imodium and antibiotics to treat your symptoms.
Tips to avoid mosquito bites
Malaria, dengue fever, yellow fever, and Japanese encephalitis are all transmitted via mosquito bites, so you'll need to take some precautions to avoid them as much as possible. The first thing you need to do is get a good insect repellent. Apply it every day before you leave your hotel and reapply regularly during the day, especially if you're visiting rural areas, the jungle, or the riverside. Mosquitos are most active in the early hours of the morning, and at sundown, so you'll need to be extra careful during this time.
Another thing you need to consider is covering exposed skin. India is warm, so you'll be tempted to wear shorts and tank tops. Instead, bring pants and long-sleeve shirts made of fresh fabrics like linen and cotton. They will protect you from mosquito bites, damaging sun rays, and heat.