Traveling to India is a journey that always causes emotion, regardless of your nationality or background. This country is very attractive and stands out for its cultural richness and its various traditions. For that reason, you should not ignore it if you plan to tour this part of Asia.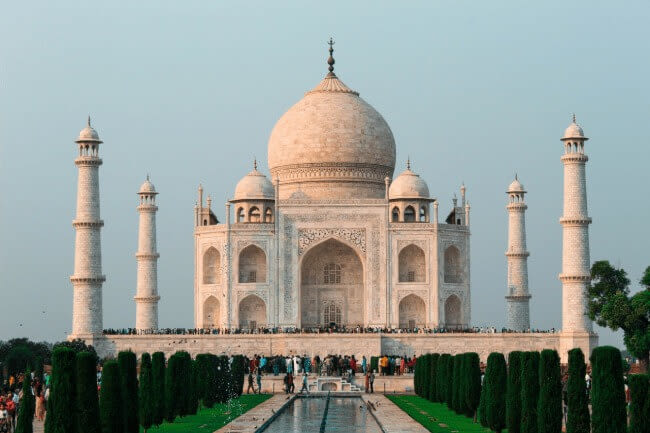 Also, if you have a Bruneian passport, you're in luck. It's very easy for you to obtain an India visa for Bruneian because you'll only have to complete an online form and that's it.
At iVisa.com we can help you with this process, but if you don't want to feel lost when you do it, we invite you to read the following list of frequently asked questions.
Frequently Asked Questions
What is an Indian eVisa?
This is an official document that permits you to travel to and within India. The Indian eVisa is electronically linked to your passport.
What are the types of Indian eVisas available on iVisa.com?
There are three types of e-Visas available on iVisa.com:
The Tourist e-Visa, changing according to the number of entries and the maximum stay allowed.
The Business e-Visa.
The Medical e-Visa.
In this article, we'll be more focused on the information about the Tourist eVisa. For any questions about the other two eVisas, you can click over here to read iVisa posts about them.
What requirements do I need to apply for an Indian eVisa?
Just like any other application, you need to have some documents to hand to make the process easier and faster. However, on iVisa.com we won't ask you many requirements. The only important requirement you need is the passport, but the rest of the list are items that you probably already have:
Valid passport.
Digital photo: make sure that the photo is as recent as possible. You can get better assistance about that on our professional photo page.
A passport scan of the information page.
Payment : iVisa.com accepts many methods of payment. You can use a credit or a debit card, or if you have an account on Paypal, you can use that too!
Email address to receive the eVisa.
Keep in mind that you might need other items if you apply for a business or medical eVisa.
What are the options for processing times and fees for iVisa.com?
The cost of your India eVisa depends on two main things: the visa type and the processing time. iVisa.com provides three types of visas: one for tourism, another for business, and the last one for medical purposes. iVisa.com also provides three options for processing time:
Standard processing: this option is the cheapest option, so you'll be charged,

USD 88.00

. And your eVisa will be ready in

5 days

.
Rush processing: this option is faster, your application is available in

3 days

. But, the cost goes a bit higher. You'll be charged

USD 118.00

.
Super Rush processing time: this is the fastest option, and it allows you to get your eVisa in

36 hours

. But, this is the priciest option. This option will cost you

USD 153.00

.
IMPORTANT. The previously quoted prices are based on the Tourist e-Visa that's valid for 1 year. Prices will change depending on the visa type, but the processing times remain the same.
How can I apply with iVisa.com?
Form filling may not be your favorite pastime, but iVisa.com makes things easier for you. The online process we facilitate is broken down into three simple steps, and if you are in need of help, you can contact iVisa's support service, any time of any day:
The first step is quite simple. You just need to input basic information such as name, address, e-mail, passport info, date of birth, marital status, and so on. At this point, you are also required to choose the visa type and the processing time.

The next step consists of revision and payment. The accurate disclosure of the information is crucial. Once your information is processed, you cannot make changes. You should make sure that you double-check every piece of information before submitting the application.

The third step consists of a photo upload. You'll have to upload additional documents, but the amount of uploads necessary depends on the individual case. Not all Bruneians need to upload the same amount, but don't worry, you will be clearly instructed on what you need to upload.
Once you complete all three steps, just submit your application and wait for the results to arrive in your e-mail inbox in the timeframe you chose.
How long is the Indian eVisa valid for and how many entries does it allow?
This also depends on the type of e-Visa you choose:
Tourist e-Visa 30 days: this eVisa is valid for

30 days after arrival

and it has

Double Entry

permission. You can stay a maximum of

30 days in Total

.
Tourist e-Visa 1 year: it's valid for

1 year after issued

and it's a

Multiple Entry

document. But you cannot exceed

90 days in Total

.
Tourist e-Visa 5 years: it's valid for

5 years after issued

the issue date. It's a

Multiple Entry

e-Visa that allows

90 days Per Entry

.
What happens if I enter India by cruise?
The Indian e-Visa is still accepted if you enter the country by sea. However please note that these are the only seaports that accept it: Cochin, Goa, New Mangalore, Mumbai, and Chennai.
Do I need an Indian eVisa if I'm just transiting through India?
No. You do not need this eVisa if you just have a layover and you don't intend to go through customs or leave the transit area. But, if your layover is long and you decide to leave the airport, the circumstances will change and you'll have to apply for an India visa for Bruneian.
How safe is iVisa.com's online service?
The security of your information is not a matter to be taken lightly and we know that you care deeply about that. That's why we can ensure you that we work professionally and without compromising your personal details. Everything you give and see on this website is protected.
To back this up, we can show you some great reviews that we have on sites like Trustpilot, confirming that we have done our job well. If you have doubts about it, you can always contact us.
I have more questions, where can I get help?
For more information or doubts about the India visa for Bruneian, you can click here. Or you can also contact us 24/7.
Remember! At the moment there are 25 airports and 5 seaports that accept the Indian eVisa. A different point of entry requires a consular visa for which you need to visit the Indian embassy in your area. Other than that, you can trust iVisa.com and leave us all the stress of the process. Allow us to give you a relaxing and exciting trip!