Traveling to India is quite common in any Cambodian bucket list. It is a great country with a lot of cultures to be absorbed, and of the biggest advantages of traveling to India is of practical nature. More than 150 nationalities, including Cambodian, have the opportunity to make an application for an India e-Visa online. You are no longer required to go to the Indian embassy, provided that you are eligible for such a document.
But you probably have some questions about this document, and in order to simplify the process, we will answer the most common doubts in this post.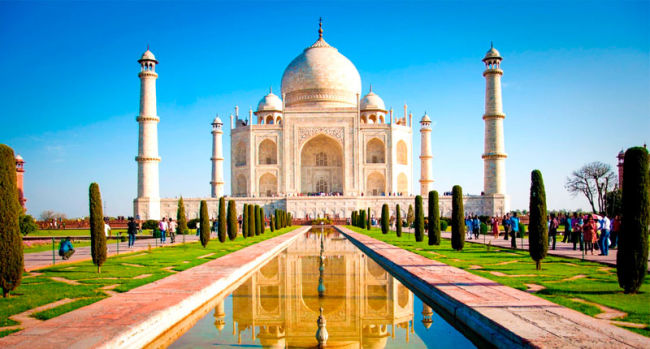 Frequently Asked Questions (FAQs)
I'm from Cambodia, do I need a visa to enter India?
Yes, you need one, but not necessarily a consular visa. You can apply for an electronic visa and you're done.
What is an India electronic Visa for Cambodia citizens?
The Indian Tourist e-Visa is an official document from this country that allows a legal entrance to citizens from all the world. The difference is that it is an automated visa. It was launched to allow some citizens to enter India legally.
How much time can I stay in India with my e-Visa?
You can stay there for 30 days in Total.
What are the requirements for Cambodians?
iVisa may do all the heavy lifting for Cambodian, but you still need to come up with a few things to help them get started. It is nothing out of the ordinary, and you may already have what you need. Here is a list of what you must provide:
Valid passport – you will have no problem in getting a passport, and if you have one, then just ensure that it is still valid taking a look at the expiry date.

Digital photo of yourself – the photo must be recent. You should avoid making face gestures in it, and the background should be white. Just scan it and upload it.

A passport scan of the information page.

Means of payment – iVisa allows multiple methods of payment. You can use a credit or a debit card, and since Paypal has become quite popular, you can use that as well.

Business card copy and invitation letter – this requirement is available to people who want to go to India on business and apply for an India business electronic visa.

Letter from the hospital in India – this is valid for people who want a medical visa.
According to the visa type, some extra documents will be necessary. The most important documents are:
Applicant's Photo

Passport Personal Details Scan

Last Page of Passport (if applicable)
How many types of Indian Electronic Visa exist, is there more than one?
Yes, you have three options: Tourist, Business and Medical. In iVisa you are able to apply online for Business e-Visa or a Medical e-Visa.
Can I know the duration of validity of this e-Visa?
It expires 30 days after arrival.
What are the total prices and times?
Both price and processing times vary according to how soon you require to have your e-Visa. IVisa provides you three options:
Standard processing – 5 days. Many Cambodian citizens prefer this option because is less expensive. It costs just USD $79.49.

Rush processing – 3 days. This option has a higher price than the previous one. It costs USD $116.49.

Super Rush processing – In just 36 hours you will get your visa, this is why the cost is more expensive. The price is USD $158.49.
As for the cost of the other two visa types, just add another $10 to each processing time, which means that they cost $97, $127, and $162 respectively. The timeframes differ as well. You can check more about it here.
How long does it take to apply for this e-Visa?
The entire process is easy to complete. You will take 20 minutes from your time to finish it.
How Cambodians can apply?
Once you have all the documents needed, you can move on and fill in the form. If you want assistance, there is a support service that is available 24/7. Just give them a call, and someone will help you understand what is in front of you.
There are three steps you need to complete, which are as follows:
The first one will ask you to fill in your personal information like full name, address, e-mail, date of birth, passport info, etc. By this time, you have to choose the visa type and processing time. Keep in mind that both factors determine the cost of the India e-Visa. Also remember that for the latter, you can choose from tourist, business, and medical visa.

The second step of the Cambodian application consists of a revision and payment. It cannot be stressed enough the importance of the accuracy of your information. After processing, the cost is not refundable, and corrections are not possible.

The third step is simply to answer a questionary and upload additional documents. The last part differs depending on your particular circumstances, but you will be informed of exactly what you need to upload so do not worry about it.
How many entries do I have as a Cambodia citizen?
This e-Visa allows a maximum stay of 30 days in Total within the country and also it provides you a Double Entry. Do not forget, this evisa is accepted at 5 seaports and 25 airports. If you want another point of entry you will need to apply for a consular visa, in this case the process in not online.
What seaports and airports and are available with this e-Visa?
This visa allows you to enter India by the following airports: Bhubaneswa, Ahmedabad, Bagdogra, Bengaluru, Amritsar, Calicut, Chennai, Chandigarh, Cochin, Coimbatore, Delhi, Gaya, Goa, Guwahati, Hyderabad, Jaipur, Kolkata, Lucknow, Madurai, Mangalore, Mumbai, Nagpur, Port Blair, Pune, Tiruchirapalli, Varanasi, Thiruvananthapuram, Visakhapatnam.
Regarding the seaports, there are 5 available: Cochin, Goa, New Mangalore, Mumbai, Chennai
How is the procedure in case I travel with children?
All passengers must apply for an e-Visa regardless how old or young they are. So in this case if you want to travel with your kids you will need to apply for them individually.
Are there samples of this Indian electronic Visa?
You can see it below: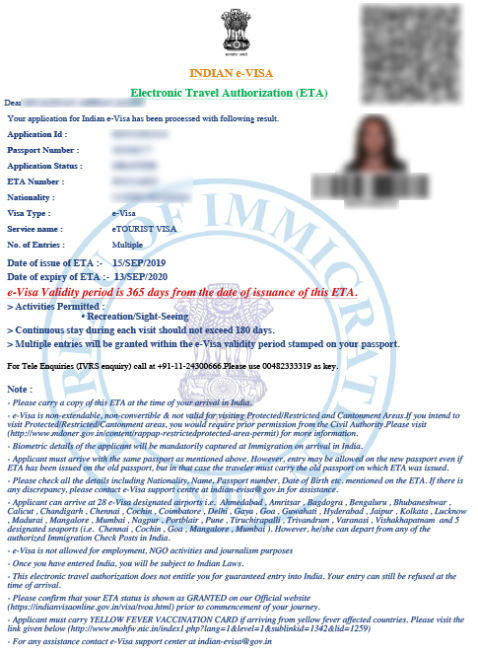 if I'm in transit to this the country, is it necessary to apply for an Indian e-Visa ?
You don't have to apply for any visa if you are going to stay inside the airport. Otherwise, it will be necessary.
How can I know if my Indian electronic Visa is approved?
Once you complete your application form, we will notify you all the info regarding the process, when it arrives at the embassy, if they require more info or docs and finally also when it is approved. Do not worry we will always inform you by email, everything.
How safe is to apply with iVisa for my Indian electronic Visa?
Absolutely safe! iVisa has an excellent and professional team. We can guarantee the security of your personal data, do not get stress or worry thinking your data will be leaked, our services will protect the whole process.
What can I do if I want more information about this visa document?
You have two options to get informed about this. Click here, to find useful tips, also regarding India tourism. In case you need a direct or personal communication, just make a call to our Customer Service Team by clicking here.
iVisa has the easiest visa procedure. We have an excellent score: 9.5 'Excellent' from more than 18,000 reviewers on Trustpilot. Get your e-Visa now. An online application is better with iVisa. Visit our website today!