Most travelers no longer need to visit an Indian embassy to get their visa, including Chinese citizens. You no longer need to wait in long lines or doing stressful procedures. For your convenience, you can apply for an India e-Visa, a digital visa. It is so easy to obtain that all you need is a computer or a smartphone with an internet connection to get you started. The best part is that you can apply for your visa from the comfort of your own home. iVisa can make this process even better than you can imagine! We will talk about any doubts of this inquiry in this article.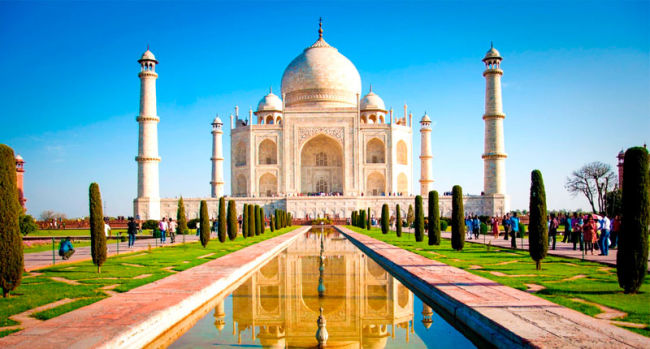 Before you apply, you need to know that as of the moment, Indian e-visas are accepted only at 25 airports and 5 seaports in India. Any other point of entry requires a visit to the embassy.
Frequently Asked Questions (FAQs)
What is an e-Visa?
It is an official document that allows you to enter India and travel within. It its linked electronically to your passport.
What types of e-Visa are there for India as a Chinese?
There are three types of e-Visas:
Tourist e-Visa

Business e-Visa

Medical e-Visa
In this article we are focusing the information on the Tourist e-Visa. As for doubts about the other two, you can click here for more information.
What are the requirements as a Chinese for the Indian Tourist e-Visa ?
iVisa will do most of the work for you, but you need to provide them a few things to have your request processed. Below you will find a list of everything you need to provide:
Valid passport – most Chinese can obtain passport without difficulty, and if you already have one, make sure that it is not expired.

Digital photo of yourself – ensure that the photo is recent. You should not make face gestures in it, and the background should be white. Just scan it and be ready to upload it.

A passport scan of the information page

Payment mode – iVisa accepts multiple methods of payment. You can use a credit or a debit card, and if you have an account on Paypal, you can use that too.

Business card copy and invitation letter – this requirement applies to people who want to go to India on business and apply for an India business evisa.

Letter from the hospital in India – this is valid for people who apply for a medical visa.
How is the iVisa application form for this e-Visa?
iVisa's application form is really simple so most Chinese will appreciate. It only has three steps and the company has an amazing customer service that is ready to take your call day and night in case you need any help. You can reach us here.
You have to insert your general information in first step. You should be able to finish it in about 5 minutes. You must also choose the processing time, which we'll mention below, and visa type. Both choices will affect the cost of your visa.

The second step will require Chinese to review and make the payment. It is highly recommended that you check the accuracy of the information you input because revision is no longer possible once your application is processed.

You will need to answer a few personal questions and upload photo in the last step. You may also need to upload additional documents but it is case to case basis.
After completing all the steps, submit the form and wait. It does not get any easier than that.
What are the processing time and visa cost for the Indian e-Visa?
The cost of your visa depends on two things: visa type and processing time. Remember, iVisa provides three types of visas: for tourism, business, and medical. iVisa gives you three options for processing time:
Standard processing – 5 days.

Rush processing – 3 days.

Super Rush processing time – 2 days.
The total fee changes in each option. Let's see an example! For the Tourist Indian e-Visa for 1 year:
Standard processing – This is the cheapest option, you will be charged USD 86.00.

Rush processing – this is faster than the first option but a more expensive, you'll be charged USD 116.00.

Super Rush processing – this option is the fastest but also the most expensive, you will be charged USD 151.00.
Important! The total amount you will be charged gets higher if you want to apply for a e-Visa that lasts longer (the 5 year long e-Visa) and it's cheaper if you apply for the 30 days e-Visa. Business and Medical e-Visa have higher fees, you can check them out here.
How long is the e-Visa valid for? How many entries am I allowed?
This also depend on which type of e-Visa you choose.
Tourist e-Visa 30 days: they are valid for 30 days after arrival and is a Double Entry.

Tourist e-Visa 1 year: it's validation is for 1 year after issued and it's a Multiple Entry. But never exceeding per stay 90 days in Total.

Tourist e-Visa 5 years: it's valid 5 years after issued. It's a Multiple Entry and cannot never exceeding per stay 90 days in Total.
If I am traveling to India on cruise, do I need an e-Visa?
Yes, yes you do. These are the 5 seaports that accepts e-Visa: Cochin, Goa, New Mangalore, Mumbai and Chennai.
Which entry point allows this e-Visa?
These are the airports where you can enter with the e-Visa:
Ahmedabad

Amritsar

Bagdogra

Bengaluru

Bhubaneswa

Calicut

Chennai

Chandigarh

Cochin

Coimbatore

Delhi

Gaya

Goa

Guwahati

Hyderabad

Jaipur

Kolkata

Lucknow

Madurai

Mangalore

Mumbai

Nagpur

Port Blair

Pune

Tiruchirapalli

Varanasi

Thiruvananthapuram

Visakhapatnam
Do I need an e-Visa if I am just transiting through India?
No, if you are just transiting through India and you are not going to leave the transit area, you do not need one.
If you have more doubts, you can contact us anytime, any day! And if you need more information you can go here to find out more.
As you can see, the whole process consists of simple steps. It should take you about 20 minutes to complete the whole process. You will be impressed with the result like many travelers who used the service. Trust iVisa and enjoy a magical trip!