For any curious traveler, India is one of the must-see countries or at least one of the most highly considered on a bucket list. But beyond luggage, clothes, and accommodation, it's also important to know what documents you need to enter this nation.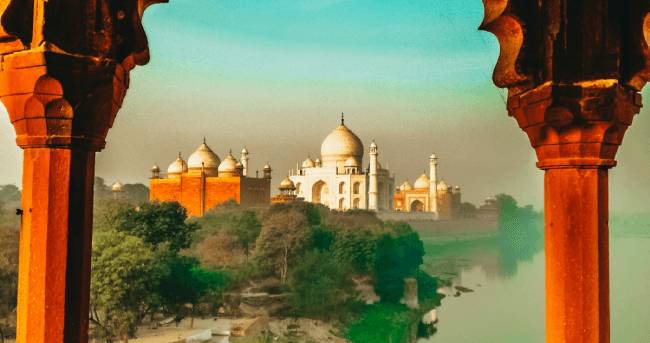 If you have a Colombian passport, you need to have an India visa for Colombians. The good thing is that you don't have to go to the embassy to look for it, because from now on you can apply for the Indian eVisa from the comfort of your home.
We have prepared for you this short guide with some frequently asked questions so that you're more prepared when applying, so take them into account.
Frequently Asked Questions
What is an Indian eVisa?
The Indian eVisa is one type of visa that you need to enter this country, and that contrary to the Paper visa, you can have it by completing an online form. It's quite similar to a conventional or Paper Visa because this document allows you to enter India, but you'll be able to obtain it from the comfort of your home.
It works with an electronic system that's linked to your passport, so you won't need a physical stamp in your passport this time. However, you can always print a copy of the PDF file, just in case.
How many types of Indian eVisas are there?
There are three types of Indian eVisas, and these are the Indian Tourist eVisa, the Indian Business eVisa, and the Indian Medical eVisa. You can apply for any of them depending on your travel purposes.
We invite you to click here to learn more details about each one.
I have a Colombian passport, should I apply for an Indian eVisa if I want to visit India?
Yes, if you're a Colombian citizen and you're planning a visit to India, you need an India visa for Colombians. But, we remind you that you don't need to visit the embassy, you can have your Tourist eVisa by applying online and save a lot of time.
What documents or items do I need to apply?
The list of things you have to offer is very simple and short. Since iVisa.com will do most of the work, you won't need to stress about many things. All you have to do is to find the following:
Valid Passport: don't forget about it because it's the most important thing on this list. Make sure that it's not expired when traveling to India.
Digital photo of yourself: it has to be recent and passport-sized.
Payment options: you can pay for the document with a credit/debit card or a Paypal account.
Business card copy and invitation letter: it's necessary only if you apply for a Business eVisa.
Letter from the hospital: you'll need this if you apply for a Medical eVisa.
How much does the India visa for Colombians cost?
The Indian eVisa isn't free, it has a price to pay. However, these prices aren't expensive, even by using our services. Don't forget that we include the government's fee and our fees because we process your eVisa faster so you can have it ready for your trip. This way, you don't have to get confused by using complicated forms or visiting the embassy.
You can choose one of the three available options:
Standard processing time:

5 days

. This processing option costs you about

USD 88.05

.
Rush processing option:

3 days

. This processing time is more expensive, it costs

USD 118.05

.
Super Rush processing time:

36 hours

. This is the fastest one, so it costs

USD 153.05

.
Don't forget that these prices are based on the tourist eVisa, but you can check the prices for the other eVisas here.
How can I apply for an India visa for Colombians?
Due to complexity, many people may have bad opinions about forms. However, iVisa.com designed one of the easiest forms available, so you shouldn't worry about it. Better yet, our online application form will probably take you only 15 minutes or less. It has 3 steps which are quite easy-to-understand, but if you need help, you can always reach out to our support service.
The first step is to input your basic information. You also have to select the visa type and processing time.
The second step is to review the information you gave in the previous step and pay for your document. Don't forget to check the spelling, the information must be accurate.
The third step is to upload the documents required to the form so you can finish the process. That would be all, you wouldn't have to visit the embassy or anything else.
If you want to start the process, click here.
What happens once I complete an online form on iVisa.com?.
As soon as you complete the process to get the Indian eVisa, you only have to wait for your document via email inbox and that's it. You don't have to take a trip to the embassy or anything else, we'll work with that part. Remember that we'll also let you know about the approval of your document via email inbox.
You can read more about the India visa for Colombians here.
What should I do if I make a mistake while applying?
iVisa.com's application form is one of the easiest ones, but mistakes are always possible. If this is your case, please talk to one of our customer service representatives via chat. We'll be ready to assist you at any time.
How safe is iVisa.com?
It's ok to be worried about your personal details, which is why we remind you that our services are totally reliable. We won't put any information you offer in danger. At iVisa.com we work with a powerful and modern system, meaning that you won't have to stress about getting your information leaked.
Where can I find more information about the India visa for Colombians?
If you have doubts about the India visa for Colombians or other travel documents, then click here and start chatting with one of our customer service agents. In case you prefer to read other questions, click here.