Obtaining an India visa for Colombian is more convenient than ever. You can now apply for a visa at home. Instead of taking a trip to the Indian embassy, you just need a computer or smartphone with an internet connection.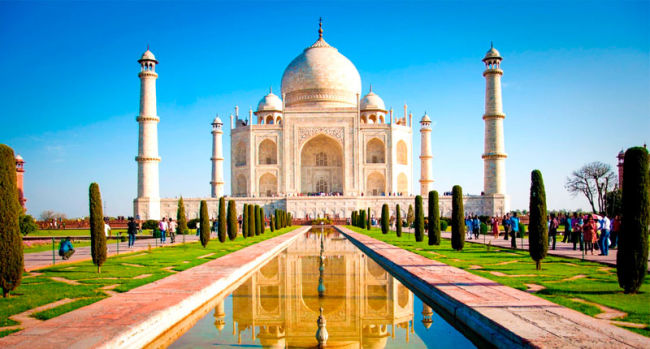 Frequently Asked Questions (FAQs)
I have a Colombian passport, do I need a visa to visit India?
Yes, if you are a Colombian citizen visiting India, you need to have a Tourist eVisa. You can check requirements here.
Which visa types are there for Colombians?
There are these types of visas:
Tourist eVisa.

Business eVisa.

Medical eVisa.
PLEASE NOTE that the information on this blog is about the India Tourist eVisa. Data can change depending on your nationality and the visa type you need. You can check information and requirements for the Business and Medical eVisa here.
What is a Tourist eVisa?
The India Tourist eVisa is an official document permitting entry into and travel within India and is electronically linked to your passport.
How long can visitors with Colombian passport stay in India with a Tourist eVisa?
Visitors from Colombia with a Tourist eVisa can enter India for a maximum of 90 days in Total with Multiple Entry.
Since it is a Tourist eVisa, you can NOT seek paid work or employment. All your visits must be ONLY for tourism purposes.
What are the documents required to apply?
The list of things Colombians need to provide is very few. iVisa will do most of the work, but you still need to help them get started. Here is what you need:
Passport – there are no difficulties in obtaining a passport, and if you already have one, make sure that it is still valid. Just look at the expiry date.

Digital photo of yourself – it is recommended that the photo is recently taken. You should not make face gestures in it, and the background should be white.

A scanned passport with its information page

Means of payment – iVisa accepts multiple methods of payment. You can use a credit or a debit card, and since Paypal has become quite popular, you can use that as well.

Business card copy and invitation letter – this requirement applies to people who want to go to India on business and apply for an India business eVisa.

Letter from the hospital in India – this is valid for people who apply for a medical visa.
How long is the India Tourist eVisa valid?
The Tourist eVisa is valid for 1 year after issued.
What are the processing times and prices?
You can choose one of the three available options:
Standard processing – 5 days. Because it is the cheapest option, most applicants go for standard. It only costs USD 86.00.

Rush processing – 3 days. The cost goes a bit higher than with the previous option. You will be charged USD 116.00.

Super Rush processing time – 2 days. As you can expect, the price goes even higher. This option will cost you USD 151.00.
Click here to start your application.
How does the India Tourist eVisa work?
In November 2014, the Indian Government introduced an online tourist Visa (eVisa) for 43 countries. This was done to promote travel to India without necessitating a trip to the embassy or waiting in long lines at border control. The following year, India rolled out its eVisa program for other major world countries. In April 2017, India retooled its eVisa program, introducing visa subcategories for tourists, business travelers, and medical visits.
Currently, travelers from more than 160 countries can apply for a Tourist eVisa, Business eVisa or Medical eVisa, depending on the purpose of their visit to India. Travelers who use the e-Visa program apply, pay a fee online and receive their electronic visa online before traveling to India. Yes, it's that simple.
How can I apply for an Indian Tourist eVisa?
Due to complexity, many may have a bad opinion about forms. However, iVisa provides one of the easiest forms for Colombians so you can put your mind at ease. It is divided into three stages, and it should take only 10 minutes to complete. However unlikely it may be, in case you need any help, there is a support service that is at your disposal 24/7.
The first step is to input your general information and choose both the processing time and visa type. It will only take about 5 minutes for all that.

The second step consists of revision and payment. Make sure that all the information you provide is 100 % accurate. Check the spelling carefully.

The third step will ask you to answer a few personal questions and upload any additional documents you are required. After you are done with all that, you can click the submit button and wait. That is about it.
Click here to start.
What happens after I have applied?
After you submit your application, you just need to wait for your India Tourist eVisa to be sent by email in the timeframe you chose. No need to deal with the embassy. We do it for you so you don't lose valuable time. Then, once in India, just present a printed version of your Tourist eVisa along with your passport.
Do I need to get an India Tourist eVisa for my kids too?
Yes, every person wishing to visit India requires an India Tourist eVisa, even kids (regardless of their age).
How can I apply for my family or friends?
To apply for others, just make sure you have all the required documents (you can see above in this article). Next, just apply here introducing his or her data. In case you need to apply for more than one person, you can do so by clicking on 'Add new applicant' in the application form and completing the data required.
What can I do if I make a mistake in my application?
iVisa's application form is one of the simplest forms, but mistakes are always possible. If this is the case, please contact one of our customer service representatives immediately. We will be ready to assist you 24/7.
Is it safe to use iVisa to get my India Tourist eVisa?
Many people think that online information leaks and that their personal info is at risk of getting into the wrong hands. However, with iVisa, your personal information could not be safer since we offer you maximum safety for your personal data, confidentiality, and we invest a lot in the security of our database. You can check what hundreds of happy customers say about us here.
I have more unresolved questions, where can I find more info?
If you have some specific questions click here and start chatting with one of our customer service representatives. You can also find more info and FAQs here.