Almost all nationalities don't enjoy visiting an embassy to get a visa, Croatians included. It requires time, energy, not to mention all the paperwork involved. Your travel will be possible depending on your nationality, some countries have the possibility to apply online for example. Luckily Croatia is part of these countries!
There is a better solution out there if you are traveling to India. Apply, as we mentioned before, for an India e-Visa. It is the digital option instead of visiting an embassy. You can apply for a visa even outside business hours without any hassles. This is all possible using the Internet via a computer or a smartphone. So, now your application can be done from the comfort of your bed, home, anywhere.
In this article, you will know all the requirements to obtain a visa and more. I promise you will be motivated to travel soon.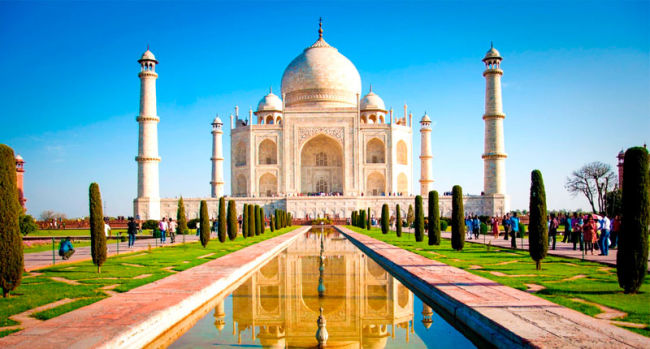 Frequently Asked Questions (FAQs)
I'm from Croatia, do I need an Indian e-Visa?
Yes, you do need this visa to enter the country properly. You don't have to go to an Embassy to receive it.
What is an India electronic Visa for Croatia?
It is an official document authorized by the Indian Government. The Indian Tourist e-Visa permits travelers to visit India legally.
How long can I stay in India if I'm Croatian?
You can stay there for 90 days Per Entry when choosing a Tourist e-Visa.
What is required for Croatians?
IVisa will take care of all of the heavy liftings, you just need to supply them with a couple of things. Here you can check what is needed:
A Valid passport – Croatians shouldn't have difficulty to get a new passport. Please, in case you have one already ensure it is not expired.

A Digital photo – Make sure that this photo is as recent as possible. You should avoid any gestures in your face, finally ensure the background is white. Once you confirm your photo has all these requirements scan the photo and you will be ready to upload it.

Passport scan

Means of payment – iVisa allows different ways of payment, either a credit or a debit card, or even Paypal.

Business card copy and invitation letter – If you plan to visit India with a business purpose, you will need this document. In that case you will need to apply for an Indian business e-Visa.

Letter from the hospital in India – If you need to visit India for a medical reason, this document is required. It is only for a medical visa.
What are the processing times for this e-Visa?
When you apply with iVisa, your e-Visa will vary on the price according to two aspects: processing time and visa type. We have available these visas: tourism, business, and medical. Regarding the processing time we have three of them. Check the options:
Standard – 5 days. Croatian Citizens commonly apply for this options because the option is less expensive. The price is just USD $94.99.

Rush processing – 3 days. The total price is a little bit more expensive than the previous option. The cost is USD $148.99.

Super Rush processing time – 36 hours. As you might guess, the price is USD $195.99.
Can I know the duration of this application?
You just need at least 20 minutes or probably less to complete the form.
How is the application form?
Probably a big group of Croatian may dislike completing a form, largely as it's tricky to comprehend but this doesn't apply to iVisa's program. Your form can be accomplished by you. If in the event you want some help, the business has a superb support service that's prepared to take your phone night and day.
First, you have to insert your basic information. That should take about just 5 minutes. It is also necessary to select the visa type and processing time. Depending on the selection of these options, the price of the visa is going to vary. Please check all of them, ensure you are completely decided about your choice.

The second step You will need to double-check the first step and do the payment. We recommended to check the accuracy of all the info provided. The reason is that any modification is not possible once your application is processed.

The last step you will answer short questionary and upload your photo. Also you will upload extra documents, this requirement depends on each personal situation. Once you complete these steps, just apply. It's that easy!
As you can see, the whole thing is super simple. It should take you about 20 minutes at most to finish the application process. Thousands of people have done so and they are more than satisfied with the results.
Can I know how many times this e-Visa permit me to visit India?
This e-Visa allow citizens to stay for 90 days Per Entry within the country, so don't forget you have also Multiple Entry. Keep in mind that evisas are accepted only at 5 seaports and 25 airports.
Can I know the airports and seaports for this e-Visa?
As we previously mention, there are certain places where you can enter with this document. Use it at the following airports: Ahmedabad, Amritsar, Bagdogra, Bengaluru, Bhubaneswar, Calicut, Chennai, Chandigarh, Cochin, Coimbatore, Delhi, Gaya, Goa, Guwahati, Hyderabad, Jaipur, Kolkata, Lucknow, Madurai, Mangalore, Mumbai, Nagpur, Port Blair, Pune, Tiruchirapalli, Varanasi, Thiruvananthapuram, Visakhapatnam.
Regarding the five seaports, these are the specific points: Cochin, Goa, New Mangalore, Mumbai, Chennai
What can I do if I want to travel with my children?
It is mandatory for all travellers to obtain an e-Visa regardless of how young they are. So you must make an application for your kids.
Can I know my future visa will look like?
You can see it here: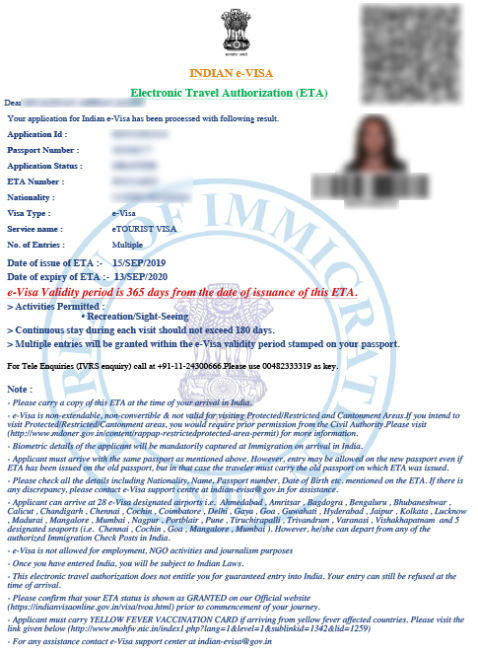 Is it necessary to get a visa for this country even if I'm just in transit?
You won't require any visa or electron Visa if this is your situation. Just keep in mind you must stay in the transit area at the airport.
When do I have my visa approved to use with my Croatian passport?
Once you complete the application form, iVisa will be offering you constant updates through your email, including of course when your visa is approved by the Indian Government.
How can I know if is secure to apply for my Indian e-Visa with iVisa?
We've got excellent professionals, therefore, we can make sure it is protected. Do not be concerned about getting your information which does not happen with us.
If I want to know more or have any doubt or query regarding this document what can I do?
If you wish to understand more about the e-Visa, then it's possible to click here to see helpful tips, to check any advice about India tourism and culture. In case you feel better with direct and quick communication, then contact us.
IVisa makes some other paperwork and the application forms easier. It's a 9.5' Outstanding ' evaluation from over 18,000 reviewers on Trustpilot. It is possible to get your e-Visa as quickly as a good deal of our customers does by using online. Visit our site now!