Almost all nationalities don't like going to an embassy for their visa, Croatians included. It requires time, energy, not to mention all the paper work involved. You may also be required to travel quite a bit depending on your country of origin.
There is a better solution out there if you are traveling to India. You can apply for an India e-Visa, which is the digital version of going to an embassy. You can apply for a visa even outside business hours without any hassles. This is all possible via a computer or a smartphone with an internet connection. This means that you can apply in the comfort of your own home.
Do you want to know what's required for this? We invite you to keep reading this article.
Frequently Asked Questions (FAQs)
I'm from Croatia, do I need an Indian e-Visa?
Yes, you do need this visa to enter the country properly. You don't have to go to an Embassy to receive it.
What is an India e-Visa for Croatia?
The Indian Tourist e-Visa is a document that the Government from this country authorized to allow some citizens to enter India legally.
How long can I stay in India if I'm Croatian?
You can stay there for 90 days Total when choosing a Tourist e-Visa.
What is required for Croatians?
iVisa will do most of the heavy lifting, but you need to provide them a few things to get started. Here you will find a list of everything you need to provide:
Valid passport – most Croatians shouldn't have difficulty at having a passport. If you already have one, make sure that it is not expired.

Digital photo of your self – Make sure that this photo is as recent as possible. You should avoid face gestures in it, and the background should be white. Just scan it and be ready to upload it.

A passport scan of the information page

Means of payment – iVisa accepts multiple methods of payment. You can use a credit or a debit card, or even Paypal.

Business card copy and invitation letter – this document applies to those who want to go to India on business and apply for an India business e-Visa.

Letter from the hospital in India – this is valid for people who need to apply for a medical visa.
What are the processing times for this e-Visa?
When you apply with iVisa, your e-Visa will vary on the price according to two things: visa type and processing time. We have three types of visas: tourism, business, and medical. As for processing time, you have three options:
Standard processing – 5 days. Most Croatian Citizens apply for standard options because it costs less. The price is just USD 76.00.

Rush processing – 3 days. The total price goes higher with this options than with the previous. You will be charged USD 106.00.

Super Rush processing time – 2 days. As you can guess, the price is USD 141.00.
How much time do I need to apply?
You just need at least 20 minutes or probably less to complete the form.
How is the application form?
Most Croatian may dislike forms, mainly because it is difficult to understand but this does not apply to iVisa's application form. You can accomplish your whole form in three easy steps. If in case you need any help, the company has an excellent support service that is ready to take your call day and night.
First, you have to insert your general information. That should take only about 5 minutes of your time. You must also choose the processing time and visa type. Both choices will affect the cost of your visa, so make sure of your selection.

The second step will ask Croatian citizens to double-check step one and make the payment. It is highly recommended that you check the accuracy of your provided information. This is because corrections are not possible after your application is processed.

The last step consists of a set of personal questions and photo upload. You need to upload additional documents. It is the case to case basis, so do not expect to have the same requirements as the next person. After you are done with all three steps, you hit the submit button and wait. It does not get any easier than that.
As you can see, the whole thing is super simple. It should take you about 20 minutes at most to finish the application process. Thousands of people have done so and they are more than satisfied with the results.
How many times can I enter India with an e-Visa?
The Indian e-Visa for Croatian citizens will allow them to stay for 90 days Total inside the country, so don't forget that you also have Multiple Entry. However, keep in mind that the electronic visa is accepted only at 25 airports and 5 seaports.
Which airports and seaports allow this e-Visa?
As we mentioned above, there are certain points when you can enter with this document. It can only be used at the following airports: Ahmedabad, Amritsar, Bagdogra, Bengaluru, Bhubaneswar, Calicut, Chennai, Chandigarh, Cochin, Coimbatore, Delhi, Gaya, Goa, Guwahati, Hyderabad, Jaipur, Kolkata, Lucknow, Madurai, Mangalore, Mumbai, Nagpur, Port Blair, Pune, Tiruchirapalli, Varanasi, Thiruvananthapuram, Visakhapatnam.
And in the following 5 seaports too: Cochin, Goa, New Mangalore, Mumbai, Chennai
What should I do if I travel with my children?
Every passenger must get an e-Visa regardless of how young they are. This means that you also have to apply for your kid.
Is there any sample of the Indian e-Visa?
Yes, you can see it here: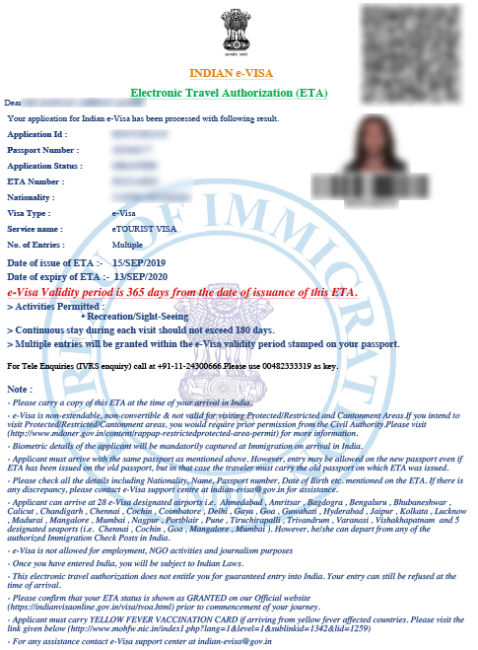 Do I need an Indian e-Visa if I am transiting through this country?
You won't require any visa or e-Visa if you are transiting through India, as long as you don't leave the transit area.
How do I know if my India e-Visa is ready to use with my Croatian passport?
As soon as you finish your application form, we'll be offering you constant updates through e-mail, and we'll also let you know once the India Government approves your electronic visa.
Is it really safe to get my Indian e-Visa with iVisa?
We have a group of professionals that guarantee the safety of your personal information, so we can ensure that it is totally safe. Don't worry about getting your data leaked, that doesn't happen with us.
Where can I read more information about this document?
If you want to know more about this e-Visa, then you can click here to read useful tips, including information related to India tourism. But if you feel better with something more direct and faster, then we recommend you to contact us.
iVisa simplifies the visas application forms and any other paperwork. It has a 9.5 'Excellent' rating from more than 18,000 reviewers on Trustpilot. You can get your e-Visa just as fast as a lot of our clients do by applying online. Visit our website today!