Today, more than 150 nations can apply for an Indian e-visa, and one of them is Ecuador. The concept has gained popularity since its implementation, and the fact that Ecuadorian travelers are no longer required to make an appointment at the Indian embassy for their visa is a major selling point. Instead, you can now apply online to get this travel document in your hands.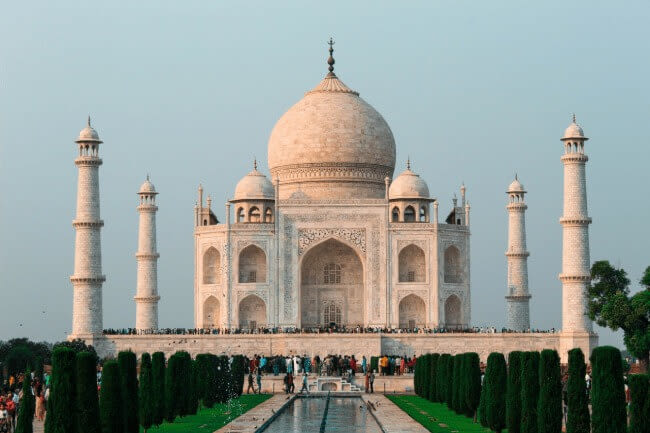 All you need is a device with an internet connection. Better yet, you can apply from anywhere thanks to the service available on iVisa.com.
While many Ecuadorians can apply, you still need to check your eligibility to avoid any inconvenience in the future. You can do it by using our Visa Checker. Do this by putting in your country of origin, then choose India as your destination, and the information you need will unfold in a second.
You can easily read the FAQs in this article to learn more about the Indian eVisa and get ready for your upcoming trip to the land of the Taj Mahal. Find out more about the India visa for Ecuadorians.
Frequently Asked Questions
What is an Indian eVisa?
An Indian eVisa is an official document that allows you to enter India thanks to an electronic link in your passport. This link works as valid permission that will be useful once you enter the airport.
Ecuadorians need the Indian eVisa to enter this country. Don't forget that this document isn't the same as a work visa. The main difference between them is that the eVisa can be obtained through an online form, while the work visa is available only through an embassy.
How many types of Indian eVisas are there?
There are three types of Indian eVisa available on websites like iVisa.com. These are:
Tourist eVisa.
Business eVisa.
Medical eVisa.
Keep in mind that the information on this blog is based mostly on the India Tourist eVisa for Ecuadorians. This information can change depending on your nationality and the visa type you need. You can read information and requirements for the Business and Medical eVisa here.
How long can I stay in India with a Tourist eVisa?
If you have the eVisa and an Ecuadorian passport, you can stay in India for a maximum of 90 days Per Entry. Since it's a Tourist eVisa, you cannot work with it, meaning that your travel should be only for tourism reasons.
What do I need to apply for an India visa for Ecuadorians?
There's a shortlist of items you have to get to apply for an India visa for Ecuadorians. It's probable that you already have most of them:
A valid passport scan (without forgetting your passport the day of your trip, of course).
A passport photo, that you can easily get by using iVisa.com's passport photo.
An email address to receive the eVisa
A credit/debit card or Paypal for payments.
What is the price of this document?
iVisa.com has three convenient alternatives for the processing time. Each one has a different price, but to make it simple, consider that the faster you want the document, the more you have to pay. The options are:
Standard processing: you can get your eVisa in

5 days

, and the total price is

USD $94.99

(service fees included).
Rush processing: with this option you'll receive your eVisa in

3 days

, and the total price will be

USD $148.99

(service fees included).
Super rush processing: since this is the fastest processing time, your tourist eVisa will be ready in only

36 hours

, and you will be charged

USD $195.99

(service fees included).
These prices are based on the Tourist eVisa, they might differ a little for the other types of Indian eVisas or the India visa for Ecuadorians.
How much time do I need to apply?
Filling in the application form for the India visa for Ecuadorians will take you less than 10 minutes. That's all you need to do, and we handle the rest. You'll get updates about the status of your eVisa by email.
What steps do I have to follow to apply online?
The application for an Indian Tourist eVisa has only three steps. All of them are available on our modern platform, meaning that you can apply at any time. These steps are:
Firstly, you have to fill in the questionnaire with your general info. In this part, you also have to determine the processing time depending on how fast you want your document.
Secondly, you have to review step one to ensure that there are no mistakes before paying for your document.
Lastly, you have to upload some images and make one last revision before submitting the application form.
You can contact our support service if you have queries while completing this application form.
What's the next thing I have to do after I apply?
As soon as you complete this form, you only have to wait for your document, which will be delivered via email inbox. You don't need to visit the embassy or do anything else. The other part of the process is our job.
Can I apply for other people?
Yes, for sure. You can apply for your friends or family, but for that, you need to have their information to hand.
Do I need an India Visa for Ecuadorians If I do a stopover?
You don't need to apply for an Indian eVisa if you just have a stopover, but don't forget that as soon as you leave the airport, the authorities will ask you for the eVisa, so you'd have to apply for it if you decide to pop into town.
We recommend you to stay at the airport while waiting for your next flight if you haven't applied.
How safe is iVisa.com?
Safety shouldn't be a worry when you're using our online service, but we understand that this is a serious topic for you. That's why we guarantee that our platform is completely safe, meaning that your personal details will never be put in danger at any time. We can confirm this fact by offering you thousands of reviews here.
Can I get more information about the India visa for Ecuadorians?
Yes, we invite you to click here if you want personal attention. You can also find other details about the India visa for Ecuadorians here.