If you have a Georgia passport, we have good news for you. You can enjoy a short and pleasant stay in India thanks to the implementation of the electronic visa system.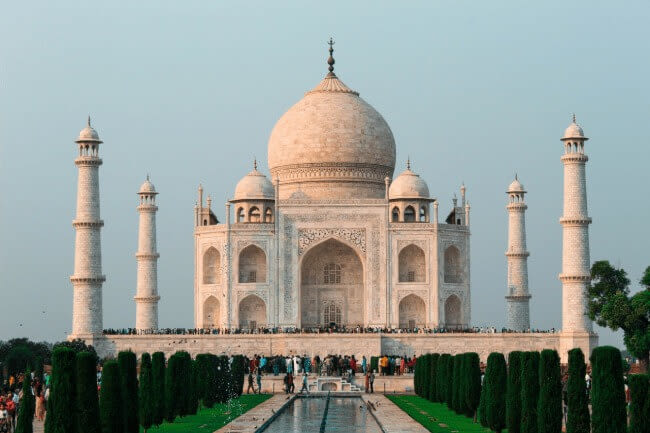 This means that from now on you can get an Indian eVisa and thus enter this country easily. Better yet, you can get this eVisa in no time by completing an online application which will take you less than 10 minutes.
Also, you can complete online form through iVisa.com. This way, you don't have to go to very complex web portals or join long queues at the Indian embassy. We take care of your document quickly and safely so that you can travel comfortably.
In the following information, you'll find more details about the India visa for Georgian citizens.
Frequently Asked Questions
What is an Indian eVisa and where can I check if I need one?
If you want to visit India, you have to make sure that you'll have the necessary documents to enter. One of these documents is known as the Indian eVisa, and it is the most important because it allows you to enter India through a computerized link to your passport.
As a Georgian citizen, you have to apply for an Indian eVisa before entering the country. Nevertheless, this document is easier to get than a traditional visa. In fact, you shouldn't confuse the Indian eVisa with a traditional Indian visa, as the eVisa can be obtained only through an online form, while the traditional visa is available only at the consulate or embassy.
You can always check our Visa Checker Page to verify if you need this document or not.
How many types of Indian eVisas are available online?
The Indian eVisas are controlled by an automated system, so you can only obtain it by using an electronic device with WiFi. As for the Indian eVisas you can find on iVisa.com, they're the following:
The Indian Tourist eVisa.
The Indian Business eVisa.
The Indian Medical eVisa.
Keep in mind that we'll be talking more about the Indian eVisa in this article, but you can get more information about the Medical and Business eVisa here.
How long can I stay in India with an eVisa?
Once you're in possession of the Indian eVisa, you can stay in the country for no more than 90 days Per Entry. Remember that this eVisa is only for tourism, so if you need to work or are going for medical attention in India, you need another type of eVisa.
What do I need to get the India visa for Georgian citizens?
We recommend you apply with iVisa.com to get your document ready in a few minutes. Notice that the list of items we ask for is very short in comparison to other official services. You can apply for your eVisa with us by having the following:
A passport with a 3-month validity and a scanned copy of the first page.
A passport photo. Feel free to use iVisa.com's passport photo to get it ready in a few minutes.
An email address where you'll receive the eVisa.
A credit/debit card or a Paypal account for payments.
How much does the Indian eVisa cost?
Another thing you should know is that on iVisa.com you have to pay for your document. However, the total price includes the government's fee, meaning that you won't have to pay anything else once you process the eVisa with us. Besides, we offer three processing times with different prices for your eVisa:
Standard processing option: you'll have to wait only

5 days

and pay

USD $101.99

(all fees included).
Rush processing option: you'll have to wait fewer days with this option.

3 days

being specific, and the price will be

USD $143.99

(service fees included).
Super rush processing option: this option is the fastest of the three, so you'll only wait

36 hours

, and the price will be

USD $190.99

(service fees included).
These prices are based on the Tourist eVisa, they might differ a little for the other types of eVisas.
How much time do I need to apply?
Finishing this application form won't take you more than 10 minutes. Don't forget to leave a valid email address to receive all the updates about the process.
How do I apply for this document?
You can easily get your Indian Tourist eVisa with us by following this 3-step application process:
First, complete the online form with your basic info like full name and email address. In this step, you have to choose the processing option as well depending on how quickly you want to receive your eVisa.
Second, review all the information you gave in step one so you can proceed with the payment.
Third, upload and attach other items if necessary and make the last review before sending the application form.
You can reach out to our support service if you have problems while using the online form.
Do I have to apply for my children?
Every foreign citizen with a Georgian passport must apply for a Indian eVisa, regardless of age. In other words, children must have this document as well. You can apply for them the same way you'd apply for your own eVisa. If you need help with this topic, we recommend you to check the details with our customer service team.
How safe is iVisa.com?
Safety is an important topic that shouldn't be overlooked, and that's why we always guarantee that our online system is completely safe, meaning that your personal data won't be put in danger at any time. We can verify this point by giving you unfettered access to our reviews here.
Can I get more information about the India visa for Georgian citizens?
Yes, of course. If you have doubts about our service or the online form, contact us here for the chat page. If you want to read other details about the India visa for Georgian citizens, click here for more blogs.