It's a huge selling point for the Indian tourist board that Guyanese citizens are no longer required to go to the Indian embassy for their visas. It means that with a Guyanese passport, you're allowed to enter India without needing to travel great distances to get your hands on a paper visa. However, you still need to apply for an electronic document, but this document is a lot easier to obtain as it's all online.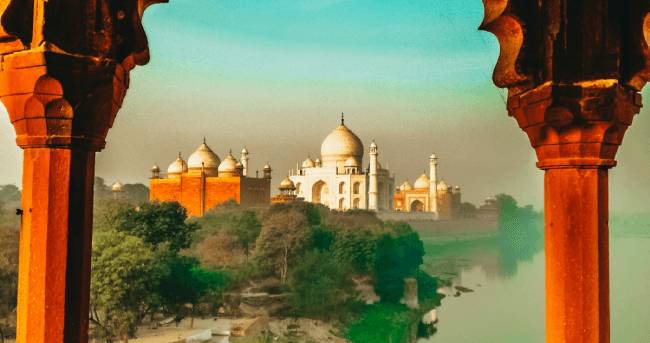 The digital document you need to visit India is the Indian eVisa, and you can get it in the most stress-free way by using iVisa.com. We've prepared for you this brief guide so you can be ready to apply online and prepare for your next trip to India.
Frequently Asked Questions
I have a Guyanese Passport, do I need an India Visa for Guyanese citizens?
Yes, you'll need an India visa for Guyanese citizens, but you can easily avoid the traditional process by applying for an electronic tourist visa. Although some people might consider opting for a traditional visa, this could take more time and money to obtain.
If you chose to get your electronic visa with us, you'll find the process to be relatively simple and fast. iVisa.com is a center of travel document experts, specializing in providing you with fast and secure eVisas.
What is an India eVisa?
The India eVisa is an official document allowing entry into India thanks to an electronic link in your passport. This eVisa can vary into the following types:
Tourist eVisa.
Business eVisa.
Medical eVisa.
Another thing you should know about this eVisa is that it has a validity of 1 year after issued. Once you enter India with this document, you can stay there for a maximum of 90 days in Total. Also, take into account that you can apply for a Double Entry or Multiple Entry eVisa.
What requirements do I need to apply for the India visa for Guyanese citizens?
It will depend on the type of visa you want. We can tell you the basic items you need to get your electronic visa. In any case, iVisa.com will do most of the work for you, so you'll just need to provide a few things to have your eVisa processed. These are the items you need:
Passport, and a valid scanned copy of the first page.
A digital photo of the applicant. You can use iVisa.com's passport photo for this.
Means of payment: you can pay for your document with Paypal or a credit/debit card.
Business card copy and invitation letter: this requirement applies to people who want to go to India on business and apply for an Indian business eVisa.
Letter from the hospital in India: this is valid for people who apply for a medical visa.
Email address: you'll get the eVisa via email.
How much does the India visa for Guyanese citizens cost?
The cost of your visa depends on two things: the visa type and the processing time. iVisa.com provides three types of visas: for tourism, for business, and the medical e-visa. And for the processing time, iVisa.com also has three options:
Standard procedure time: your Indian eVisa application is processed within

5 days

, and the price is

USD 88.05

(service fees included).
Rush procedure time: by choosing this procedure time, you'll have to wait only

3 days

, and the total price will be

USD 118.05

(service fees included).
Super rush procedure time: if you're in a rush, you can apply for your eVisa with this option. You'll receive your India eVisa in only

36 hours

, and you will be charged

USD 153.05

(service fees included).
Once you decide on your ideal processing time, click here to start the application.
How can I apply for this eVisa?
You'll feel content after using iVisa.com's application form because it's really simple. It only has three steps and if you need assistance to fill it in, you can contact our customer service that's ready to assist you at any time of the day.
In the first step, you have to insert your general information and choose the processing time along with the visa type. Both choices will affect the cost of your visa, so be sure about what to select.

The second step will ask you to review the previous information and make the payment. It's highly recommended that you check the information you enter because revisions are no longer possible once your application is sent.

You will need to answer a few personal questions and upload your photo in the last step. You may also need to upload additional documents but it depends on a case by case basis.
After completing all the steps, submit the form and wait. It cannot get any easier than that.
How much time do I need to apply?
Since this online form is so easy, you won't need more than 10 minutes. You just have to fill in our simple application form with the documents mentioned above. Then, iVisa.com will work with the rest of the process!
Do I need to get separate tourist evisas for my minor children?
Yes, every passenger must have their own eVisa regardless of their age. This means that you have to apply for your children as well.
What can I do if I make a mistake in my application?
If you find yourself in this situation, then please immediately contact one of our customer service representatives online by clicking this link, and we will assist you.
Your India Tourist eVisa is linked to your passport number, if we already submitted your application, then changes won't be possible and you'll probably have to apply again.
Is it safe to use ivisa.com to get my India eVisa?
You shouldn't worry or stress about using iVisa.com's online form because we created a powerful system that won't leak any information you offer. Plus, we have a trustworthy team that works carefully with your personal data. That's why we've received so many positive reviews that you can read here.
Where can I find more useful tips about this document?
For a speedier resolution, you can click here and begin talking to one of our customer service agents. Plus, you can find more useful tips about Indian eVisas here.