Applying for an Indian eVisa is easier than you think. Before, you needed to take a trip to the Indian embassy to get the Visa, but now you can simply get your online eVisa at home. All you need to get is a computer or a smartphone with an Internet connection.
Read more about the Indian eVisa with the information below.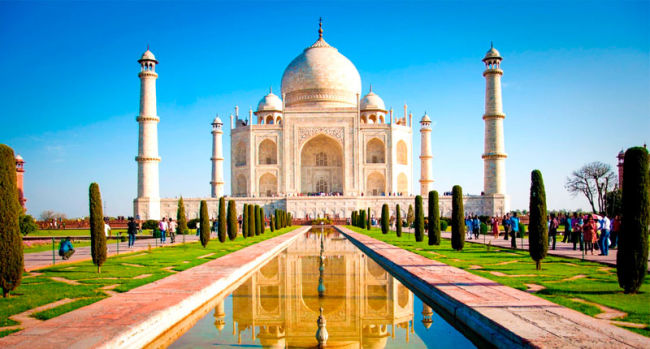 Frequently Asked Questions / FAQs
I'm from Haiti, do I need a visa to visit India?
Yes, you require to get a visa to travel to India if you're Haitian. The good thing is that you get the online version of this document (eVisa).
What is an Indian e-Visa?
It's a required document that supplants the consular visa and allows you to enter India with an electronic system linked to your passport.
How many types of Indian eVisas are there?
There are three types:
In this blog post, we'll talk more about the Tourist eVisa since it is the most used when traveling to India.
How long can I stay in India?
It depends on the type of eVisa you have. You can stay 90 days Per Entry if you apply for a Tourist eVisa. However, with a Business eVisa you can stay there 180 days in Total. The Medical eVisa allows you to stay 60 days in Total in India.
What do I need to provide?
There are a few things that you need to provide. iVisa will do most of the work, but you still need to help them get started. Here is what you need:
Hospital Letter (if applicable)

Applicant's Photo

Passport Personal Details Scan

Last Page of Passport (if applicable)
Keep in mind that the Hospital Letter is only necessary if you apply for the Medical eVisa.
You need to have a valid e-mail address and a Payment method to purchase your eVisa with iVisa.
How long is the Tourist Indian eVisa valid for?
This document is valid for 1 year after issued.
What are the prices and the processing times for the Indian Tourist eVisa?
Most people might be concerned about the total price of this service. Nevertheless, there's no need to be worried because iVisa provides an amazing service at competitive prices. The amount of your visa depends on two factors: processing time and visa cost. You can choose one of these three available options:
Standard processing –

5 days

. It costs

USD $101.99

.
Rush processing –

3 days

. The price goes higher this time. You will be charged

USD $142.99

.
Super Rush processing time –

36 hours

. This option will cost you

USD $189.99

.
Keep in mind that the prices for the Medical and Business eVisas can vary a little. You can check more about on this link.
How much time do I need to apply?
You only need a few minutes (less than 20) to complete the online form.
How can I apply?
Many people have negative opinions about online forms, but you can put your mind at ease this time. iVisa provides the easiest online form you can find. So easy that you only need to complete three stages, and it should take about 20 minutes to finish it. In case you need any help, there is a support service that is at your disposal 24/7.
The first step is to fill in your general information and choose both the processing time and visa type. It will only take 5 minutes to complete that.

The second step consists of revision and payment. Make sure that all the information you provide is 100% accurate. Check the spelling carefully.

The third step will ask you to answer a few personal questions and upload any additional documents you are required. After you are done with all that, you can click the submit button and wait.
Note that the Indian e-Visa is admitted only at 25 airports and 5 seaports in India. Any other point of entry will need a consular visa.
Start your online application here.
How many times can I enter India if I'm from Haiti?
You'll get a Multiple Entry Tourist e-Visa.
Do I need to get an eVisa for my kids?
Yes, every traveler must get an Indian e-Visa, even if they're children.
What if I'm just transiting through India but not entering the country?
In this situation, you won't need a visa or e-Visa, but you won't be able to leave the transit area or go through customs, officers will ask you to have it. We strongly recommend you to stay in the transit area.
How will I know if my India e-Visa is ready to use?
iVisa will inform you through an e-mail, so you can feel relaxed in this part, iVisa will take care of it.
How does the Indian e-Visa look like?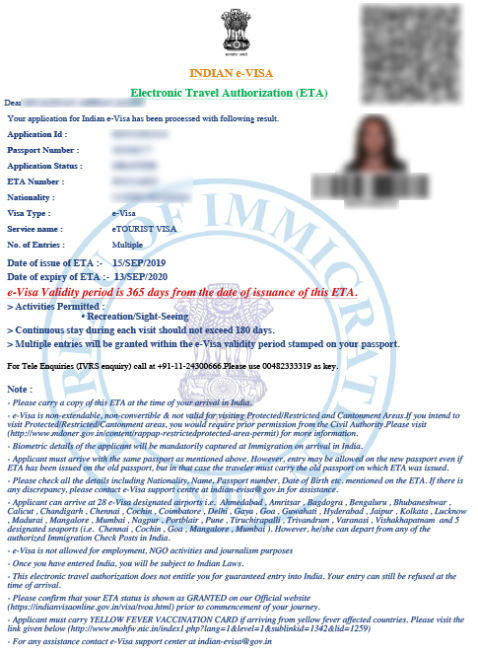 Where can I find more information about it?
If you want more details about the Indian e-Visa, then click here to find out more FAQs. If you prefer personal attention, then we suggest contacting us here.
Get ready for your trip in the best way possible!