Note that it's not possible to apply online for the India Visa as an Indonesian national at this time, but hopefully we will be able to offer the product again soon. In this case, you can read all of the information about the visa below to be better prepared for the online application when the visa is available again on our website.
Are you an Indonesian passport holder and planning your dream trip to India? The first step to visiting India is to apply for an Indian visa. Unfortunately Indonesian travelers need to go to the nearest embassy to get a visa right now. Some other countries can get a visa to India by a visa application online, which is a lot easier. Those who can apply online for the travel document need only a computer or smartphone with an internet connection and fill out a visa application form for an Indian eVisa on iVisa.
Thousands of international travellers and Indonesians visit India every year. There are plenty of reasons for this trip: the spirituality, healing treatments, amazing architecture of the Taj Mahal, colorful streets, and flavorful food. Beyond that, India is one of the fastest-growing economies in the world, and an important country for doing business.
In this article, you'll find the most up-to-date information about the visa application for an Indian visa as an Indonesian national, required documents, and some top tips and useful information for visiting India.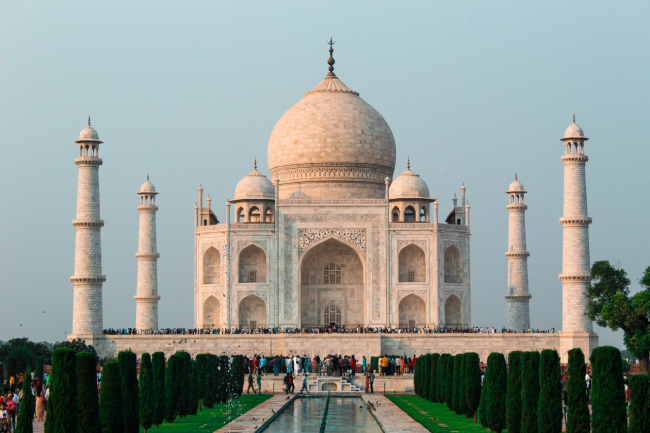 Steps to filling out the India e-visa application form as an Indonesian citizen
This short-term online visa is part of the mandatory travel documents for entry to India, and can be done 100% online by some nationalities. Whoever is eligible for a tourist visa for India, just needs to simply fill out the visa application form on iVisa and obtain the travel documents from the comfort of their home.
Which visa do Indonesian citizens need to visit India?
An Indian visa is a mandatory document to visit the country as an Indonesian passport holder. There are various types of Indian visas:
India Tourist Visa: This is a short-term visa for those that wish to travel to India for tourism purposes.
India Business Visa: Those that frequently do business in India should apply for this business visa.
India Medical Visa or Medical Attendant Visa: Indonesians seeking medical treatment should apply for this type of visa, while accompanying assistants or family members can apply for the attendant visa for India.
Please: Note that it's not possible for Indonesian nationals to apply online for the India Visa at the moment but hopefully it will be sometime soon.
How to obtain the Indian Tourist e-Visa online
Filling out an application form for an Indian Tourist e-Visa on iVisa is the easiest way for citizens to obtain one, as you can comfortably apply online at home. All foreign citizens wishing to travel to India require a visa. So, if you're traveling to India with minors, be sure to do the India visa application for them too.
There are a few documents required, such as a passport. All you need to do is fill out the information on the iVisa application page. All you need is a scan of your passport details page, passport number, valid email address, passport photo of the applicant, and some personal information.
The complete process of an India visa for Indonesian nationals
Get your India tourist e-Visa in three simple steps:
First, read all the information and fill out your details. Then, choose your preferred processing time.
Second, double-check and verify your information and do the online payments for the visa fee with a credit or debit card (see below for fee information).
Third, attach any documents required and click on the submit button to submit the application form.
Once you receive your Indian visa by email, we advise you to print the document to show to immigration authorities upon arrival in India.
Processing times and fees for the India visa for Indonesian citizens
There are three options of processing time for the tourist visa, with varying prices per option:
Standard processing time – 5 days: For the traveler with some time to spar. This option costs USD 88.00.
Rush processing time – 3 days: For those that need their visa faster than usual. This option costs USD 118.00.
Super Rush processing time – 36 hours: If you need your Indian visa urgently, choose this option. This option costs USD 153.00.
COVID-19 requirements and restrictions in India
Once you have your tourist visa, it's time to get informed about the India COVID-19 protocols and restrictions for Indonesian citizens. There are some requirements to travel to India during the pandemic, such as submitting an India self-declaration form and presenting the vaccination certificate. Since information may change quickly, we advise you to follow up on the latest India travel updates.
Vaccination rules for Indonesian citizens visiting India
All fully vaccinated travelers are allowed to just present a vaccination certificate, with no need for other, more restrictive protocols. These international travelers don't need to test on arrival or quarantine. It's the case for those who have Indonesian passports. However, filling out the India self-declaration form before departure is still mandatory.
Unvaccinated travelers need to show a negative COVID-19 PCR test result taken within 72 hours before their trip. If found to be falsified, you're liable for criminal prosecution, so please make sure to present an authentic report from a private health institution.
If you are traveling with minors, keep in mind that children under 5 years of age are exempt from COVID-19 testing before or on arrival in India. All other health protocols still apply.
Top tips for traveling in India
The country of India has a rich culture and is a zen destination with vibrant and busy cities at the same time. Prepare yourself for chaotic traffic, but also be amazed by the Indian way of life. iVisa has assembled some handy tips and tricks you need to know before you visit India. What are you waiting for? Pack your bags!
Get insurance with coverage for India
Besides getting an Indian e-visa or a paper tourist visa, you may want to look into getting travel insurance. It's an important measure to guarantee access to medical treatment, in case of any unforeseen circumstances. Additionally, check if your insurance covers treatment or cancellation regarding the Coronavirus.
Always book ahead
November to February is the peak season in India. It can be hard to find last-minute deals and good accommodation. To avoid this problem, it's always advised to book tours and accommodation in India in advance, whether you do it directly with hotels or through an agency. The same goes for train tickets and other tourist attractions, especially on popular routes.
Check out the diverse Indian food scene
India offers a very diverse food experience, with countless spices and just as many religious traditions. For example, Muslims don't eat pork, a majority of Hindus don't eat beef, and some Hindus and Buddhists have vegetarian or vegan diets.
Because of these religious beliefs, it's very easy to find good vegan and vegetarian options in Indian restaurants. Those with a sensitive stomach may want to keep some stomach medicine on hand, as you may not be used to the spicy food. Keeping to bottled water, and avoiding salads and ice in drinks, are also good tips to keep your belly happy.
Explore beyond the city
New Delhi and Mumbai are big cities, full of life and activities. But for a truly Indian experience, you should venture out to some smaller villages. Do a trip to the mountains or the slower-moving land of Kerala in the south, and enjoy the famous Indian hospitality and a more zen adventure.
Weather in India
Because India is such a large country, you can find temperatures below 10ºC in one city and over 30ºC in another, in the same season. In general, the best time to travel to India is between October and March, when the weather is warmer, sunnier, and dryer.
From December to January, the weather in the Himalayan region can be very cold and foggy. April and May offer nice temperatures to travel, but you should prepare yourself for high humidity and thunderstorms.
Frequently Asked Questions
Do Indonesia passport holders need an Indian visa?
Yes, Indonesian citizens need a visa. The document is mandatory to travel to India.
What is the India Tourist eVisa?
The India Tourist eVisa is an official document permitting entry into and travel within India and is electronically linked to your passport. It was introduced by the Indian Government in November 2014. This was done to promote travel to India without requiring a trip to the embassy or waiting in long lines at the border.
The following year, India rolled out its eVisa program for other major world countries. In April 2017, India transformed its eVisa program, introducing visa subcategories for tourists, business travelers, and medical visits. Unfortunately, the eVisa is not currently available for Indonesians.
Do I need to contact the embassy to get an India visa?
Yes, you do. To travel to India, Indonesian citizens can't currently complete a visa application online. You need to go to the nearest Indian embassy to apply for a tourist visa.
How long is the India e-Visa valid for?
This visa for India remains valid for 1 year after being issued and grants multiple entries for a maximum of 180 days in total per entry.
What are the documents required to apply?
For those who can apply for an online visa, there are just a few documents that Indonesian needs to provide, and iVisa will do most of the work. Here is what you need:
Digital photo of yourself: It is recommended that the photo is recently taken. You should not make any unusual facial gestures in it, and the background should be white.
A scanned passport information page.
Means of payment: iVisa accepts multiple methods of payment. You can use a credit or a debit card.
What are the photo requirements for the India e-visa application?
For this document, you have to upload a digital photograph as part of the application process. The photo should follow the below requirements:
The height and width of the photo must be equal.
It must present an image of your full face, front view, with both eyes open.
The applicant's face must be centered.
The background should be plain, light-colored, or white.
No shadows on the face or the background.
Please upload your photo without any borders.
How long does it take to apply for an Indian tourist eVisa?
Filling in the iVisa.com application form with your data will take you less than 10 minutes. That's all you need to do, and our team will handle the rest. You will be updated about the status of your eVisa by email.
What does the electronic tourist visa for India look like?
See a sample of the India e-visa below:
Does my child need a visa to travel to India?
Yes, everybody must apply for an Indian visa if applicable to their nationality, regardless of their age. Parents or legal guardians are responsible for completing the application.
Do you still have questions?
If you still have doubts about the India Tourist eVisa or any other travel documents mentioned, then feel free to contact our visa experts 24/7. You can talk to the iVisa.com customer support team at any time, or email us at [email protected].