There are more than 150 nationalities, including Israeli who can now apply for an India electronic visa. The concept has gained popularity since its inception, and the fact that Israeli travelers are no longer required to go to the Indian embassy for their visa is a huge selling point. Basically you can now get your Indian Visa with an internet connection and an electronic device. While many Israeli can apply, you still need to check your eligibility. You can do that using the Visa Checker. You put in your country of origin and choose India as your destination. The information you need will unfold in a second.
To learn more about the requirements and other useful tips of this e-Visa, keep reading this article.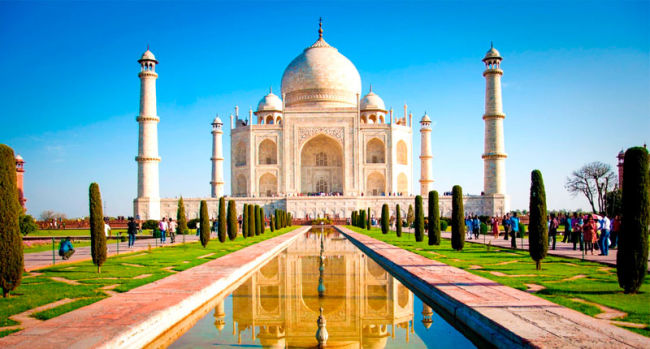 Frequently Asked Questions
I am an Israeli passport holder, is it mandatory to get an evisa to visit India?
Yes, it is, all Israeli citizens must apply for an India Tourist e-Visa. Even so, we have good news! You don't need to visit an embassy anymore, with an online application you will be ready for your Indian trip! Check all the requirements needed here.
How many visa types are available for Israeli citizens?
Authorities established three types of visas:
Tourist electronic Visa.

Business electronic Visa.

Medical electronic Visa.
PLEASE BE AWARE aware that the info provided in this blog is related to the India Tourist e-Visa for Israelies. The info regarding India's visas depends on every nationality and the visa type needed. Check all the requirements and info for the Business and Medical eVisa here.
Can I know what is an Indian Tourist electronic Visa?
It is an authorized document provided by the Indian authorities. The Indian Tourist e-Visa allows you to enter and travel to the country. It is linked electronically to your passport.
How long is the Indian Tourist e-Visa validity?
This Tourist e-Visa has a validity of 1 year after issued and grants you Multiple Entry for a total stay of 90 days Per Entry per entry.
What documents do I need to apply?
iVisa makes the application simple for Israeli citizens, but you still need to make a little effort. You need to give the proper information so that they can do your bidding. The list is not long, and the things on it are easy to obtain. Here is what you need:
Valid passport – you will have no issues with obtaining a passport, and if you already have one, take a look at its expiry date.

Digital photo of yourself – the photo should be as recent as possible. You should not make face gestures in it, and the background should be white. Just scan it and upload it when you are told to.

A passport scan of the information page

Means of payment – iVisa accepts multiple methods of payment. You can use a credit or a debit card, and since Paypal has become quite standard these days, you can use that as well.

Business card copy and invitation letter – this requirement applies to people who want to go to India on business and apply for an India business eVisa.

Letter from the hospital in India – this is valid for people who apply for a medical visa.
What are the prices and the processing times for Israelies?
The cost of an India e-Visa is related with the visa type (tourist, business, medical) and processing time. iVisa has available processing times, you can choose the one of your preference. Here they are:
Standard – 5 days. Because it is the cheapest option, most applicants go for standard. It only costs USD $94.99.

Rush – 3 days. The cost goes a bit higher than with the previous option. You will be charged USD $149.99.

Super Rush – 36 hours. As you can expect, the price goes even higher. This option will cost you USD $194.99.
All the previous information is related to the tourist visa. A medical or business visa has a higher price. You can check it here.
Can I know the duration of the application?
You're able to complete this application form in just 20 minutes or even less depending on how fast you can answer the questions. But you won't spend a lot of time, for sure.
How is the application form?
We know that filing a form is not the favorite activity in life, this is why iVisa makes the process simpler and easier for Israeli citizens. The application form we provided is broken down into three simple steps, but in case you feel that you need assistance or guidance please contact iVisa's support service. Someone will take your call 24/7 and guide you through the process.
The first step is quite simple. In this part, you just need to insert the basic information such as name, address, e-mail, passport info, date of birth, marital status, and so on. At this point, you are also required to choose the visa type and the processing time.

The second step is related to revision and payment. The accurate disclosure of the info is pretty important. Once your information is processed, you cannot make any corrections. Please make sure that you double-check every single information before applying.

The third step consists of a personal questionnaire and photo upload. You will be required to upload additional documents, but the amount depends on the case. Not all Israeli need to upload the same amount. But don't worry, you will be instructed on what you need to upload. Once you complete all three steps, just submit your application and wait for it to arrive in your e-mail inbox in the timeframe you chose. It is as simple as that.
The document allows you to stay in India for a maximum of 90 days Per Entry and grants you Multiple Entry, depending on the type.
However, keep in mind that an India e-Visa can be used only if you use a designated point of entry. At the moment there are 25 airports and 5 seaports that accept such a document. A different point of entry requires a consular visa for which you need to visit the Indian embassy in your location.
What's next after I finish the application?
As soon as you finish the application form, just wait. Your India Tourist e-Visa will be sent via e-mail, in the time you previously selected. There is no need to visit the embassy. iVisa does it for you. By the time you are at the India airport just present your passport and a printed version of your evisa document. Now take the additional time thanks to iVisa and start preparing your trip!
Is it mandatory to obtain an India Tourist eVisa for my kids too?
Yes, you must apply for them. All travellers wishing to travel to India require an e-Visa, including minors.
Can I apply for my family members or friends?
Yes, you can do it by just making sure you have all the required documents (you can see these above in this article). You can apply here entering their information. In case you need to apply for more than one person, you can do so by clicking on 'Add new applicant' in the application form and completing the data required.
What happens if I make an error while I'm applying?
In this happen to you, just get in touch with iVisa's customer service representatives as soon as possible. They will available and glad to guide you 24/7.
The India Tourist eVisa once is issued will be linked to your passport number. So, if the application is already submitted, you will NOT have the possibility of modifying any information.
How does my future e-Visa will look like?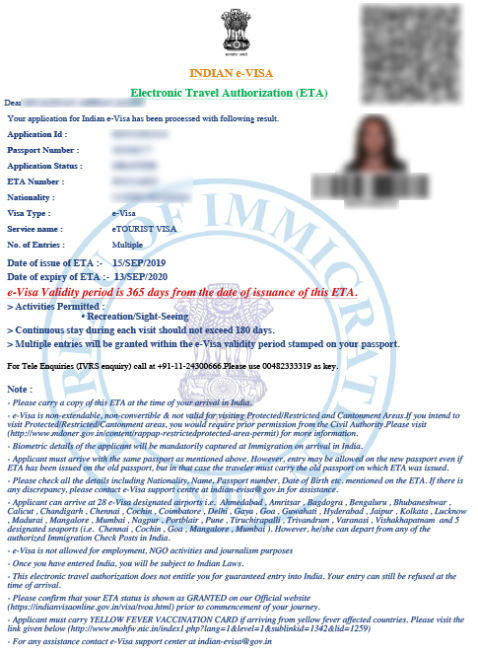 If I have more queries or doubts, what can I do, is there any extra information available for me?
In case you have specific doubts, click here and immediately you will have the chance to chat with one of our customer service agents. Also, if you prefer reading just click here and you will find all the extra information you need.