Macedonian now has the possibility to obtain an Indian electronic visa as well as other 150 nationalities. Happily, Macedonian don't need to visit the Indian embassyto get their visa anymore. Now, you can apply online just using any device that has a connexion with the internet.
But you also need to consider some important requirements before applying, and that's what we will explain to you in this article.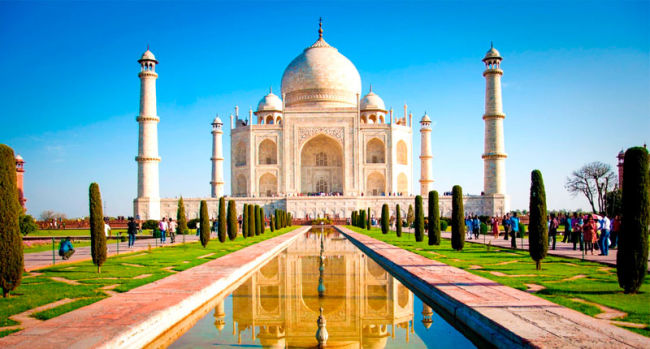 Frequently Asked Questions (FAQs)
Do Macedonian citizens need a Visa to go to India?
Yes, they do, Macedonian passport holders must get an India Visa before planning any travel to India. To check requirements, click here.
Can I know the Indian e-Visas types available for Macedonian?
There are currently three types of visas:
Tourist e-Visa, which is the most commonly requested.
Business e-Visa
Medical e-Visa
PLEASE NOTE THE FOLLOWING: the information on this blogpost is mainly related to the India Tourist e-Visa. Data can change depending on the visa type you need. You can check information and requirements for the Business and Medical eVisa here
What is an Indian Tourist e-Visa?
The Indian Tourist e-Visa is an authorized and official document that gives permission to enter into and travel within India and is electronically linked to your passport.
How long is the India e-Visa valid for Macedonian citizens?
If you're from Macedonia, you can stay in India for 90 days in Total.
What is required to apply for an Indian e-Visa if I'm Macedonian?
From your side we need almost no effort, iVisa will take care of the heavy lifting. Just provide us basic information so we can do start. We just need some documents, in case you don't have it they are easy to get. This is the list:
A Valid passport – getting one is not difficult at all, if you already have one, ensure to check is not expire.

Digital photo of yourself – it is better if the photo is the most recent you have. You should not make face gestures in it, and the background should be white. Only scan the photo and upload it.

A passport scan of the information page

Means of payment – iVisa accepts multiple methods of payment. You can use a credit or a debit card, also Paypal is accepted.

Business card copy and invitation letter – this requirement applies to people who want to go to India on business and apply for an India business eVisa.

Letter from the hospital in India – this is valid for people who apply for a medical visa.
What are the processing times and costs for this visa?
The cost of an India e-Visa depends on visa type (tourist, business, medical) and processing time. You have three options to choose for processing time, and they are as follows:
Standard processing time – 5 days. this is the least expensive option, most applicants go for it. It only costs USD 86.00.

Rush processing time – 3 days. The cost goes a bit higher than with the previous option. You will be charged USD 116.00.

Super Rush processing time – 2 days. As you can expect, the price goes higher than before. This option will cost you USD 151.00.
It is important for you to know that a medical or business visa have a different price. You can check here.
How long is the application process for an Indian Tourist e-Visa if I'm from Macedonia?
Just completing the form with your personal and important informaton will take you no more than 10 minutes.
How do I apply for this e-Visa?
iVisa provides you an easy form. The application form consists of three simple steps. In case you need help. just contact iVisa's support service. We are always available 24/7 for you and can guide in the whole process.
In the first step Macedonian only need to provide basic information like name, e-mail, address, date of birth, passport info, marital status, and so on. Also you need to choose the processing time and visa type.

In the second step just a review and payment is needed. Provide accurate information is extremely important. The reason is that once your application is processed, any modification or correction can be done. Double-check before submitting the application.

In the third step is only needed to answer a short questionnaire and to upload a photo. Additional documents may also be required, it will depend on each case. Is not the same for everyone. Don't worry, if this happens we will guide. After you complete all the steps, submit the application, and wait for it. Once your visa is approved we will send it to e-mail in the timeframe you chose.
How many times can I enter India with my Macedonian passport?
If you apply for your Indiand e-Visa, you'll have Multiple Entry. Remember, this e-Visa can be used only in the designated point of entry.
How many points of entry accept this e-Visa?
Nowadays 25 airports and 5 seaports accept this e-visa. If you want a different point of entry you will need a consular visa. In that case you will need to visit an Indian embassy.
What happens after I finish my application?
After you finish it, you just need to wait for your India Tourist e-Visa to be sent by e-mail in the timeframe you chose in PDF format. No need to deal with the embassy.
How does the Indian Tourist Visa look like?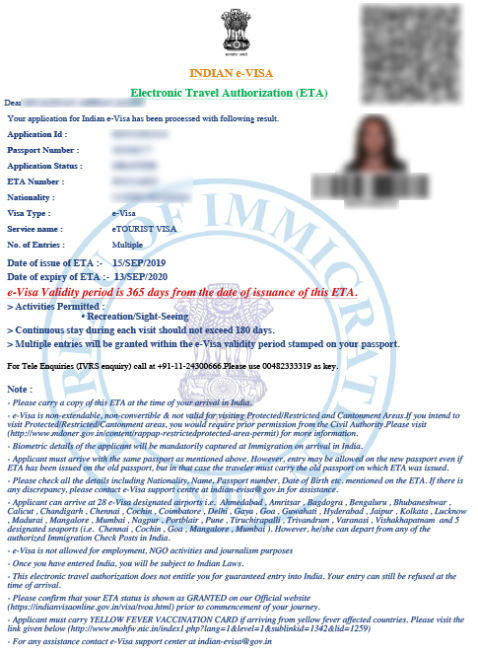 I'm traveling with my children, do they need a visa to travel to India?
Yes, they do. everybody must apply for an e-Visa regardless if they're minor or not.
I'm having some unresolved questions, where can I read more?
If you're still having some specific questions, you can click here and start chatting with one of our customer service representatives. On the other hand, you can find more information and useful FAQs here.