Getting ready to visit India? This is a popular country for many travelers. That shouldn't be a surprise as this nation has many things to offer, including beautiful buildings, delicious cuisine, and exotic wildlife. However, to enter this nation you must be sure of the travel documentation required. You may need an India e-Visa online when arriving.
The India eVisa is mandatory for many nationalities, including Moldovan. That's why you shouldn't overlook it when planning your trip.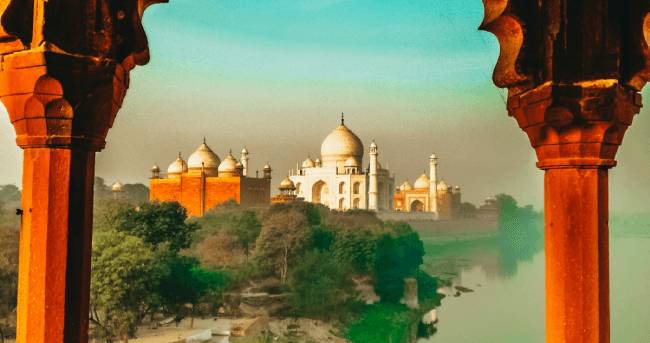 As a Moldovan citizen, you only need this electronic document and not an India visa for Moldovan per sé. We say this because the eVisa isn't the same as a Paper Visa.
You can apply for your eVisa on iVisa.com, but we recommend you read the questions below first to get ready for this application process. It's not complicated at all, but it's always better to get a proper preparation for it.
Frequently Asked Questions
Do I need an India visa for Moldovan citizens?
The first question you might have about India is if you need an India visa for Moldovan citizens or not. If you have a Moldovan passport, then you do need a visa, but not a traditional one.
What you need is an Indian eVisa, which is faster and simpler in comparison to the traditional visa. This type of eVisa can be processed in a few minutes to prepare you for your trip as fast as possible.
What is an Indian eVisa for Moldovan citizens?
Now that you know what you need, it's time for you to learn more about this document.
The Indian Electronic Visa is a pre-travel application that authorizes you to enter India for a short-term visit. It's similar to a traditional India visa for Moldovan citizens, but with the difference that you receive the eVisa faster and easier.
You can apply for this eVisa at home by completing an effortless online application form at iVisa.com.
How long can I stay in India with this eVisa?
As for the maximum-stay-allowed, it depends on the type of eVisa.
The India Tourist eVisa, which is the most requested, allows you to stay 90 days Per Entry. However, the validity is not the same because this document is valid for 1 year after issued.
In the case of the medical e-Visa, it is valid for 60 days after arrival, while the Business e-Visa is valid for 1 year after issued.
The number of entries also varies. For the tourist eVisa, you can have Multiple Entry, meaning that you can enter India as many times as you want.
What things are necessary to apply for an Indian eVisa?
We focus on the hard work of this process, but that doesn't mean that you don't have to do anything. However, your job is close to none because you only have to fill in an online form and get ready for it with the following items:
Your current passport: it must not expire once you arrive in India.
Digital photo of yourself: it must follow the proper guidelines, which is why we recommend you check iVisa.com's passport photo.
A scanned copy of the information page.
Payment options: you can pay for this document with your Paypal account or your debit/credit card.
Business card copy and invitation letter: both are necessary if you apply for the India business e-Visa.
Letter from the hospital in India: similar to the previous item, you need this only if you apply for a medical visa.
What is the price of the Indian eVisa?
With iVisa.com, you have not one, but three processing options to choose from. The prices for these options are determined by the waiting period, so the faster you want your document, the higher the price will be. The options are as follows:
Standard processing:

5 days

. You'd have to pay only

USD $101.99

in total.
Rush processing:

3 days

. The price increases to

USD $143.99

.
Super Rush processing time:

36 hours

. By choosing this processing option, you'd have to pay

USD $190.99

.
The prices above are based on the India Tourist eVisa, the prices for the other two types of eVisas would be USD 137.00, USD 167.00, and USD 202.00. You can confirm that here.
If you want to see more information about the India Visa for Moldovan citizens, check this link.
How is the application process with iVisa.com?
After you get all the items required, you can now continue with the online form. Don't forget that if you need help, there's a support service ready to assist you. It's available 24/7.
As for the steps of the application, these are:
The first one will be to fill in the form with basic details like full name, address, e-mail, date of birth, passport info, etc. You also have to select your preferred processing option and visa type. Don't forget that both factors influence the total price.

The second step consists of a revision and payment. Be sure to write all your information correctly to avoid mistakes, as mistakes cannot be corrected once the form is processed.

The third step will be to upload your items. You don't have to worry about what you upload, we'll always let you know about that.
This process is very easy, so you might be ready in only 20 minutes.
Is it safe to use iVisa.com's service to get my eVisa?
Yes, for sure! We have professionals that can keep all of your data safe, so don't bother about getting your information leaked, that won't happen with our platform.
You can learn more about the India Visa for Moldovan citizens here. You can always check our reviews in case you're still unsure about our services.
What does the Indian eVisa look like?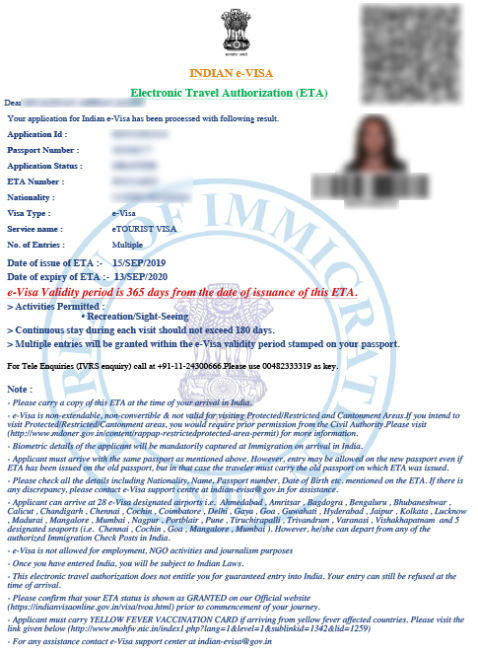 Where can I get more information about the India visa for Moldovan citizens?
If you require more information about the India visa for Moldovan citizens, then go to this link. You'll be able to learn a lot of important information there, including India's tourist attractions. However, if you prefer to get personal assistance while applying, you can always contact us.
Enjoy your upcoming trip to Indian and apply online for your e-Visa with iVisa.com's online form!