India is considered one of the best countries to visit for those searching for ancient knowledge and mystical experiences. Many New Zealanders travel to India because it's full of color and contrasts, and you can find a lot of different activities in one place. From ancestral traditions and modern architecture to amazing food and natural wonders, a week in India is simply not enough.
India is one of the largest and most fascinating countries in the world. Traveling to India can be challenging, but it shouldn't be a problem when you have prepared your trip well. This includes obtaining an Indian visa, booking your flights from New Zealand, and making sure to reserve hotel accommodations and tours.
Keep in mind that India has a different culture than New Zealand. That's why we've gathered some information in this article to help you plan your trip.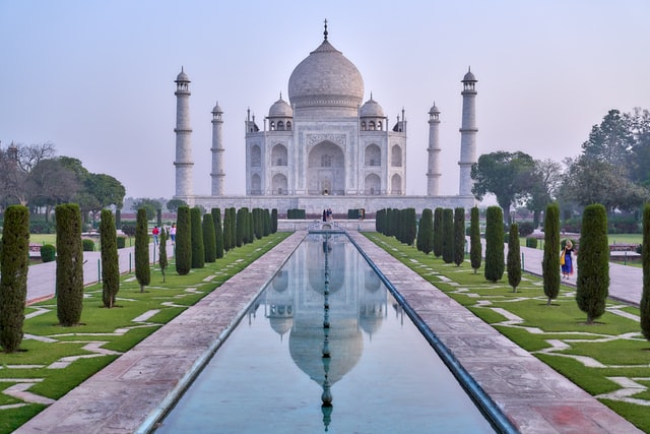 Do New Zealanders need a visa to travel to India?
If you are planning to visit India as a New Zealand national, you will need to apply for an Indian visa. It grants you access to the country as a tourist or for attending business meetings. Simply apply for the India visa online on iVisa in less than 10 minutes.
The India visa is a mandatory travel document that grants New Zealand passport holders the chance to visit India as a tourist. It has a year of validity and can be applied online. The Indian e-visa grants you a stay for up to 30 days in Total.
How to apply for the India visa online from New Zealand
Travelers wishing to obtain the India visa for New Zealanders must provide the following details when applying:
A valid passport

A valid email address

Digital portrait photo with a white background. If you don't have one, check out the iVisa digital photo service.
Once you have filled out your details in the online application form, upload the necessary documents, choose the preferred processing time, and confirm your application.
Costs and processing times of the Indian e-visa
Spontaneous trips are the best! However, make sure to leave enough time between booking your flights and the departure date from New Zealand, to process your visa for India. iVisa offers three options for early bookers and last-minute deciders:
Standard Processing: For USD $86.49, you receive your e-Visa in 5 days.

Rush Processing: For USD $128.49, you obtain your e-Visa in just 3 days, perfect for those leaving for India shortly.

Super Rush Processing: For USD $175.49, your e-Visa will be processed in 36 hours, an ideal option for travelers in a rush.
Safety in India for New Zealand travelers
India can be slightly intimidating since it's one of the biggest countries in Asia, but you don't have to worry. Certain places can be chaotic, but overall, India is a safe destination for tourists from New Zealand and other parts of the world, if you keep your wits about you and take all the necessary precautions.
Safety precautions for visiting India
Like on any trip, it is recommended to keep your documentation in a safe spot at your accommodation or in your bag, and make sure not to show off any major valuables while in public.
Popular places like the Taj Mahal and The Holy City of Varanasi are great to visit with a guide. Most tourist attractions are safe to visit on your own, but with a guide, you'll get the most insightful information while having that local person help you if you need any assistance with transport or language.
Female travelers from New Zealand may experience different treatment than they are used to at home. It is not recommended for women to travel alone, especially at night. Additionally, make sure to dress according to the local Indian customs by dressing modestly or even wearing a Sari.
Avoiding scams in India
Scamming in India is a serious issue. Avoid carrying a lot of cash and be careful with your valuables and electronics. Some street vendors distract innocent travelers while pickpocketing or talking them into buying an overpriced item.
Also, be aware that travelers may be scammed while preparing their travel documentation to visit India. Never use random, informal internet sites without any reviews, and make sure to apply for your Indian visa with a reliable visa service such as iVisa.
Top things to do in India
Indian is full of things you've probably never done or seen before, everywhere you look. All day long, no matter where you go, there will be something interesting to experience around every corner. Here are a few recommendations that you shouldn't skip on a visit to India.
Taj Mahal
Taj Mahal (aka "the Taj") is surely the most beautiful and romantic mausoleum in India, if not the world. The elaborate tomb dates back to the 1600s. Its striking white marble structure is a symphony of geometry, balance, and constraint. Go with a guide, or there are audio guides that can be rented or downloaded on your cell phone to allow you to tour at your own pace.
Mysore Palace is the second most visited palace in India after the Taj Mahal. It is one of the oldest buildings in the country and was the royal residence of the Wodeyar dynasty. Its construction mixes elements of Islamic and Indian architecture. This place is perfect as a starting point for your stay in India.
The holy city of Varanasi
Varanasi is one of the oldest still inhabited cities in the world and a major pilgrimage site for Hindus. It is also home to the mighty Ganges river, one of India's most important religious symbols. Explore the old quarter, the New Vishwanath Temple with its seven separate temples, and of course, the many "ghats" featuring stairways to the mighty Ganges.
Holi festival
By March, it is time to say goodbye to winter in India, and spring brings the festival of colors: Holi! Holi is culturally significant among various Hindu traditions in the Indian subcontinent. During this holiday, you are supposed to put an end to mistakes of the past, make amends with the ones you love and forget and forgive. It is by far one of the most fun festivals in India, where people of all generations play with water and dry colors in the streets.
Where can I find more information about visas and traveling to India?
By taking notes of all the information above and also the online form, it shouldn't be difficult for you to enjoy your trip to India without any problems. Our helpful customer service agents are available 24/7 to help you solve all your questions about the India visa for New Zealanders via chat or by email at [email protected].