Most people, including Norwegian, do not enjoy going to an embassy for their visa, especially because you have to stand in a long queue waiting to apply. Another hassle is that you may be required to travel quite a bit depending on the country of origin. However, there's a better solution for you.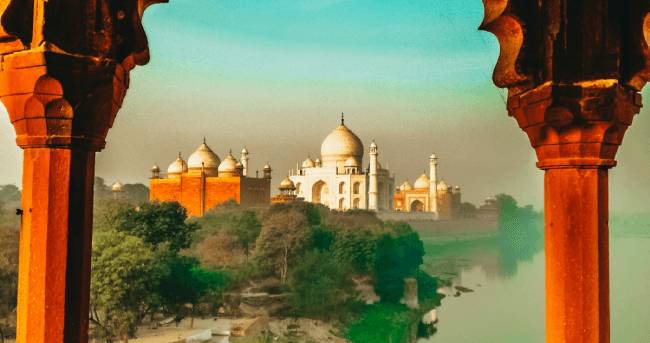 If you're traveling to India. You can apply for an India e-Visa, which is the electronic version of the India visa for Norwegian. You can do that whenever you like, not only during business hours, and all you need is a computer or a smartphone with an internet connection. The best part is that you can apply for this visa from the comfort of your own home or even your favorite coffeehouse.
To learn more about the India visa for Norwegian, we left you this article with useful information.
Frequently Asked Questions
Is the Indian eVisa mandatory?
Yes, it is. All Norwegian citizens require an India visa for Norwegian to visit India, but the good news is that this document is online, so you shouldn't visit an embassy to get it.
What is an Indian eVisa?
It's an official document that the Indian government launched to certain foreign citizens. The India e-Visa allows these citizens to enter the border legally.
The duration of the eVisa depends on the type of eVisa, as you can apply for a Tourist eVisa, a Business eVisa, or a Medical eVisa. In the case of your Indian Tourist e-Visa, you can use it for 1 year after issued, but remember that you can be in Indian territory only for 90 days in Total upon arrival.
What papers do I have to provide to get this document?
You need a few things to get started as iVisa.com will do the tedious part of the process for you. In the information below, you will find a list of everything you need to offer as a Norwegian:
Valid passport: make sure that it is not expired when entering India-
Digital photo of yourself: this picture must be recent and it should follow all the proper passport guidelines, including avoiding face gestures.
A passport scan of the information page.
Means of payment: by using iVisa.com you can use Paypal or credit/debit card.
Business card copy and invitation letter: this requirement applies to people who want to go to India on business and apply for an India business e-Visa.
Letter from the hospital in India: this is valid for people who apply for a medical visa.
What is the price of the Indian eVisa?
The cost of your visa depends on two things: visa type and processing time. iVisa.com provides three types of visas: for tourism, business, and medical. As for processing time, you have three options:
Standard processing:

5 days

. This is the least expensive and common option, probably because the price is just

USD 88.00

.
Rush processing:

3 days

. The cost goes a bit higher than with the previous option. You will be charged

USD 118.00

.
Super Rush processing time:

36 hours

. As you can expect, the price goes even higher. This option will cost you

USD 153.00

.
These are the fees in case you decide to apply for an Indian Tourist e-Visa. You can check here what are the other prices with other types of visas.
You can also check this link to learn more about the India visa for Norwegian.
How is the application process?
Most forms are difficult to comprehend so many people may not like it. That does not apply to iVisa.com's application form. It only has three easy steps, and in case you need any help, the company has an excellent support service that's ready to take your call as soon as possible.
The first step should take only about 5 minutes of your time and will ask you to insert your general information. You must also choose the processing time and visa type which will affect the cost of your visa, so make sure that you know what to select.

The second step will ask you to take another look at what you wrote in step one and make the payment. It's highly recommended that you check the accuracy of every piece of information you insert because corrections are not possible after your application is processed.

The last phase consists of one last set of questions and photo upload. It may differ from person to person but you may need to upload additional documents. After you are done with all three steps, you hit the submit button and wait. It cannot get any easier than that.
As you can see, the whole thing is super simple. It should take you about 20 minutes to be done with the application process. Thousands of people have done so and they're more than satisfied with the results. There's no reason you won't be as well.
What airports and seaports allow the use of the Indian eVisa?
Nowadays, 25 airports and 5 seaports allow this electronic format for visas. Another point of entry apart from them, request a consular visa, and in that case, visiting the Indian embassy will be necessary.
This eVisa is available to use for only these airports: Visakhapatnam, Nagpur Ahmedabad, Bagdogra, Bengaluru, Bhubaneswar, Calicut, Chandigarh, Cochin, Coimbatore, Delhi, Gaya, Goa, Guwahati, Hyderabad, Jaipur, Amritsar Kolkata, Lucknow, Madurai, Mangalore, Mumbai, Port Blair, Pune, Tiruchirapalli, Varanasi, Thiruvananthapuram, Chennai. Regarding the seaports, this 5 allows the use of the Indian eVisa: New Mangalore, Cochin, Chennai, Goa, Mumbai.
How many times can I apply for this eVisa?
You can apply for 2 Indian e-Visas in a year (from January to December).
Is it necessary to get an Indian eVisa for my children?
Yes, everyone has to apply for an Indian e-Visa if eligible, including minors. Children should apply separately.
How safe is iVisa.com's online form?
It's quite safe because we invest a lot of our resources in security systems and also work with skilled professionals that keep your data safe, so do not worry, any info can't be leaked. Check these reviews if you want to learn more about it.
How can I find more information about the Indian eVisa?
If you need extra info or have any doubts about the India visa for Norwegian, just click here where you can find valuable data about India and Indian tourism. In case you wish for personal assistance, please contact us. We have an excellent customer service team that can provide you more info or resolve any query 24/7.
We focus on the best way to simplify your visa process. iVisa.com has a 9.5 '"wonderful" rating from more than 18,000 reviewers on Trustpilot. If you want to get your Indian eVisa as fast as many of our customers do just apply for it now and get ready to start your adventure!