When you organize a trip, you probably take notes of everything you need, including the documents the authorities ask for at the airport. That's why you shouldn't overlook things like a visa or pre-travel request. If you're a Palauan citizen, and you're planning a trip to India, you should know at least the basics about the India visa for Palauan.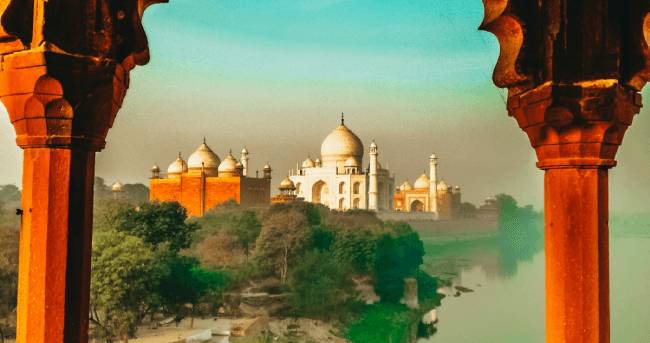 Firstly, you should know that this India visa is called an Indian eVisa since it's available through an online form, and not by going to the embassy. That doesn't mean that you cannot have it by going to the embassy, but you don't need to. You can easily save time by applying online with iVisa.com.
After you finish the online form, you receive the updates via email inbox, including the approval of the document and the actual eVisa. To learn more about this online process, read the FAQs we've prepared below.
Frequently Asked Questions
What is an Indian eVisa for Palauan and why do I need it?
While preparing your travel, you should know by now that as a Palauan citizen you need an India visa for Palauan. But, for your convenience, this document can be an eVisa, meaning that you wouldn't have to visit the nearest embassy to have it.
The Indian Electronic Visa is an online travel document that the Indian Government launched to offer valid permission to enter the Indian territory. One nationality that can apply for this eVisa is Palau, so you can apply for the Indian eVisa by having your Palauan passport.
You need this document before entering India, otherwise, the authorities could deny your entry.
What items do I need to apply online?
Contrary to other online processes where you have to find a long list of items to get the eVisa, iVisa.com asks you only a few things. Better yet, you'll probably need just basic things if you apply for the Indian tourist eVisa.
The following list might vary a little if you apply for the Indian Business eVisa or the Indian Medical eVisa. Don't forget that you can learn more about these documents here.
Passport: the passport is always the most important document when traveling, so make sure to have it while applying. Don't forget to make sure that it's valid once you arrive in India.
Digital passport-sized photo: this picture should be as recent as possible. You can get more help about it by using iVisa.com's professional photo service.
A scanned copy of your passport's info.
Means of payment: the eVisa has a price, and it can vary depending on things like the type of eVisa and processing times. That's why you should have a Paypal account or a * debit/credit card ready for payments.
Business card copy and invitation letter: this option is necessary only for the Indian Business eVisa.
Letter from the hospital in India: similar to the previous item, this will be necessary only if you apply for an Indian Medical eVisa.
How long can I stay in India if I have the Indian eVisa?
This information will depend on the type of Indian eVisa, but if you apply for the tourist one, you can stay in India for 90 days Per Entry.
Remember that this eVisa is valid for 1 year after issued.
How much does the Indian eVisa cost?
The prices will vary depending on the type of eVisa and also the processing time you choose. To help you with this, take into account the following information related to the Indian tourist eVisa:
Standard processing: it has a total price of

USD $29.49

, and it'll process your eVisa in only

5 days

.
Rush processing: by choosing this option, you'll wait only

3 days

, but the price will be

USD $51.99

.
Super Rush processing time: this time, you'll have to wait only

36 hours

, which is an excellent alternative if you're in a rush. But, keep in mind that since this option is the fastest one, you'll have to pay

USD $83.99

.
If you want to know the prices of the other eVisa or you want to learn more about the India visa for Palauan click here.
How can I apply for the Indian eVisa on iVisa.com?
At iVisa.com we know that online forms can be quite stressful and time-wasting. That's why we've prepared one of the easiest forms that you'll ever complete. This form only has 3 steps and it won't take you more than a few minutes. Nevertheless, if you want to get personal assistance, there's a customer service ready to chat with you.
The first step is to fill in the initial questionnaire with your basic details. In this step, you also have to choose both the processing time and visa type.
The second step is to make sure that the information is correct before paying for the eVisa. We suggest checking the spelling carefully.
The third step is to attach some documents to the form if necessary. After you finish this step, you can click the submit button and wait for your eVisa that will be in your email inbox as soon as possible. That would be everything!
Remember that the number of entries and the maximum stay allowed will depend on the type of eVisa you choose. You should also consider that the India eVisa is accepted only at 25 airports and 5 seaports.
You can click on this link if you want to read more about the India visa for Palauan.
Is it safe to get my Indian eVisa with iVisa.com?
Yes, we can guarantee that it is. We work with many experienced professionals that safeguard all the information you offer, so don't worry about getting these details in the wrong hands, that doesn't happen with our services.
Where can I find more information about the India visa for the Palauan?
By clicking on this link you'll be able to learn more about the India visa for Palauan. You can also chat with one of our agents by clicking on this link.