If you are a Palestinian wishing to travel to India, you can apply for an Indian eVisa for citizens of Palestine which is the electronic version of this travel document.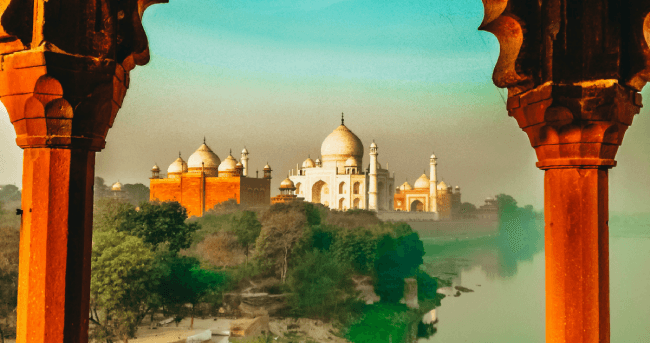 Booking through iVisa.com allows you more flexibility and less queues. You can apply whenever you like, not only during business hours, and all you need is internet connection to fill in our online application and apply now for your Indian eVisa for citizens of Palestine: save time and avoid endless bureaucratic procedures and queues, get your e-visa directly via e-mail and get ready to travel!
Frequently Asked Questions (FAQs)
Is a vaccination required to enter the country?
A COVID-19 vaccination is recommendable but not mandatory to enter India.
PCR Test required to enter the country?
Yes, to enter the country it is asked to show a valid and 'negative' PCR test, taken within 72 hours from flight departure (for all passengers aged 10 or above).
Quarantine required upon arrival to the country?
Yes, travelers will be asked to self-isolate and monitor their health conditions for 14 days.
I have a Palestinian passport, do I also need an Indian visa for citizens of Palestine to visit India?
Yes, Palestinian citizens wishing to visit India need to apply for an India Tourist eVisa.
How long can visitors with Palestinian passport stay in India with a tourist eVisa?
Palestinian travelers with a Tourist eVisa can enter India for a maximum of 90 days Per Entry in Total. All your visits must be limited to tourism since it is a Tourist eVisa, it means that you can NOT seek paid work or employment.
What are the documents required to apply?
iVisa.com makes things easier: simply gather the following documents:
Applicant Photo.
Passport Personal Details Scan.
Last Page of Passport (if applicable).
National ID Card (if applicable).
Selfie holding the physical credit card used for the transaction is needed to verify payment. Only the last 4 digits of the credit card must be visible in the picture. Only one image is needed per order. (If applicable).
How long is the India tourist eVisa valid?
The Indian eVisa for citizens of Palestine is valid for 1 year after issued.
What are the processing times and prices?
Standard Processing - Received within

5 days

-

USD $94.99

Rush Processing - Received within

3 days

-

USD $131.99

Super Rush Processing - Received within

36 hours

-

USD $173.99
How can I apply for an Indian tourist eVisa?
The application form consists of three simple steps:
Insert your basic information. At this point, you are also required to choose the processing time.
Review your details and pay. The accurate disclosure of the information is crucial. Once your information is processed, you cannot make any corrections.
Fill in a personal questionnaire and photo upload. You might be required to upload additional documents. It depends on each application, but do not worry, you will be instructed what you need to upload if that is your case.
After you are done, just submit your form and wait for your visa to arrive in your inbox in the timeframe you chose. In case you need help to fill your application, iVisa.com has a fantastic support service that you can call 24/7.
How many times can I enter India with a tourist eVisa?
The India Tourist eVisa allows Multiple Entry.
Do I need to get an Indian eVisa for citizens of Palestine for my kids too?
Yes. All foreign citizens wishing to travel to India require a visa, even kids.
Can I apply for my family or friends?
You can apply for others, just make sure you have all the required documents first (you can see above in this article). Then, apply here to introduce his or her data. If you need to apply for more than one person, click on 'Add new applicant' in the application form and complete the data required.
Do I need an Indian eVisa for citizens of Palestine if I am in transit through India?
If you DON'T plan to leave the transit lounge at the airport while in India, then you are not required to have a Tourist eVisa. Otherwise, if you wish to leave the airport, then you HAVE TO apply for an Indian Tourist eVisa.
What can I do if I make a mistake in my application?
If you made a mistake in your application, just contact one of our customer service agents immediately. We will be ready to assist you 24/7.
Your India Tourist eVisa is linked to your passport number. If we already submitted your application, you will NOT be able to make any changes and you will have to apply again but we will NOT charge you another service fee.
Can I trust iVisa.com?
Absolutely. For years we have been helping travelers with many sorts of travel requirements, with magnificent results to all our customers. Make sure to look at their testimonials on our website.
Where could I find more information?
Connect with our customer service agents, who can help you 24/7. We can answer your questions about this and any other visa processes.
iVisa.com.com can help you with all your travel needs!
iVisa.com Recommends
India is one of the most fascinating countries in the world to explore. We can help you make the most out of your trip. Discovering your options for a vacation. When you have the chance to travel, where should you go?
Explore beautiful temples: India is noted for its temples, with one every 3 kilometers or so within the city limits. Temples are sacred places where people go to pay their respects and reverence to their gods on a daily basis. Many of these temples have a lengthy history of cultural importance and exquisite architecture, making them an important part of India's legacy. We recommend the Akshardham temple, which is located in Delhi, was established to commemorate the deity Bhagwan Swaminarayan. The Hindu temple complex was constructed by 11,000 artisans over a five-year period and features meticulous embellishments, a vast garden, and a water fountain. It is one of Delhi's most recognizable landmarks, representing India's togetherness and solidarity as well as religious splendor and historic values. It is known for showcasing Indian art, traditions, rituals, and Swaminarayan's spiritual principles.