Going to India is on many Peruvians to-do list. It is a great country with a lot of cultures to be absorbed. More than 150 nationalities including Peruvians can apply for an India e-Visa online. This means, if you are eligible for an eVisa, you are no longer required to go to the Indian embassy to obtain your travel document
If you still have question about this electronic visa, don't worry, we've prepared this article to share with you valuable information about the process.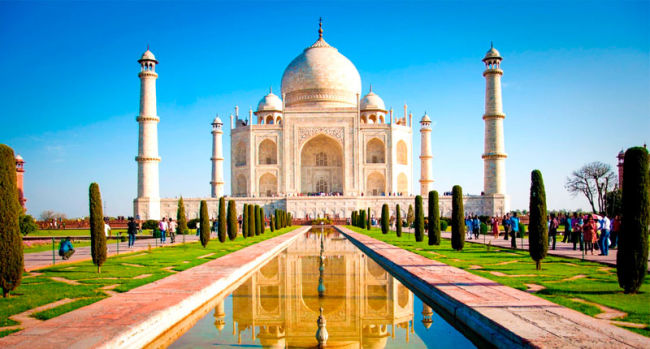 Frequently Asked Questions (FAQs)
I'm from Peru, do I need a visa to enter India?
Yes, you require a visa to enter this country but don't worry about it, you only need to apply for an eVisa.
What is an India e-Visa for Peruvian Citizens?
The Indian Electronic Visa is an electronic document that the Indian Government launched to allow certain citizens to enter the border properly.
How long can I stay in India with my e-Visa?
If you have a Peruvian passport and an Indian e-Visa, then you can stay there for 90 days in Total.
What are the requirements?
iVisa may do all the heavy lifting for Peruvians, but you still need to gather a few things to help them get started. It is nothing out of the ordinary, and you may already have what is necessary. Here is a list of what you have to provide:
Valid passport – you will have no issues in getting a passport, and if you already have one, make sure that it is still valid. Just take a look at the expiration date.

Digital photo of yourself – it is preferable that the photo is recent. You should not make face gestures in it, and the background should be white. Just scan it and be ready to upload it.

A passport scan of the information page

Means of payment – iVisa accepts multiple methods of payment. You can use a credit or a debit card, and since Paypal has become quite popular, you can use that as well.

Business card copy and invitation letter – this requirement applies to people who want to go to India on business and apply for an India business e-Visa.

Letter from the hospital in India – this is valid for people who apply for a medical visa.
How long is this e-Visa valid for?
You can have your Indian Electronic Visa for 1 year after issued, but remember that you can remain in India just for 90 days in Total. This is applicable for the Tourist Visa, the amount of days can vary according to the type of visa too.
For example, the medical e-Visa is valid for 60 days after arrival, while the Business e-Visa is valid for 1 year after issued.
What are the prices and also the processing times for Peruvian citizens?
When it comes to processing time, you have three options, and they are as follows:
Standard processing – 5 days. Since it is the cheapest option, most applicants go for it. It only costs USD 86.00.

Rush processing – 3 days. The cost goes a bit higher than with the previous option. You will be charged USD 116.00.

Super Rush processing time – 2 days. As you can expect, the price goes higher this time. This option will cost you USD 151.00.
As for the cost of the other two visa types, they will be different. The prices will be USD 137.00, USD 167.00 and USD 202.00 for both.
You can learn more about it in this link.
How long does it take to apply for an India e-Visa with my Peruvian passport?
You won't need more than 20 minutes
How is the application process for Peruvians?
Once you have everything you need, you can move on and fill in the form. In case you need any help, there is a support service for Peruvians that is available 24/7. Just give them a call, and someone will help you with your application.
There are three steps you need to complete:
The first one will ask you to fill in your personal information like full name, address, e-mail, date of birth, passport info, etc. you must also choose the processing time and visa type. Keep in mind that both factors determine the cost of the India e-Visa. As for the latter, you can choose from tourist, business, and medical visa.

The second step of the Peruvians application consists of a revision and payment. It cannot be stressed enough the importance of the accuracy of your information. After processing, the cost is not refundable, and corrections are not possible.

The third step will ask you to answer a set of personal questions and upload additional documents. The last part differs depending on your particular circumstances, but you will be informed of exactly what you need to upload so do not worry about that.
How many times can I enter this country?
It will depend on the type of visa. In the case of the tourist one, which is the most popular, you're able to have Multiple Entry.
Which airports and seaports accept this electronic visa?
Before applying, you should consider that this e-Visa isn't allowed anywhere, there are specific points of entry when you can use this document. It can only be used at the following airports:
Ahmedabad
Amritsar
Bagdogra
Bengaluru
Bhubaneswa
Calicut
Chennai
Chandigarh
Cochin
Coimbatore
Delhi
Gaya
Goa
Guwahati
Hyderabad
Jaipur
Kolkata
Lucknow
Madurai
Mangalore
Mumbai
Nagpur
Port Blair
Pune
Tiruchirapalli
Varanasi
Thiruvananthapuram
Visakhapatnam.
And the following 5 seaports:
Cochin
Goa
New Mangalore
Mumbai
Chennai
Must I get a separate Indian e-Visa for my children?
Yes, every passenger is required to get an e-Visa regardless of their age.
Is it safe to get my India e-Visa with iVisa's services?
Yes, completely! We work with professionals that guarantee to keep safe all of your personal data, so don't worry about getting your information leaked, that doesn't happen with us.
How does this Indian e-Visa for Peruvians look like?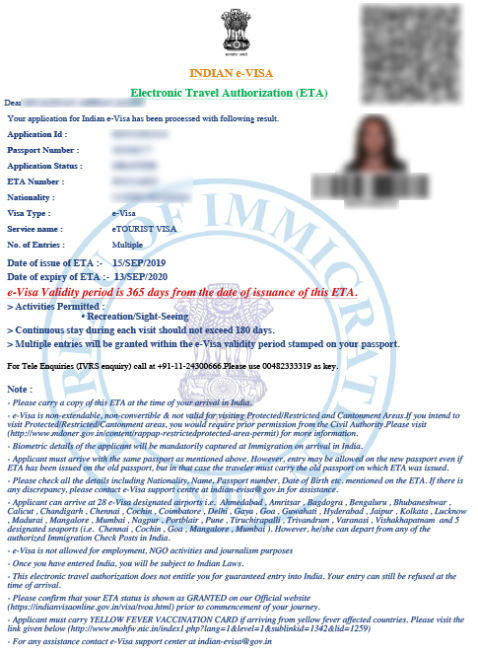 Where can I read more info about it?
If you want to keep reading about this visa, then click here, where you'll be able to learn new information related to India's tourist attractions. But if you do prefer something personal, then we recommend you to contact us.
Start your trip now and apply online for your e-Visa!