Nowadays, most travelers don't have to visit an Indian embassy to obtain a visa. Luckily Romanian citizensare part of these groups of countries.
For your convenience, you can apply online for an India e-Visa and simplify everything. It is so convenient that all you need to have is your computer or your smartphone with the internet to start your application. The best part is that iVisa can easily help you with this process and in this article, we will explain to you how.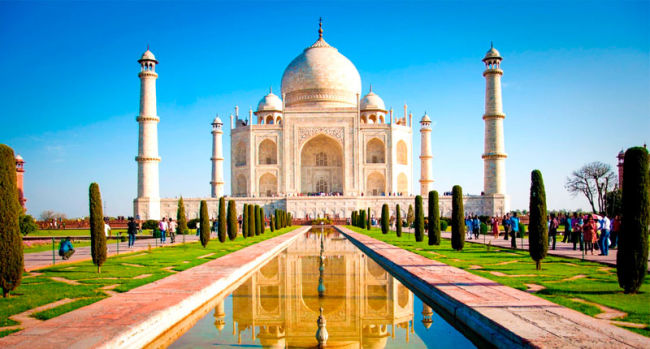 Frequently Asked Questions (FAQs)
DO I NEED A VISA TO TRAVEL TO INDIA IF I'M FROM ROMANIA?
Yes, Romania is one of the nationalities that belongs to the EU and needs a visa to enter India. But don't worry! You can apply for an electronic visa and you're ready to know this exotic country.
HOW MANY TYPES OF INDIAN E-VISAS ARE THERE FOR ROMANIAN?
There are three main types of e-Visas if you plan to travel to India:
Tourist e-Visa
Business e-Visa
Medical e-Visa
HOW LONG CAN ROMANIANS REMAIN IN INDIA WITH AN E-VISA?
If you're from Romania, you can stay just for 90 days Per Entry in India.
CAN I KNOW THE REQUIREMENTS FOR ROMANIAN CITIZENS?
iVisa will do most of the work for you after you apply for an Indian e-Visa, but you need to provide a few things to have your request processed. Below you will find a list of everything you need to provide:
Valid passport – Romanian citizens can obtain a passport easily, and if you already have yours, ensure is not expired.

Digital photo – ensure that is a recent photo, that has no face gestures on it. The preferred background is white, so please provided one with this requirement. Scan this photograph to be ready to upload.

A passport scan

Payment method – iVisa allows many methods of payment: credit card, debit card, and Paypal.

Business card copy and invitation letter – this is only for citizens who want to visit India with a business purpose. If it is your case, just click here to apply for an India business e-Visa.

Letter from the hospital in India – Only for citizens who need a medical visa.
HOW LONG IS THE INDIAN E-VISA FOR ROMANIANS VALID FOR?
This electronic document is valid only for 1 year after issued. Consider that before applying.
HOW MUCH MY INDIA E-VISA COST IF I'M ROMANIAN?
It will depend on the visa type and processing time you choose. iVisa has available three types of visas: tourism, business, and medical. As well, it also has available three options for processing time, and in this case, we'll show you what are the prices for the most requested visa, which is the tourist e-Visa.
Standard – 5 days. This is the most affordable and requested option. The price is USD $96.99.

Rush – 3 days. As you may expect the price for this one is a little bit higher than the previous option. It cost USD $153.99.

Super Rush – 36 hours. This is the fastest option, so the price is the highest as well. The price is USD $203.99.
HOW MUCH TIME DO I NEED TO APPLY FOR AN INDIAN E-VISA?
To apply online for this e-Visa is nothing out of the ordinary, that's why you can finish the process in less than 20 minutes of your day.
HOW CAN I APPLY FOR AN INDIAN E-VISA IF I'M ROMANIAN?
iVisa's application form is really simple so most Romanian citizens will be able to finish it fast. You need to follow three steps and in case you need guidance, iVisa has an excellent customer service, they are available to help you. Do not hesitate in calling them. They will be glad to assist you.
In the first step you only have to fill in the form with your basic info, it takes about 5 minutes. At this time, you will need to *select the visa type and the processing time**. Your choice will affect the price, it depends on each processing type. so be sure about your election.

The next step will call for Romanian citizens to examine and make the payment. It's strongly advised that you assess the truth of the data you enter since revision is no longer possible once the application is processed.

You'll have to answer some personal questions and upload a photograph in the previous step. You might have to incorporate documents. Submit the form after completing all of the steps and then wait patiently. It doesn't get any simpler than that.
HOW MANY TIMES CAN I TRAVEL TO INDIA WITH MY E-VISA?
You'll be able to have Multiple Entry after applying, so you can enter the country more than once while your e-Visa doesn't expire.
I AM TRAVELING WITH MY CHILDREN, DO I HAVE TO APPLY FOR THEM TOO?
It's mandatory to apply for each passenger, including kids.
DO I HAVE TO PRINT THE E-VISA?
Yes, you do. After you receive your Indian e-Visa via e-mail, you have to print it on a sheet of blank letter-sized white paper.
I'LL BE JUST TRANSITING THROUGH INDIA, DO I STILL NEED AN E-VISA?
You don't need this electronic Visa while you remain in the transit lounge. You cannot leave this area or exit the airport. We recommend you to have your documents always with you just in case.
WHAT ACTIVITIES CAN I DO WITH MY INDIAN E-VISA?
You're basically allowed to do any recreation activity, including travel tours, casual visits, and so on if you apply for a tourist e-Visa. However, with the other types of visa it can vary a lot. Just remember that you can't work or earn money with a contract with any of these e-Visas.
HOW SAFE IS TO GET THIS E-VISA ONLINE?
The process with iVisa is completely safe. iVisa's services are highly rated due to its great security system with personal information, so you can feel totally safe when applying to your Egypt e-Visa.
IS THERE A PLACE TO READ MORE INFORMATION ABOUT THIS VISA?
In case you still have questions or doubts about this procedure, you're free to read more on this page. You can also chat with our customer service center here if you want to ask something in specific.
You might have realized that this whole process is simple. You will take 20 or fewer minutes to complete it. Forget about the stress of getting an Indian e-Visa and let us help you while you only worry about your luggage.