Going to an embassy to get a visa can be an uncomfortable experience since you may need to stand in line and waste a lot of time. However, there's a better solution if you're Rwandan and you're planning a trip to India.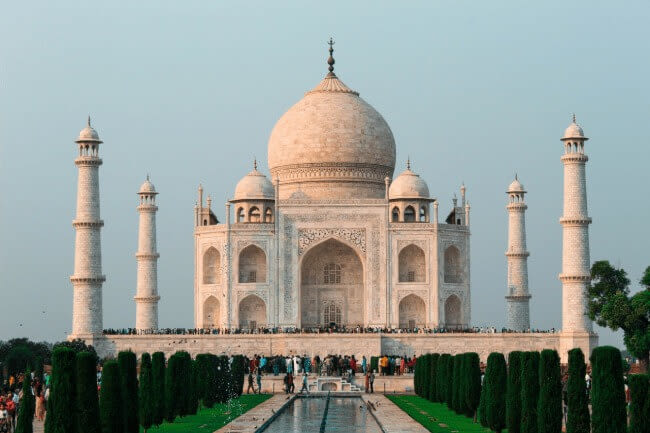 You can now apply for an Indian eVisa, an online document that's electronically linked to your passport, meaning that you wouldn't have to go to the embassy. You can apply whenever you like, even outside business hours. All you need is a computer or a smartphone and an internet connection.
The best part is that you can apply for your visa from the comfort of your own home thanks to iVisa.com. Below, you'll find more information about the India visa for Rwandan Citizens.
Frequently Asked Questions
What is an Indian eVisa and why do I have to apply for it?
When you plan a trip to a country, you consider everything from the luggage to the accommodations, but one thing you shouldn't forget is the documents required to enter. In the case of India, you need an Indian eVisa if you have a Rwandan passport as Rwanda is one of the Indian visa-free countries.
The Indian eVisa is an electronic pre-travel document that authorizes you to travel to India. This document is linked to your passport, but it's always recommended to get a printed copy in case of an emergency.
One thing you have to consider about applying for this document is that it can change from a tourist version to a medical version depending on your needs. These are your options:
Tourist eVisa.
Business eVisa.
Medical eVisa.
Another thing you have to consider about this eVisa is that it allows you to stay in India for 90 days in Total. However, don't forget that the visits are strictly limited to tourism, business, or medical services depending on your choice.
What items do I need to apply for an Indian eVisa?
You must consider the following list of documents before applying because this way you can complete the online process without any inconvenience.
The good thing about all this is that the list of items is not complicated and not long, so you can relax with that. You only have to find these:
Your valid passport.
Passport Personal Details Scan.
An email address so you can get your eVisa on time and safely.
Payment options like Paypal or debit/credit card to pay for the service.
Other things might be necessary depending on the type of eVisa. In that case, you can check them all here.
How much does the Indian eVisa cost with my Rwandan passport?
With iVisa.com, you'll be able to choose one of the following three options we offer. Remember that the price of your eVisa will be determined by which one of the processing times you choose:
Standard processing: with this processing time you get your eVisa in

5 days

, and the price will be

USD 88.00

(with all the service fees included).
Rush processing: this option allows you to get your eVisa in

3 days

, and you have to pay

USD 118.00

this time.
Super rush processing: this processing option only lasts

36 hours

, and you'll be charged

USD 153.00

(service fees included).
You can start your process whenever you feel ready by clicking on this link.
How can I apply for an India visa for Rwandan Citizens?
The application form we offer you consists of three simple parts:
The first step is to complete the form with basic details and then select your favorite processing time.
The second step is to check the information you gave in step one before paying for the service.
The last step is to simply attach the documents to the form, including your passport scan. After that, you can click the 'submit' button to complete the 3-step process and wait for your eVisa via email inbox.
You can contact us here if you have issues while applying.
Should I apply for my kids as well?
Yes, you also have to apply for them because all foreign citizens wishing to visit India need an Indian eVisa, and kids are not excluded from that.
Can I apply for other people like friends or family members?
Yes, you can also apply for your family and friends, but for that, you need to gather all the required documents (mentioned above).
Do I have to apply for an Indian eVisa if I'm just passing through the country?
You'll have to apply for an Indian eVisa ONLY if you leave the transit lounge at the Indian airport. Otherwise, it is not necessary.
What should I do if I make a mistake while completing the online form?
iVisa.com's application form is quite easy to complete, however, mistakes are always possible. If this is the case, please contact one of our customer service representatives as fast as possible to receive proper attention.
Don't forget that your eVisa is linked to your passport, which is why we cannot make any changes once the eVisa is issued and approved. In that case, you'd have to apply again.
How safe is iVisa.com's service?
iVisa.com is a specialized service provider offering the official Indian Tourist eVisa since 2013. We give maximum safety for your personal data. We also invest a lot in the security of our system and database. Therefore, you don't have to worry about our services since your personal information is totally safe with us.
Where can I get more help about the India visa for Rwandan Citizens?
Click here if you want to start chatting with one of our customer service agents, especially if you have questions about the India visa for Rwandan Citizens. Also, you can find more info and other tips about traveling here.