It's time for you to get ready for your trip to India!
If you're from Saint Lucia, then you're one of the lucky countries that can now apply for the India eVisa. By having this eVisa on your hands you won't have to worry about visiting an embassy or queueing for a lot of time at the airport.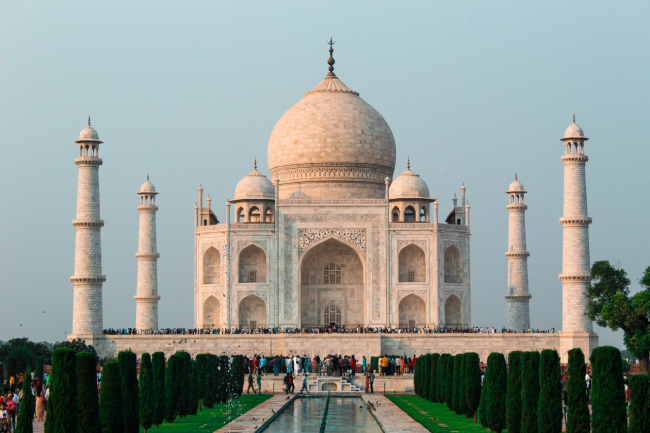 The electronic visa for India is very easy to get and it won't take you much time to apply for it. Plus, if you use iVisa.com, you'll be able to get this document as fast as you want. In other words, you'll be able to have it according to your travel plans.
It's not hard to complete the online application form to get this document, but you should read the info below first.
Learn more about the India visa for Saint Lucian by reading these questions.
Frequently Asked Questions
Do I need an India visa for Saint Lucian?
The first thing you should know about your trip to India is that you won't be able to enter this country just by having your passport. You'll need to show an India visa for Saint Lucian. However, it doesn't have to be a Stamped Visa, you can easily enter by having an Indian eVisa.
What should I know about the Indian eVisa?
Over 160 countries can apply for the Indian eVisa, which is why this destination has become more and more popular over the years. This eVisa is an official authorization that permits you to enter the country for a short-term stay (30 days after arrival most of the time).
This document was launched by the Indian Government in 2014, and since then, thousands of tourists have applied for it.
To obtain this eVisa, you only have to fill in an online application form. You don't have to visit the embassy or complete a questionnaire at the airport.
We have at your disposal one online form for this eVisa that's quite easy to understand. You can use it and get ready to enter India in a few days.
What items are important to apply for the eVisa?
The number of items required will vary depending on the type of eVisa you choose, as there's not one type, but 3 types. Nevertheless, there are some things that are obligatory for any type of Indian eVisa, especially if you complete an online process, and these are:
A passport with a valid due date. It means that it shouldn't be expired while you're there.
An email address to receive the eVisa and all the important protocols to enter the country.
A payment method to pay for the document and other fees. These methods can be a Paypal or a debit/credit card if you use iVisa.com.
A copy of your passport's information page.
One passport-sized picture that you can easily get ready by using this professional photo service.
Remember that you might need other items if you apply for another type of Indian eVisa that's not the tourist one.
For more information about these requirements and other facts about the India visa for Saint Lucian, click here.
How many types of Indian eVisas can I find online?
You can apply for many types of Indian eVisas on iVisa.com. Each of them was created for different travel purposes, so you only have to choose the one that works with your purposes.
To make it easier for you, let us explain each eVisa:
The Indian Tourist eVisa is the most popular because it's used for tourism. You can choose a 30-day valid eVisa, 1-year valid eVisa, or even a 5-year valid eVisa (this one is more expensive, of course).
The Indian Business eVisa is useful if you're visiting India for business purposes or tasks.
The Indian Medical eVisa is the last option, and this is the one you need if you're going to this country to take a medical treatment or something similar.
How much does the Indian Tourist eVisa cost?
The Indian eVisa is a paid document, which is why you should know the total price for it before planning your trip.
The prices might vary depending on the type of eVisa, the amount of time you need, and also the processing time you prefer on iVisa.com. Even so, if you decide to apply with another method, you still have to pay a price as this eVisa isn't free.
That's why we recommend you use our services, as we offer competitive prices that will include 24/7 customer service. Plus, you'll get your eVisa quite fast, but that will depend on the processing time you choose.
With the Indian Tourist eVisa, you have these prices available:
Standard processing: this option lasts

5 days

and it has a price of

USD $94.99

in total.
Rush processing: it lasts

3 days

and you have to pay no more than

USD $149.99

.
Super Rush processing time: you'd have to wait only

36 hours

by paying

USD $194.99

.
Keep in mind that this is based on the 1-year valid eVisa. If you choose the Indian Tourist eVisa valid for 30-days, the prices get cheaper. The prices only increase when you change it to the 5-year valid eVisa.
To check the prices for the other Indian eVisas, click here.
What steps do I have to follow to complete the online form?
If you have your items ready, and you also know what processing time to choose, then you're ready to complete the online form. Don't forget that we have support service that's available 24/7 if you have questions or issues with the form.
The steps you have to follow to complete the online form are the following:
Firstly, complete the questionnaire carefully by giving your full name, address, e-mail, date of birth, etc. Don't forget to choose the processing time you prefer in this step.
Secondly, examine the information you provided before to ensure that it doesn't have any mistakes. Then, use your Paypal or debit/credit card for payments.
Thirdly, upload the items necessary to complete the application. It might include a passport-size photo and a copy of your passport.
As soon as you finish the 3rd step, you're ready with the process.
Do I have to spend a lot of time on the application form?
Not at all, you'll probably need about 15 minutes to complete this online form as it's not as hard as you think.
Is it safe to apply online?
If you use iVisa.com, you'll enjoy a 100% safe and guaranteed online service. We have a powerful system that safeguards our database every time. That's why many travelers have trusted us, and you can see how happy they were with our services here.
Where do I get more info about the India visa for Saint Lucian?
There's more information about the India visa for Saint Lucian available. For that, we invite you to check this link.
Remember to contact us if you find issues while completing the online form. We'll be ready to help you.
Start your application process here to get ready for your trip!