For many curious travelers, India is a must-see. This country hides many treasures that go beyond the Taj Mahal. However, if you want to enter India, you must have the proper travel requirement upon arrival, which depending on your country, can easily be an India eVisa.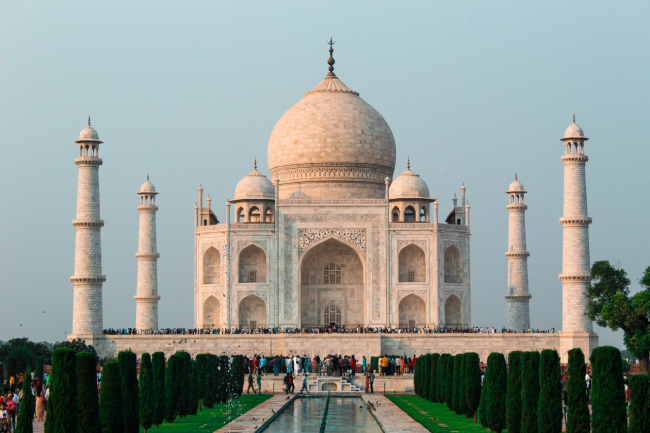 The India eVisa is a completely online document, and you can get it through iVisa.com thanks to its online platform. This process doesn't require much time and it's easier to complete than a traditional process at the local embassy.
Even so, we recommend you read the information that you'll see below to learn more about the India visa for Salvadorans.
Frequently Asked Questions
What is an Indian eVisa and why do I need it?
The [Indian e-Visa] is an online document that the Indian Government launched to allow certain citizens to enter this country. One of the nationalities that can apply for it is El Salvador, which is why you have to apply for this eVisa before entering India.
This document is not complicated to get. You only have to complete an online form and wait a few days to receive it in your email inbox.
Remember that you don't need an India visa for Salvadorans per se, you only need an eVisa.
What items do I need to apply for an India visa for Salvadorans?
Since you only need an Indian eVisa to enter this exotic country, you won't need many items to apply online. The list is even easier than the usual when you apply with iVisa.com. You have to collect the following:
Valid passport: don't forget to check the expiration date because it mustn't' be expired when arriving in India.
Digital photo of yourself: it has to be as recent as possible.
A scanned copy of the passport's main page
Means of payment: you can pay for your eVisa with Paypal or debit/credit card.
Business card copy and invitation letter: you'll need this if you apply for an India business e-Visa.
Letter from the hospital in India: similar to the previous document, you'll need this only if you apply for the medical e-Visa.
What is the price of the Indian eVisa?
The price will vary depending on two aspects: the visa type and also the processing time. Remember that on iVisa.com you can apply for a tourist, business, or medical eVisa.
As for the processing time, it's always the same three options with iVisa.com. Therefore, we'll explain to you each of them in the following info:
Standard processing: it lasts only

5 days

and it costs

USD $92.99

because it's the cheapest and also slowest option.
Rush processing: this option is a bit faster, it lasts

3 days

. As for the price, it increases to

USD $128.99

.
Super Rush processing time: this is the fastest processing time, meaning that you'll only have to wait

36 hours

. As you can guess, the price is more expensive. It costs

USD $168.99

.
Don't forget that these prices are based on the Indian Tourist eVisa. For the medical and business eVisa, you'd only have to add an extra $10.
How can I apply for an Indian eVisa?
Online forms aren't fun, and we understand that. But, we also can guarantee that our online form is not complicated at all, especially because it's split into 3 steps:
The first step is quite simple. You only have to insert your basic information such as name, address, e-mail, date of birth, and so on. In this step, you also have to select the visa type and the processing option.
The next step is based on review and payment. Therefore, you'll have to ensure that the information you gave is totally accurate. Only after that, you'll be able to pay.
The final step consists of document upload, and it'll vary depending on the type of eVisa you choose.
You can start the process here.
How much time do I need to apply online?
The online form we designed is so easy that it shouldn't take you more than 10 minutes. It saves you a lot of time in comparison to visiting the embassy to get the traditional India visa for Salvadorans.
Do I have to apply for my children?
Keep in mind that in India everyone has to apply for an e-Visa regardless of how old or young the traveler is. Therefore, if you travel with children, you'll have to apply for them too.
Do I need an Indian eVisa if I only have a connecting flight?
You shouldn't apply for an India eVisa in this case because you wouldn't leave the airport. Once again, remember that the usual rule for this is not to leave the airport or the transit lounge. If you leave the transit lounge, you'll have to apply for the Indian eVisa at once.
How can I know if my eVisa is ready?
We'll let you know about this via e-mail inbox, that's why we ask you to provide a valid email address while applying. Remember that the final decision is made by the Indian government, not by us, meaning that they can decide if they approve or reject your application form. However, most of the time the application forms are accepted, it's quite weird to receive a rejection, and in that case, we're always ready to help you.
Is it safe to apply with iVisa.com?
Yes, it's totally safe to apply with us. We work with talented professionals that safeguard your personal information every time, so you don't have to stress about getting your data leaked, that doesn't happen with what we offer.
Where do I find more information about it?
If you want to know more details about the India visa for Salvadorans, then click here. On that link, you can also find useful information about Indian tourism. You can contact us as well if you prefer to receive personal and faster attention.