Please note:The India Visa for Sri Lankan citizens is currently not available to apply for, we hope the service resumes very soon so we can offer you our services and help you apply for it. In the meantime read below all about the Indian visa and the requirements to enter India
Applying for an Indian visa, as a citizen from Sri Lanka, is more accessible than ever. Sri Lankans can now obtain their electronic visa from home, without having to go to the Indian embassy. All you need is a computer or smartphone with internet connection and you will be able to apply online. Here you will find information on how to apply and the requirements needed.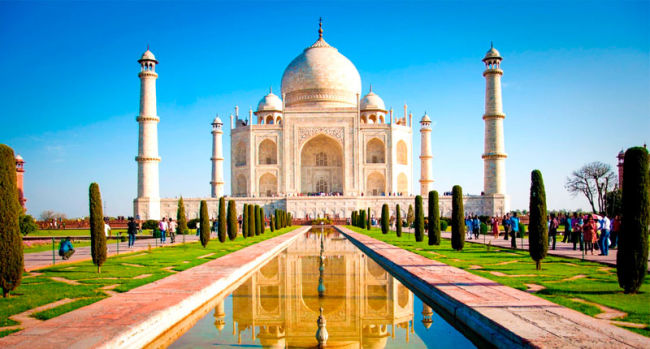 Frequently Asked Questions (FAQs)
I HAVE A SRI LANKA PASSPORT, DO I NEED A VISA TO VISIT INDIA?
Yes, Sri Lankan citizens will require an electronic tourist visa to visit India.
You will find that the process is simple and fast with us.No need to visit an embassy or consulate. You can check the requirements to apply for an eVisa here.
WHICH VISA TYPES ARE AVAILABLE FOR SRI LANKANS?
As a Sri Lanka citizen, you are able to apply for the following visas:
NOTE: This blog is about the Tourist eVisa. Information can vary for the Business and Medical Visas, click the links to read the specific requirements for each.
WHAT IS AN INDIA TOURIST EVISA?
The India Tourist eVisa is an official document, necessary to enter and travel within India and it is electronically linked to your passport.
HOW LONG CAN VISITORS WITH A SRI LANKAN PASSPORT STAY IN INDIA WITH A TOURIST EVISA?
This depends on which Tourist visa you choose, there are 3 available. Visitors from Sri Lanka entering India with a Tourist eVisa, double entry, will be able to enter for 30 days maximum. Those who opt for the 1 year or 5 years visa will be able to stay in the country for a maximum of 90 consecutive days in total for each visit. These 2 visas also grant Multiple Entry to India.
WHAT ARE THE DOCUMENTS REQUIRED TO APPLY?
The list of requirements Sri Lankan citizens need to provide is short. iVisa will do most of the work, but you still need to provide us with a few things to get started. Here is what you need:
Passport – It is very easy to obtain a passport. If you already have one, make sure that it is still valid. Just look at the expiry date.
Digital photo of yourself – it is recommended that it is a recent photo. You should not make face gestures in it, and the background should be white.
Scanned passport - information page
Payment method – iVisa accepts multiple methods of payment. You can use a credit or a debit card.
HOW LONG IS THE INDIA TOURIST EVISA VALID?
Your Tourist eVisa for India will be valid for 30 days, 1 year, or 5 years after issue. This means that it has to be used in that timeframe.
All 3 visa types should be used within 120 days (4 months) of issue.
WHAT ARE THE PROCESSING TIMES AND PRICES?
iVisa provides excellent service at an affordable price. The cost of your visa depends on how quickly you need your visa and the processing time you choose:
Standard processing – 5 days. Because it is the most economical option, most applicants go for standard. It only costs USD 88.12
Rush processing – 3 days. You will be charged USD 118.99
Super Rush processing time – 36 hours. The fastest option available. This option will cost you USD 151.29
All Indian Government and service fees are included in our prices.
HOW DOES THE INDIA TOURIST EVISA WORK?
iVisa will process your eVisa by using the India eVisa system. We enter the information provided by you in the system, then, the government reviews it and grants your eVisa. We then send the final document to the email you provided. So, your Indian Tourist eVisa is issued electronically by the Ministry of Foreign Affairs of the Indian Government.
HOW LONG DOES IT TAKE TO APPLY FOR AN INDIAN TOURIST EVISA?
It won't take you longer than 10 minutes. You just need to fill in our simple application form with the documents mentioned above and we will handle the rest.
HOW CAN I APPLY FOR AN INDIAN TOURIST EVISA?
The process to apply online is an easy 3 step application form:
Fill in your personal information and choose both the processing time and visa type
Revise what you already entered and pay the service fee. Make sure that all the information you provide is 100 % accurate.
Finally, answer a few personal questions and add any additional documents required.
Submit your form to finalize the application and wait for your visa to arrive by email. In case you need assistance to fill in your application, iVisa has a fantastic support service that you can call 24/7.
WHAT HAPPENS AFTER I HAVE APPLIED?
After submitting your form, we will send your eVisa to you by email in PDF format. You do not need to go to the embassy anymore! Then, you need to print your Tourist eVisa to show on arrival in India.
DO MINORS NEED A SEPARATE TOURIST VISA?
Yes, every passenger must hold a valid visa to enter India, regardless of their age.
HOW CAN I APPLY FOR MY FAMILY OR FRIENDS?
To apply for others, you will need to have all their documents and information required (mentioned above). Then, you just fill in the application form with his or her information. If you plan to apply for more than one person, just click on 'Add new applicant' and follow the same process, as above.
WHAT IF I MAKE A MISTAKE IN MY APPLICATION?
If this is the case, then please contact one of our customer service representatives immediately online and we will assist you.
If we already submitted your application, then changes are NOT possible and you will have to apply again, but we will NOT charge you another service fee.
IS IT SAFE TO USE IVISA TO GET MY INDIA TOURIST VISA?
With our services your personal information is safe. We invest a lot in our platforms and high security for you to be comfortable using our webpage. You can check what hundreds of happy customers say about us here.
I HAVE MORE UNRESOLVED QUESTIONS, WHERE CAN I FIND MORE INFO?
For a faster resolution just contact one of our customer service representatives via chat or call. Alternatively, you can find more info and FAQs about the Indian eVisas here.