Are you planning a trip to India soon? If that's the case, you're making the best decision ever! Nevertheless, you might be overwhelmed by the amount of paperwork to get your visa by going to the embassy or consulate. Fortunately, there's a brand new method in which you get your India Visa electronically. It is well-known as India eVisa, and you can start with the process you like without leaving your house's comfort. All you need is a smartphone or laptop and an internet connection.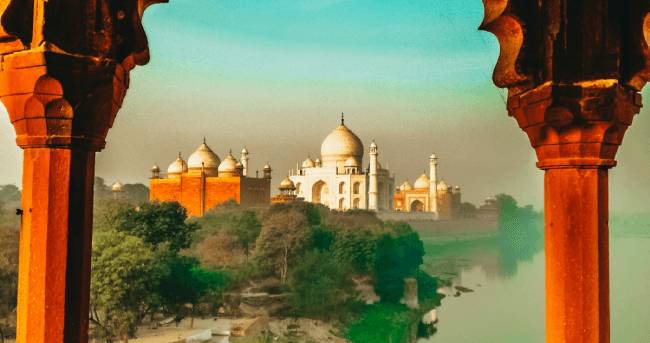 Learn more about how you can obtain your India eVisa effortlessly with iVisa.com's help in our FAQs section.
Frequently Asked Questions
Is it mandatory to obtain an India Visa for Uzbekistan citizens?
Yes, all arriving Uzbekistan citizens must obtain an India Visa to enter the country. There is no exception for anyone, regardless of their age.
What are the requirements to apply for the India eVisa?
We understand that getting a bunch of unnecessary documents to get your India Visa for Uzbekistan citizens might be complicated. That's why iVisa.com designed the following list of items:
The passport you usually use for traveling abroad. Bear in mind that it cannot be close to expiring to avoid any inconvenience during the procedure.
You will need to provide us your email address to contact you once it is ready.
Your scanned passport information.
A valid payment method.
If you're traveling for business purposes, you will need your business card and the invitation letter. If you visit India for medical treatment, it is essential to attach the letter from a hospital.
How much does it cost to start with the procedure?
Standard Processing Time: it is the cheapest alternative

USD 55.25

, but you wait longer (

5 days

.
If you feel ready to start with the process right away, click here.
What are the steps of getting my India Visa for Uzbekistan citizens with iVisa.com?
Thinking of your comfort, we have prepared the following three steps to help you to reduce time and stressful moments with our simple procedure:
You will need to fill out the application form with essential information about yourself and your trip. It usually takes less than five minutes to complete. After doing so, select the processing time that you like.
After doing so, double-check your data has no typos and pay for the service.
Finally, answer a few questions, attach the required docs and submit your form.
Our team will process your request, and they will submit the India eVisa to your email address once it is ready.
How does the India eVisa work?
If you decide applying for the India Visa for Uzbekistan citizens, our team will handle the procedure and submit the paperwork to the Indian government. First, immigration authorities verifies that everything is correct and grants you the electronic travel permit. Then, we submit it to you to your email address to print it and present it once you arrive in the country.
Can I visit India at any point of entry with the India eVisa?
Unfortunately, the India Visa for Uzbekistan citizens won't grant you full access to any entry point of your preference, but only those authorized by the government. Up to this moment, you can visit India from any of the following places:
Airports: Ahmedabad, Amritsar, Bagdogra, Bengaluru, Calicut, Chennai, Chandigarh, Cochin, Coimbatore, Delhi, Gaya, Goa, Guwahati, Hyderabad, Jaipur, Kolkata, Lucknow, Mangalore, Mumbai, Nagpur, Pune, Tiruchirapalli, Trivandrum & Varanasi. Seaports: Cochin, Goa, and Mangalore.
Can I trust on iVisa.com?
Without any hesitation! We take your security very seriously. For that reason, our high-security platform won't expose your information to anyone else. Furthermore, your confidentiality online will be maintained at all costs. It means you will be in good hands, and our team of professionals will process your request once you submit your form. You can check the reviews from satisfied customers to have peace of mind.
I have some unresolved questions; how can I get in touch with you?
If you want some clarification about the India eVisa for Uzbekistan citizens, you made a mistake while applying or clear up any other inquiries, feel free to reach out to our customer agents. They will take care of solving all your questions whenever you need their help. You can also send them a message to [email protected].