Overseas business is an important phenomenon for growth of the countries and it is also a very common reason for international traveling. Hence a simple and fast procedure to plan a business trip can always come in handy. Fortunately, India is one of the countries to have started issuing electronic visas for the citizens of 150 states, a list of which can be found here. This enables businessmen from those 150 countries to obtain an electronic Indian Business Visa even from the comfort of their homes, totally hassle-free.
Apply for Indian Business Visa Now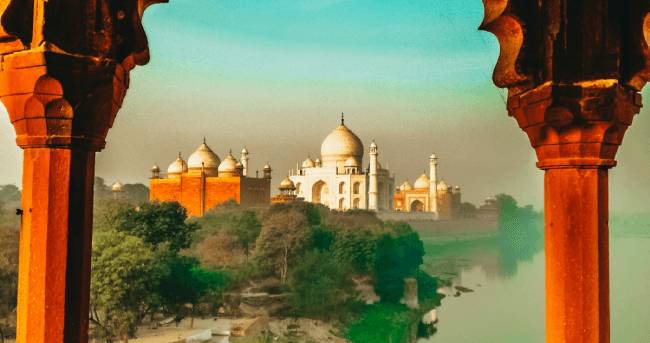 Why should I apply in advance?
Applying in advance will give you enough time to ensure that your application for an electronic Indian Business Visa is fully error-free and that you have all the necessary documents ready in time. This will in turn ensure that you don't miss out on your business deals. Hence prove to be a more convenient and cheaper option. Moreover, you will have enough time to get your pre-travel health testing done in time for departure if required.
Visit iVisa.com and apply now to get the best travel experience and find out more about Indian Business Visa
Frequently Asked Questions
Business deals in a foreign country can be exciting and terrifying at the same time. Therefore, the main objective of this particular section is to help you out as much as we can and answer your questions about electronic Indian Business Visa. Head over to iVisa.com and apply for Indian Business Visa right away.
What is the application process?
The application process for Indian Business Visa with iVisa.com is pretty simple. All you need to do is:
Open iVisa.com.
Fill your application form carefully. Select your processing time.
Make sure to scan and attach the required documents to your form before submitting it.
Make payment for your application via the mode of payment of your choice.
Start with your application now.
What are the other essential documents required?
To apply for an Indian Business Visa through iVisa.com, you will need the following documents.
Mandatory:
A colored passport-size photo.
A valid passport that does not expire for at least 3-6 months is an absolute necessity and it should have at least 2 empty pages for stamping.
A copy of your Business Card in PDF format (this must include your company's information, especially the corporate phone number as you will be contacted through it by the embassy).
A detailed invitation letter from the host company/firm established in India or from India, stating the purpose of the travel (it must include their contact information and their logo).
For contact purposes
Your Email Address: to remain updated about the progress of your application and to receive your visa once it is ready.
May be required upon arrival
Certificate of Good Health.
Proof of sufficient financial means to perform the travel plans, up to the date of departure from India.
To learn more click here
What is an Indian Business eVisa?
The India Business e-Visa is an official document permitting entry into and travel within India for business purposes. On being approved, it is sent to the candidate via email and is printable. It needs to be presented upon entry to India and remains valid for one year since the date of issue.
Click here to get started
How long can I stay in India with the electronic Indian Business Visa?
Within the one-year validity of your electronic Indian Business Visa, you can stay in India for a maximum of 180 days. This can be in one long stay or spread across an unlimited number of shorter trips since it is a multiple entry visa.
What business activities are permitted under the electronic Indian Business Visa?
The following business travel purposes are allowed with an electronic India Business Visa:
Attending business events and gatherings
Meetings with (potential) suppliers, clients, and other business partners
Delivering, installing, or maintaining products
Giving advice, implementing, or delivering other business services
Recruiting personnel
What is the processing time and price?
While applying for your electronic India Business Visa, the following options are at your disposal with iVisa.com :
Standard Processing; which allows you to get your documents in due time and at a cheaper cost.

USD $158.49

-

5 days

.
Rush Processing; which helps you get your documents quicker than the standard processing time with a little extra charge added.
Super Rush Processing; which helps out in case of extreme urgency as you can get your documents immediately. Extra charges are applied.
How safe is iVisa.com?
iVisa.com is the safest option for you. Our team ensures utmost discretion while handling your travel documents. Kindly visit our website to get an insight on what our satisfied customers have to say about our policies and services.
I still have questions, what do I do?
Our customer support is employed 24x7 to solve all your queries. If you are still left with questions, you can visit iVisa.com for more information.
iVisa.com Recommends
Being the world's seventh-largest nation by the area that spreads over a vast array of terrain, India has a lot to offer to tourists. Andaman and Nicobar Islands are no less than a land of paradise with picturesque pearly beaches, lagoons of crystal waters, and a bit of history. Here you can choose from a range of activities. You can go trekking, scuba diving, and snorkeling. Of course, you can also choose to spend a more laid-back holiday, sipping cocktails with your feet soaked in the ocean. Located amidst the mountains in Karnataka, Coorg is also known as the Scotland of India. This coffee-producing hill station gains its popularity from breath-taking green hills with streams cutting right through them. It also has a rich culture which you can witness if you come across the Kodavas, a local clan specializing in martial arts, which are especially notable for their keen hospitality.
Known as the 'golden city', Jaisalmer flaunts not only numerous golden dunes flowing in the Thar Desert but also lakes, ornate Jain temples, Havelis, and castles clad in golden yellowish sandstone. Located in the northwestern state of Rajasthan in India, it is one of the most famous tourist attractions. The unique thing about this location is the camel ride through the desert in the night sky.
iVisa.com wishes you a safe journey to your paradise!