Many describe India as a country that is quite intense for tourists who dare to visit it. Especially for the Brits who are traveling for the first time to an Asian country, India has a lot to offer.
In order to avoid bad moments in your first trip to India, in this article, we present you tips to take into account before your trip and an excellent option to be informed and alerted in real-time during your entire trip.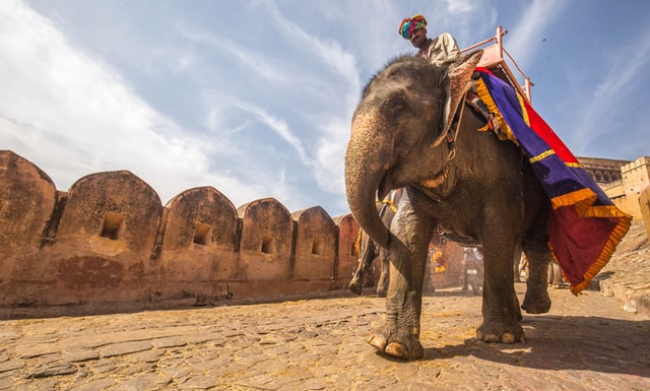 Don't be surprised by what you see!
India has a quite different way of life from what we usually see in several European or American countries. The density of citizens who walk the streets of this great country on a daily basis is quite heavy, which can cause the displeasure of tourists who are not used to dealing with such situations.
If in Britain it is not common to hear the sound of the horn, in India the situation is totally different. The traffic, noise, and complaints you will hear from taxi drivers about the long wait on the road will be many and uncomfortable, but do not worry because if you take certain measures, everything will be solved.
How can I know if India is safe for Brits?
It is obvious that the beauty of its nature, palaces, and temples that India has does not exist in any other country. This is just one of the things that attracts British tourists. The marked culture and traditions that this country possesses are unique. In addition, the religions that Indian citizens have are diverse, so it attracts much more attention from visitors who dare to travel to this country.
However, it is important to mention that traveler's safety is a must in every destination they visit. That is why in the following lines we will show you some tips that you should take into account before traveling to India. We also recommend you contact your embassy and get a subscription to its travel advisor. In that way, you can always be informed about any bad situation. But, having contact with the embassy? It sounds like too much bureaucracy. Isn't it? But don't worry with iVisa.com Embassy Registration you can be subscribed in just 5 minutes!
What is the Embassy Registration for Brits?
An Embassy Registration is a document issued by Embassies of different nationalities, as Brits, to protect their citizens in other countries. It also serves as a means of information that helps Brits to learn about the country they will be visiting prior to their travel date.
There are many ways in which you can obtain your own Embassy Registration. Nevertheless, we recommend you to obtain this document with iVisa.com.
At iVisa.com, the service to get your own Embassy Registration is reliable and secure. By registering with your personal information, British Embassies and/or Consulates in India will notify you of all new developments in the country. They also warn you about a possible natural disaster that may happen somewhere in the country and above all, they provide you with contact information in case you have any problems during your stay in India.
Indian Security advises for the British:
1. How important is health safety for Brits in India?
Although it is true that traveling to India does not necessarily require a vaccination, the information you acquire about the measures you should take before your trip is crucial:
The cleanliness in the streets, markets, tracks, restaurants, and in the bathrooms themselves are quite poor. So always have your own basic cleaning utensils on hand so that when you arrive at one of these places you are not surprised by what you see. A large bottle of water to hydrate yourself and at least one roll of toilet paper for the times you want to use the public toilets would be sufficient.
As for the establishments you visit, always make sure the food stands are clean. Always have a small bottle of disinfectant alcohol to put on your hands before and after eating.
IMPORTANT: If we talk about health and safety for the traveler, it is also important to mention the reality that everyone is living because of the COVID-19. Since this virus is strongly affecting many people, the governments of several countries have decided to take restrictive measures for future travelers entering their countries.
In the case of India, the Government of this country has recently decided to implement a document called Health Declaration which is required for all tourists (without exception) who plan to enter the country.
To find out all the requirements and instructions you need to follow to obtain a Health Declaration for India, you can visit our official iVisa.com website.
2. How can Brits avoid being victims of a scams in India?
Beware of Indian scammers you meet on the streets. They will always want to take advantage of you for being a foreigner. The most common places where they will want to charge you more are the informal taxi service, hotels, and museums.
As a Brit, you might think that the price doesn't matter as long as you enjoy yourself, but for Indians, when it comes to money, they take it very seriously. When they come to talk to you and offer you something, try telling them "no, thanks.'' If after you tell them "no", they'll keep pushing you harder and harder, just choose to ignore them and keep walking.
If you are interested in any of the products they offer, negotiate with the seller and try to reach an agreement with the price he/she is offering you. If the seller does not accept your offer, simply thank them for their attention and walk away.
3. What should I do in case someone harasses me in India?
Men in India don't usually touch Indian women, so don't let that happen to you either. If you are a woman and wear a short-sleeved polo shirt, we recommend that you buy a mantle that covers your skin and head (this clothing is required for women to enter the temples), to avoid exposing it in front of the Indians.
If you see any Indians coming up to you to talk to you and you don't feel comfortable with that, call a police officer and indicate your concern with that situation.
Let's prevent the violence towards tourists (men and women) from spreading and let's report it to the appropriate authorities.
If you want to feel more confident about the country you are going to visit, we recommend that you inform yourself well before your trip to India.
Do not trust the first person who approaches you to ''help'' because most of the time they will only do it to look for something in return.
If you want to be informed about these and many other things, we recommend you to apply for an Embassy Registration. This document will help you to know about everything that is happening in India and protects you from any situation affecting your visit in the country.
It is recommended that all Brits traveling to India, always have their Embassy Registration with them, because in case of any misfortune or bad time that the country is going through, this document will inform you about the next steps you should take as a British citizen who is in a foreign country like India.
4. How can Brits prepare for what awaits them on their journey to India?
You may now think a lot about whether it is safe for Brits to travel to India with all that is being mentioned so far. Well, let me tell you that it is totally worth it!
The reason we mention so many things that may not be to your liking is to help you prevent certain uncomfortable situations before you arrive in this country.
This is the main reason why we have decided to share with you a safer and easier way to anticipate what awaits you on your journey to India: The Embassy Registration.
How can I contact iVisa.com to get more information about this service for Brits?
For a faster resolution, you can click here and start chatting with one of our customer service representatives that will be more than pleased to attend to you in any question about the Embassy Registration.
At iVisa.com, we work to make our customers fulfill their dream of traveling to new countries safely. So, be a smart traveler and make the right decision.
Choose the services that iVisa.com offers to travelers and get your Embassy Registration in an easier, safer, and above all, faster way.
Don't wait anymore, request your embassy registration with iVisa.com.