Disclaimer - iVisa does not currently offer the OCI card, please check below for any information you may need about your future application with us, or how to apply for an India Visa.
Before you decide to apply for the OCI card, it is good to know what the OCI card benefits and drawbacks are. Luckily, iVisa.com has an expert team with the simplicity, speed, and security to help you.
The OCI Card facilitates visa-free travel to India, rights of residency and participation in business and educational activities in the country if you are of Indian origin. The spouse of an Indian-origin person is also eligible for OCI Card. However, you will need to surrender your Indian passport during the process. Evaluate your possibilities with our expert advice.
The process is easy with us and you'll have an expert advisor on hand at all times to guide you through the process.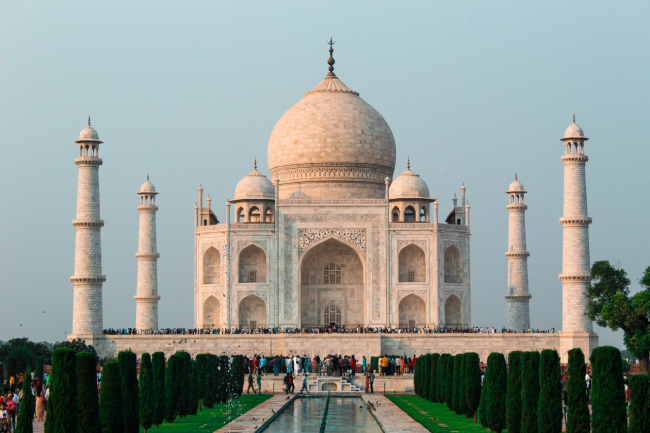 Applying for the OCI card
HOW CAN I ACQUIRE MY OCI CARD WITH IVISA.COM?
Explore the application page.

Fill out the online application.

Our team will check your details.

We will send a preparation guide with further steps on how to continue with the process.

Ship the physical application to the VFS Application Center.

Expect the OCI card in 5 to 6 weeks.
Frequently Asked Questions
WHAT ARE THE OCI CARD BENEFITS AND DRAWBACKS?
The OCI card is a lifelong visa. You can acquire it if you can prove you have Indian origin. The OCI card benefits refer to the rights you gain, like working rights, living as a resident, and entering India as many times as you want.
One of the major drawbacks is that you must surrender your Indian passport as India doesn't accept dual citizenship. Still, this is a chance for Indians living and working abroad to return to their origin. They can enter India with the OCI card without any issues, and have all the rights any permanent resident has.
WHAT ARE THE OCI CARD REQUIREMENTS TO APPLY?
You must have the following to complete your OCI Card application:
A passport scan, your passport should have at least 6-months validity.

A valid email address to receive our online communications.

A payment method, select between a credit or debit card.

Digital photo - If you don't have a recent passport-style photo can obtain one using our passport photo service.

Digital signature.

Proof of address.
You may be asked to provide more documentation according to the motive of your application.
WHAT ARE THE OCI CARD PROCESSING TIMES?
We offer 3 options depending on how fast you need to obtain your OCI Card:
Standard Processing Time: USD 406.00 - 2 days.
Rush Processing Time: USD 416.00 - 24 hours.
Super Rush Processing Time: USD 431.00 - 4 hours.
HOW CAN I APPLY FOR MY OCI CARD WITH IVISA.COM?
It's super easy, in just 3 simple steps you'll be a lot closer to obtaining your OCI card, and it shouldn't take longer than 10 minutes.
Fill out the application form. Pick a processing time (Standard, Rush, or Super Rush).

Verify that your details are correct. Select a payment alternative and pay the fees applicable to the processing time.

Attach any supporting documents, if required.
Once you complete these steps, we will send you a preparation guide with further instructions. You must send the application packet to the VFS Application Center. Once your documents arrive at the Indian consulate, it will take around 5 to 6 weeks to process.
CAN I TRUST IVISA.COM?
Of course! We have established strict security guidelines for all our services and have years of practice providing travel documents all over the world.
Explore our comments section and confirm we have the best service for you.
WHO SHOULD I CONTACT IF I HAVE SOME QUESTIONS?
Communicate with our support agents who are available 24 hours a day. They can solve your doubts about the OCI card benefits and drawbacks.
If you are looking for other types of visas to enter India you can acquire them using iVisa.com, just check out our product page to find out more on each one.
iVisa.com Recommends
We know that one trip to India isn't enough to explore the vast majority of the country. Therefore, we have compiled the most impressive sites in India. Visit Varanasi and indulge in the spirituality the whole site emanates. Hindu people go to Varanasi to cremate their dead and perform a ritual to throw the ashes on the Ganges River, which is considered a holy natural wonder. Check out the famous burning ghats and continue your journey.
Visit the Taj Mahal, which is the most famous landmark in India, if not the world. The construction has a love story that all visitors adore. We recommend visiting early in the morning and don't hesitate to take as many photos as you would like. If you stay too long, you may encounter big crowds of people. Try to keep a good spirit during the whole ordeal!
Visit Anjuna, where you will find a city full of hippie vibes. You can enjoy peaceful music, yoga retreats, and a chill attitude among locals and foreigners who have made this place their home. Also, don't miss Goa beach, which is very close.