India is a melting pot of cultures, religions, nature, and history waiting to be discovered. From unique buildings to exquisite cuisine, India has everything any traveler would love. It's unbelievable how much there is to see so we went to the greatest effort to bring you the top 7 spots in India. As well, check the final tips to immerse yourself in the Indian culture.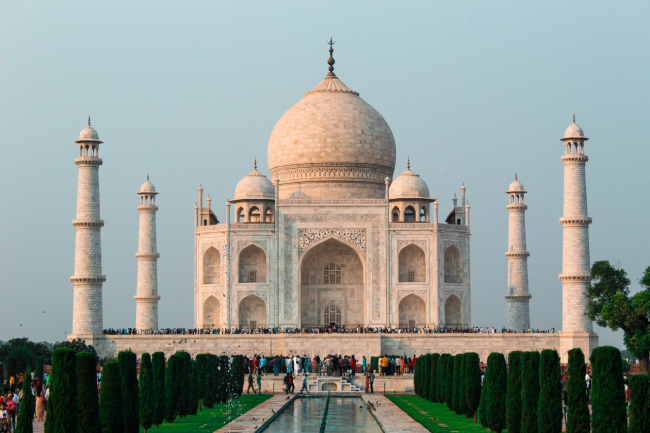 1.Taj Mahal
One of the new Wonders of the World and a monument for love. The Taj Mahal in Agra is an architectural masterpiece constructed of white marble encrusted in luxurious stones like diamonds and pearls. The historical site was built in honor of Mumtaz Mahal, Emperor Sha Jahan's favorite wife, as a statement of his love for her.
2.Varanasi
The Varanasi city is a holy place associated with the Ganges River, which is an outstanding symbol of the Hindu religion. There is an important ritual that includes bathing in the river. In this case, you will see multiple 'ghats' which are staircases leading to the Ganges. There are over 100, but the largest ones are the Dasashvamedh Ghat and Assi Ghat. Besides, make a stop at Kashi Vishwanath Temple in the Old Quarter and the Bharat Kala Bhavan, a local museum.
3.The Golden Temple of Amritsar
This sacred temple is the best representation of the Sikh religion. The architecture has Hindu and Islamic influences and the magnificent golden dome depicts a lotus flower, which is an important symbol of purity. Visitors can enjoy free meals at the temple plus a spiritual vibe from the welcoming Sikh believers.
4.Ellora Caves
Did you know the Ellora Caves were carved by monks from three different religions? It is comforting to see the tolerance in Indian culture. This astonishing site holds a collection of temples, 17 Hindu, 12 Buddhist, and 5 within the Jain faith. One of the most important temples is Kailasa which took a great effort with the removal of 200,000 tons of rock.
5.Mysore Palace
This gorgeous complex has everything you would expect from an Indian palace, from fabulous towers to elegant ceilings, fantastic halls, and even a Golden Throne that is only exhibited on special dates. During Sundays or important holidays, you get a glimpse of the amazing light show that uses 90,000 lights to reveal a path to the Mysore Palace.
6.Mahabodhi Temple
One of the most important places for Buddhists in the world. The temple is located next to the site where Buddha achieved Enlightenment. Visit the tree on site, which is a direct descendant of the bodhi tree where Buddha meditated before formulating his philosophy. This beautiful place of worship will bring you extraordinary peace.
7.Goan beaches
The Goa coastline faces the marvelous Arabian Sea and you can find beaches for every taste. From the peaceful Agonda beach to Calangute with tons of commerce around it. Maybe you are more into yoga or spa resorts, then head to Ashwem, Mandrem, or Morjim. Goa is also home to the Bhagwan Mahavir Wildlife Sanctuary where you can appreciate fantastic flora and fauna. Tigers, monkeys, elephants, and the undeniable famous king cobras are a small part of this sanctuary.
We know seven sites are not enough to describe everything India has to offer, so we want to point out some interesting facts to get you excited about traveling to India:
You will find top cuisine going from fine restaurants to street food, for all the budgets with the best flavors. But please, don't drink the tap water.
Cheap! India is an affordable destination, from lodging to transport, you can't imagine how cheap it is. Remember to change your money into rupees.
Locals are happy to welcome you and you will feel the hospitality from the first moment. Be respectful of Indian culture and experience as much as you can.
Cows are sacred. Cows are holy in the Hindu religion so these animals are not used for food but for veneration.
English is widely spoken in India, especially in big cities. If you go to some rural areas whether you will hear Hindi or a dialect. Practice 'Namaste' which is 'Hi' in Hindi.
We don't need to convince you further to visit India, but you must research the travel requirements before your arrival. According to your nationality, you might only need a passport. Still, confirm if you need an Indian visa so you can apply soon.
India is waiting for you, start planning your trip!