Disclaimer - iVisa does not currently offer the OCI card, please check below for any information you may need about your future application with us, or how to apply for an India Visa.
The OCI card or Overseas Citizenship of India is a type of permanent residency that's available for citizens with Indian origin and their spouses. This document was created as a response to demands for dual citizenship due to the Indian diaspora, especially in developed countries.
If you're a citizen of Indian origin wishing to apply for an OCI card, you might be asking yourself "what documents must I submit to get an OCI card"? Which is why we are ready to help you.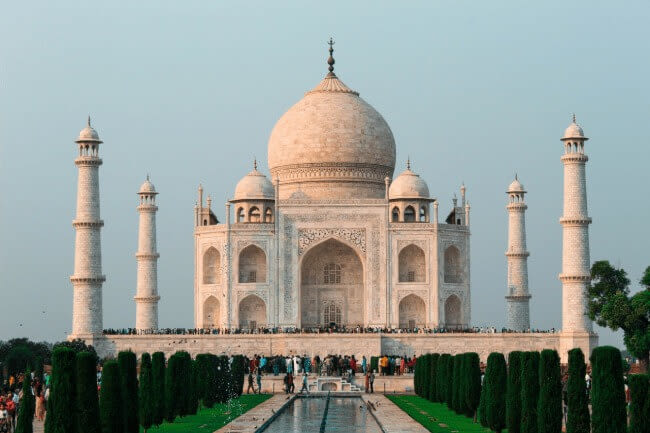 HOW TO GET AN OCI CARD AT IVISA.COM
Enter our application page here.

Fill in the online form with your basic details.

Select the processing speed you prefer.

Wait for our agents to review your application request.

Get the Government Application by email and print it out.

Receive a VFS reference number to track the shipping and results of the application process.

Get ready to get your OCI card issued.
Frequently Asked Questions
WHAT IS AN OCI CARD?
Overseas Citizenship of India (OCI) is a type of residency that citizens of Indian origin and their spouses can have to live and work in India. This document is not a citizenship, but just a type of residency for those citizens with an Indian origin. The OCI card is a lifelong visa that provides all the benefits any permanent resident in India has.
The OCI was introduced by The Citizenship (Amendment) as a solution for dual citizenship by the Indian diaspora. It is not citizenship because the Constitution of India prevents Indian citizens from holding dual citizenship.
Keep in mind that this document isn't available for everyone. Citizens who have been to Pakistan or Bangladesh cannot apply for it (it includes their child, grandchild, or great-grandchild).
Wondering what documents you have to submit to get an OCI card?, find out more here.
WHAT DOCUMENTS MUST I SUBMIT TO GET AN OCI CARD?
To apply for the OCI card, you'll only have to get a few documents and fill out a simple online form. By using our website, you can easily apply online for this document, but first make sure you have this list of items:
A valid email address to receive the information.
A valid payment method to pay the fee. You can choose between a debit or credit card
A passport photocopy, your passport should have a minimum validity of 6 months.
Recent digital passport style photo. - If you don't have one you can also obtain one using our passport photo service.
Digital signature.
A document showing your address.
According to the purpose of your application, we could require more documents for your OCI card process. We recommend visiting the application page to check the OCI card documents. Remember that these are important to process your OCI card successfully.
Please remember India doesn't allow dual citizenship, so you must renounce your Indian passport if you have one. Plus, the OCI card is a great way to live and work abroad and also enter India at any time if you still want to have residency in another country.
WHAT ARE THE PROCESSING TIMES AND PRICES TO GET AN OCI CARD?
We can help you process the OCI card by giving you an easy-to-use application form that won't take you much time to complete. However, since this is a fast and safe process, we charge a service fee. You can choose one of the following options depending on how fast you want to process your application for the OCI card:
Standard Processing: If you are planning your trip ahead of time and don't need your OCI card in a rush this is the best option.
Rush Processing: With this option you will have your OCI card faster than the first option for a little more.
Super Rush Processing: This is the fastest option, you will have your card within no time, perfect for anyone in a rush.
HOW CAN I APPLY FOR AN OCI CARD?
To apply for this document successfully, its as easy as 1,2,3, you will be done in no time:
First, fill out this online application and select a processing speed.

Second, make sure that the information is correct and pay the service fee that best suits your needs.

Third, submit all the documents required so that you can receive the Government Application with a file reference number which you must print out.
After that, you'll get a VFS reference number to track the shipping and results of this application process. Keep in mind that we'll also send you a preparation guide with detailed information on what to do to get your OCI Card issued. You are expected to send the physical application to the VSF Application Center to continue with the process.
HOW SAFE IS IT TO USE IVISA.COM?
You can trust iVisa.com's services without any issue as we provide a reliable system that won't compromise your information. Plus, we're constantly contacting our clients to make sure that everything is correct and there are no mistakes.
In case you need confirmation, you can check out our customer reviews to verify our claims.
WHERE CAN I GET MORE INFORMATION ABOUT THE OCI CARD?
If you have issues or doubts while applying, please reach out to our customer service team. For more information about the OCI Card, go to our FAQ page.
iVisa.com Recommends
One of the most exotic countries in Asia is India, a huge country. It's impossible to cover most cities in a single trip. Therefore, we recommend visiting the most relevant sites on your first journey. Perhaps the first thing that comes to mind is the Taj Mahal, but keep in mind that it is not the only popular place in this country. An example of this is the Fatehpur Sikri and the Red Fort in Agra. The Taj Mahal may still be the most famous point of Agra, but be sure that by visiting the other two spots we mentioned, your trip will be more memorable.
Another example is the Jama Masjid or the Friday Mosque, a mandatory stop in the city of Delhi. This mosque is a special place to learn more about the ancient culture that exists in this country. A last example that we can give is The Amber Fort, a complex terrain full of courtyards, palaces, rooms, gardens and other buildings that can enchant anyone, plus, it is located on a beautiful hill so you can easily watch amazing sunsets from there.