If you've ever thought about traveling to India, then this is your moment, especially if you have a Paraguayan passport. From now on, to enter this country, you'll only have to apply for an Indian eVisa, which is in fact the only Indian Visa for Paraguay that's available on the Internet. This way, you don't have to waste time at the embassy.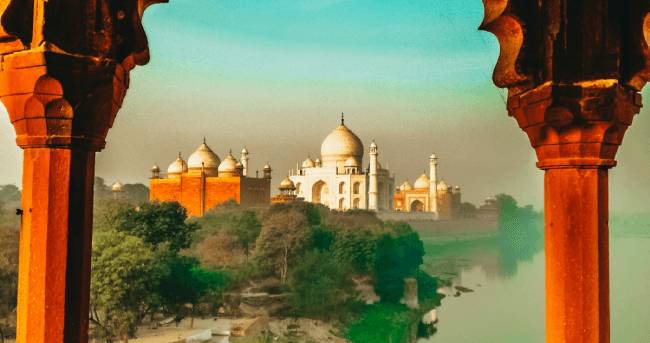 It is very easy to apply for this eVisa when you use iVisa.com because we have an electronic service that saves you time and effort so that you can plan your trip more calmly. Learn more about this process and the Indian eVisa in the following article.
Frequently Asked Questions (FAQs)
What is an Indian eVisa?
To enter India, you have to get an Indian eVisa first, which is an automated document that offers valid permission into this territory. This document works with an online system that's connected to your passport, meaning that you don't have to print it or visit the embassy in order to get it.
However, it's recommended to print a copy of the PDF file just in case immigration officers ask to see it on arrival, or if airline staff want to confirm you have it before setting off.
How many types of Indian eVisas are available online?
There's more than one type of Indian eVisa, which is the Indian tourist eVisa, the Indian Business eVisa, and the Indian Medical eVisa.
As you can guess, each of them has different purposes, so be aware of that when applying online.
Do I need an India visa for Paraguay if I have a Paraguayan passport?
Yes, if you're a Paraguayan citizen, you'll need a visa, but not a traditional visa. The only thing you need is an Indian eVisa, and it's available on our application system here.
What items do I need to apply for the India visa for Paraguay?
You'll need a few things before applying on iVisa.com. The good thing is that these items aren't difficult to get, they're the following:
A professional photo. If you have issues with this item, you can get assistance on iVisa.com's passport photo.
A valid passport and a scanned copy of the information page.
A valid email address where you'll get the eVisa in the time that you specified.
The last thing you need is a Paypal or a debit/credit card to pay for your eVisa.
What are the processing times and prices?
By applying with iVisa.com, you'll be able to choose one of the following processing options depending on how fast you want to get your eVisa:
Standard processing option: this processing option lasts

5 days

if you pay

USD $99.99

.
Rush processing option: by choosing this processing time, you'll be able to receive your digital India visa for Paraguay in

3 days

, and the total price will be

USD $158.99

.
Super rush processing option: this option allows you to get your eVisa in only

36 hours

if you pay

USD $210.99

.
Take into account that our prices include the government's fee and that the list of prices mentioned above is based on the tourist eVisa. If you want to check the prices for the Business and Medical eVisa, click here for details. Otherwise, if you're ready to apply, click here and let's get started!
How can I apply for the Indian eVisa?
The best part of applying with iVisa.com is that you don't have to spend much time on the online form because it can be completed in 10 minutes or less. Plus, the process is not complicated as it only has 3 steps:
First, complete the questionnaire with basic information like your full name and your passport. After that, pick your processing option according to your travel arrangements.
Second, review all the info you previously gave so it doesn't have typos or errors. After that, pay for your document with your preferred payment method.
Third, get ready to attach the documents to the application form. Then, click on 'submit' to finish the 3-step process.
After you complete this process, all you'll have to do is to wait for your eVisa to be sent via email to your inbox. You don't have to visit the embassy or the consulate after applying because we do that part (we contact the authorities directly on your behalf).
If you have doubts about this process, remember that iVisa.com has a great support service that's available every day of the week and every hour of the day.
Can I enter anywhere in India with this document?
No, you cannot use this document at any point of entry in India. The Indian eVisa is valid only through the following ports:
28 airports: Ahmedabad, Amritsar, Bagdogra, Bengaluru, Bhubaneshwar, Calicut, Chennai, Chandigarh, Cochin, Coimbatore, Delhi, Gaya, Goa, Guwahati, Hyderabad, Jaipur, Kolkata, Lucknow, Madurai, Mangalore, Mumbai, Nagpur, Portblair, Pune, Tiruchirapalli, Trivandrum, Varanasi & Vishakhapatnam.
5 seaports: Cochin, Goa, Mangalore, Mumbai, Chennai.
Nevertheless, keep in mind that when your holiday is over, you are welcome to exit from any of the authorized Immigration Check Posts (ICPs) in India.
Can I apply for my family members and kids?
Yes, you can do that provided you have their information on hand. The process is the same as detailed above, depending on their circumstances. If they travel with you, you can add their information by clicking on 'add new applicant'. Otherwise (if they travel apart), you'd have to apply for them by filling in the whole online form again.
What should I do if I make a mistake?
In case you realize you make a mistake while entering your information online, and you miss it when you check it over, then please reach out to our customer service agents as soon as possible to receive assistance and advice.
Is it safe to use iVisa.com?
We ensure that our services are reliable and powerful, so we won't let your personal information leak through to anyone else. You can trust us because we work as a tertiary company that's been authorized by official authorities around the world. You can read our reviews to confirm this fact and the quality of our work.
Where do I find more information?
You can go to the chat page using this link to start talking to one of our customer service agents if you need help. We are ready to assist you 24/7. You can also read mountains of other useful information about this travel document here at iVisa.com.