The current coronavirus outbreak has got a lot of people and countries in a bind and there is a lot of uneasiness, so much so that even the question of how Canadians can enter Indonesia during this coronavirus pandemic has become quite a concern. Immigration regulations needed to be changed and what those changes are have come under a great deal of scrutiny. A few months ago, Indonesia's government and immigration officials have decided to implement more stringent actions in an effort to curb the spread of COVID-19 into their territory and endangering their citizens further.
Note: Since April, 2022, the Indonesia Health Alert Card is no longer necessary to enter the country.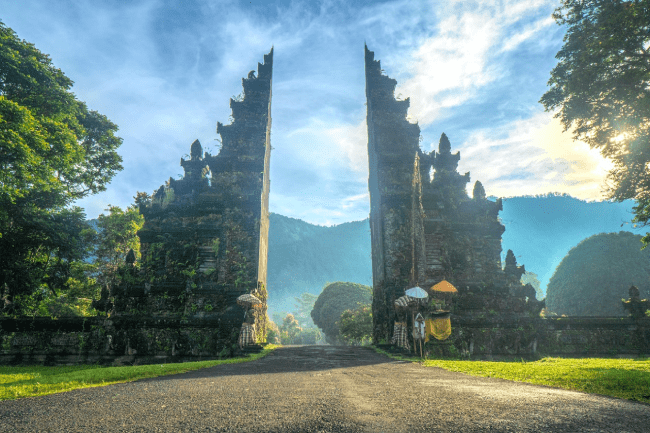 In this article, we'll explain to you how can you enter Indonesia as a Canadian citizen. Let us take a look at some of the procedures that the Indonesian government has put into practice since COVID-19 has attained the pandemic status and disrupted international travel.
The government of Indonesia has decided to continue monitoring the progress of the disease through the data and reports that come directly from the World Health Organization. They will base changes in their policy on these reports.
The country has put some of the policies concerning visa applications and acquisition on hold at the moment. Some of the policies suspended by the changes are related to visa-free facilities, short-stay visit visas, and visas on arrival. The changes are meant for citizens of all countries seeking to enter Indonesia and will be implemented indefinitely.
Visa acquisition for all travelers and people wishing to enter the country will be processed by Indonesian missions. When getting these visas, the entrant should make sure that it is in line with his purpose for entry. Aside from this, all entrants are now mandated to show valid health certificates when they are submitting their visas for inspection and these certificates must be from authoritative health organizations and agencies in their home countries.
Apply with us now and get your Indonesia Health Alert Card on time.
How Canadians Will Be Able to Enter Indonesia during the Outbreak?
Canadians are required for entry to get a visa from official Indonesian missions and providing the Indonesia Health Alert Card validated and authenticated by relevant health authorities. Also, they should make sure that the visa they are getting is for whatever purpose they have for entering Indonesia.
While other countries have banned travel into Indonesia, Canada has not. However, they have issued travel advisories advising visits to Indonesia only for essential matters. The Canadian government strongly advises caution when traveling internationally but states that the decision to travel depends on the individual.
Do I need a COVID vaccine or vaccination certificate to enter Indonesia?
Yes, Indonesia has been taking steps to restore travel within its borders. In order to enter Indonesia, travelers aged 18 and older need to display the COVID vaccine passport or vaccination certificate.
Accepted vaccines are Pfizer, Moderna, Sinovac, AstraZeneca, Johnson & Johnson, and Sinopharm.
Travelers are considered vaccinated if all doses of a vaccine against SARS-Cov-2 have been administered for at least two weeks before traveling.
Do I need to take a PCR COVID-19 Test before traveling to Indonesia?
COVID test prior to arrival: There are no pre-departure testing requirements.
COVID test on arrival: Unvaccinated travelers will be tested on arrival.
Do I have to quarantine when I get to Indonesia?
Quarantine requirements: 5-day quarantine. A PCR test will be taken on the fourth day of quarantine for unvaccinated travelers.
Quarantine exemptions: Fully vaccinated travelers.
Restrictions for Entry of Citizens from Specific European Countries
Indonesia may deny entry of any entrant coming from several countries in Europe. The country may deny the transit of these entrants as well. These entrants may be citizens of the countries in question or visitors that have stayed for at least 14 days before going to Indonesia. Entrants from the following countries may be refused entry: Italy, Spain, France, Germany, Switzerland, the United Kingdom, and the Vatican. Iran, although an Asian country, is thrown into the list as well.
As an added precaution, each traveler's history will be reviewed and if they have been into any of these countries within the last 14 days, they will also be denied entry. Those who are eligible to enter will be required to complete and show Health Alert Card to the Port Health Authority upon arrival at any Indonesian Airport or point of entry.
Entry Restrictions for Citizens of Certain Asian Countries
The Republic of Indonesia is restricting travel and entry for citizens of some Asian countries, such as China and South Korea. These measures are as stated by the Minister of Foreign Affairs and the Minister of Law and Human Rights of Indonesia. They are as follows:
1.Direct flights into Indonesia from mainland China, and vice-versa, are suspended. The suspension of these flights took effect on February 2nd of 2020.
2.The government and immigration officials of Indonesia have temporarily stopped the issuance of visas on arrival for Chinese nationals from mainland China. Visa-free entries have also been suspended. As an extra preventive measure, the Indonesian government has also advised its citizens that travel into China be postponed until after the outbreak as it is safer to do so then.
3.Those who wish to enter Indonesia and have stayed in China for at least 14 days will not be allowed entry. This rule also applies to those who wish to transit through Indonesia into another country. However, the ban is only temporary and will be lifted when the situation allows.
These entry restrictions are also applicable for residents of South Korea, particularly from Gyeongsangbuk-do province and Daegu City, and these rules are still effective. Implementing these restrictions is in accordance with the statement made on March 5th by the Minister of Foreign Affairs of Indonesia.
Avoid long queues and process your Indonesia Health Alert Card now!
Rules on Extension of Stay
Foreign travelers with expired Short Visit Passes and are still within Indonesia will be able to apply for an extension of the pass. The procedure concerning the application for an extension will be conducted according to the rules and regulations set by the Indonesian Ministry of Justice and Human Rights.
The Ministry of Justice and Human Rights also hold sway over the applications for extension of the Temporary Stay Permit Card and the Permanent Stay Permit Card (the KITAS and the KITAP, respectively). Extensions for this form, as well as for expiring service and diplomatic visas whose holders are still out of the country, shall be processed in accordance with a different set of rules from the same Ministry.
Why is there a Restriction on International Travel?
The virulent nature of the COVID-19 organism is one of the biggest reasons why most countries have forced limits on international travel and entry into their respective territories. Although the rules and approaches may be different, Indonesia has similar reasons as other countries for imposing these limitations, including limiting the spread of the pathogen.
These regulations may differ depending on the citizenship of the entrant. That is why it is necessary to know what these rules for entering another country.