The countries of the world are having a bit of a difficult time with the COVID-19 virus, with the virus disrupting the world's economy and changing how countries allow citizens of other nations to travel within their boundaries, prompting a lot to ask how Indians can enter Indonesia during this coronavirus pandemic. Policies about entry into and transit through Indonesia have changed, and a lot of it is as a response to the magnitude of the pandemic gripping the world today.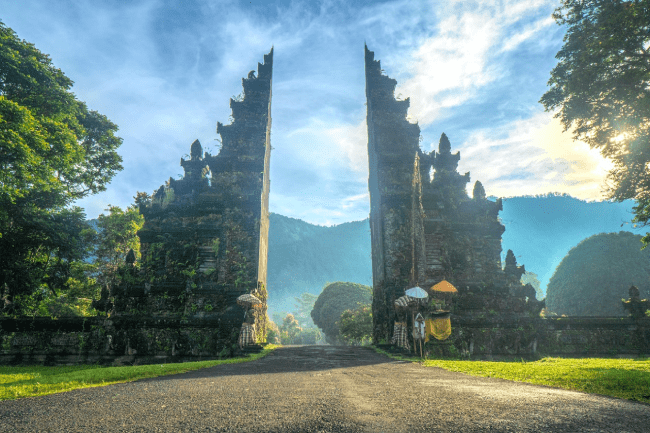 Indonesia has been making changes to its regulations regarding travel, entry, and transit of visitors within its territory. Travelers who, until the COVID-19 outbreak, have been free to enter and leave the country as long as they have the necessary documentation suddenly find themselves unable to do so in these conditions. These new rules are put into practice to combat the growing risk of the viral infection endangering the Indonesians. Let's take a look at some of the policies that Indonesian authorities are now enforcing.
1.The government of the Republic of Indonesia will be keeping a close eye on the progress of the pandemic and how the other countries are reacting to it and will do so continually until the threat of mass infection has abated. The authorities will get their data from reports supplied daily by the World Health Organization and any changes in their policies will result from a careful analysis of the data and other countries' responses.
2.The country has also suspended visa policies pertaining to short-stay visit visas and visa-on-arrival for certain nationalities. The suspended services also include the option for visa-free entry, and that means that all entrants are now required to show a visa before entering Indonesia.
3.Another regulation to ensure that all entrants acquire their visas before entry is the requirement for all visas to be processed by official Indonesian missions. The visas applied for must be in line with the purpose of the traveler for entering Indonesian territory.
4.All entrants are now required to provide the Indonesia Health Alert Card as they present their visas for inspections. In order to ensure that the health certificates are legal and valid, they should be in English and should be issued by the home country's health authorities.
How Indians Can Enter Indonesia during the Coronavirus Outbreak?
India is not listed under countries with special rules for citizens and visitors to enter Indonesia. However, Indian nationals will still need to get their visas from official Indonesian missions and nowhere else. They will have to make sure that their visas are in accordance with their purpose for entering the country. Plus, they are required to present the Indonesia Health Alert Card to the proper authorities.
Do I need a COVID vaccine or vaccination certificate to enter Indonesia?
Yes, Indonesia has been taking steps to restore travel within its borders. In order to enter Indonesia, you'll need to display your COVID vaccine passport or vaccination certificate.
Accepted vaccines are Pfizer, Moderna, Sinovac, AstraZeneca, Johnson & Johnson, and Sinopharm.
Is a COVID-19 test required to enter Indonesia?
COVID test prior to arrival: PCR (in English) within 72 hours.
COVID test after arrival: PCR on day 1 and day 4.
Do I need to quarantine when I get to Indonesia?
PLEASE NOTE: Only fully vaccinated travelers from eligible countries can enter Indonesia.
Quarantine requirements: 5 days
Quarantine testing: PCR on day 1 and day 4
Setting Restrictions on Specific Countries in Europe
The government of Indonesia, throughout the duration of the pandemic or until further notice, may refuse the entry of citizens and travelers coming from several European nations. Transit of these travelers through Indonesian boundaries to other countries may be suspended as well. The affected countries are Germany, Spain, France, the United Kingdom, Switzerland, Italy, and the Vatican. Iran is not part of Europe but is included in the list, which means that the same rules apply for travelers coming from Iran.
The conditions for the suspension of entry and transit privileges are:
1.If the traveler is a citizen of the countries included in the list or is a traveler that has stayed in any one of these countries for at least 14 days before attempting to enter or transit through Indonesia.
2.If the traveler has been to any of the listed countries for any length of time within the last 14 days. Immigration officers will review the entrant's travel history in order to make sure that they have not traveled within the borders of these specific nations within the last two weeks.
All entrants from the listed nations who are eligible to enter Indonesia shall be allowed to if they can present Health Alert Cards to Port Health Authority officers in airports.
Regulations Regarding Chinese and South Korean Nationals
Additional restrictions have been implemented for citizens of South Korea (those from Gyeongsangbuk-do province and Daegu City, in particular) and the People's Republic of China. They were put into action by the Ministry of Foreign Affairs in conjunction with the Ministry of Law and Human Rights. Here are the three restrictions that are applicable:
The government of Indonesia has suspended all direct international flights to these countries and vice-versa, in an effort to curb the spread of the coronavirus infection.

It has also discontinued the issuance of visas on arrival for travelers coming from mainland China and South Korea. Immigration withdrew their privilege to use visa-free entry facilities in the country as well. These two stipulations will force travelers to acquire their visas from Indonesian missions.

If the traveler has stayed for 14 days or more within the boundaries of these two countries, it will mean a certain refusal of entry privileges. This rule applies to transit travelers as well and will continue to be in force until the government believes that it is safe to lift the ban.
Learn more about the Indonesia Health Alert Card clicking here.
Rules Regarding the Extension of Certain Forms
Applications for extension of certain forms, such as expired Short Visit Passes for travelers who are still within Indonesian territory, Permanent Stay Permit Cards (KITAP), and Temporary Stay Permit Cards (KITAS) shall be under the authority of the Ministry of Law and Human Resources. Therefore, the procedures for applications will be according to regulations set forth by the Ministry.
In addition, the Ministry will have complete control over the extension of service and diplomatic visas even while their holders are outside of Indonesian boundaries.
International travel has been a vehicle for the rapid spread of the coronavirus, and changes have been made by all countries in order to control the pandemic. You will need to know whether you are allowed to enter a particular country or not, and what the requirements for entry or transit are. Get yourself in the know.