Several countries have taken necessary measures to combat the COVID-19 pandemic while keeping the tourism active, especially because it remains as an important factor for many people. In the case of Indonesia, tourism is essential for its economy, and for this reason, it is now possible to obtain the Indonesia Health Alert Card to enter the country while the COVID-19 remains. This document is what is known as the Indonesia 14 day quarantine requirement since one of the necessary measures when entering is to obey this quarantine.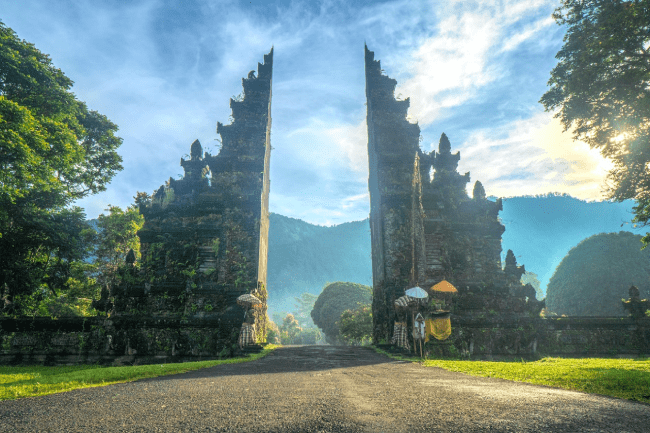 To give you a brief summary of COVID-19, remember that this virus is caused by the novel coronavirus that emerged from China in late 2019, hence the 19 in the name of the disease. It's been a challenging virus because it has a high risk of contagion from person to person through personal contact or inhalation of airborne viruses.
As you can see, the COVID-19 changed tourism a lot. However, it's not impossible to travel today and you can enter Indonesia by applying online for your Health Alert Card with iVisa.com. You can learn more about this process with the information below.
Frequently Asked Questions (FAQs)
What is the Indonesian Health Alert Card?
The Indonesia Health Alert Card is the Indonesia 14 day quarantine requirement that you need to enter the country. The Indonesia Electronic Health Alert Card can be easily obtained through an online form and you can download it on your mobile phone. Remember that once you receive the confirmation email about this document, you'll surely get a QR code that must be presented to the authorities.
Do I need a COVID vaccine or vaccination certificate to enter Indonesia?
Yes, Indonesia has been taking steps to restore travel within its borders. In order to enter Indonesia, travelers aged 12 and older need to display the COVID vaccine passport or vaccination certificate.
Accepted vaccines are Pfizer, Moderna, Sinovac, AstraZeneca, Johnson & Johnson, and Sinopharm.
Travelers are considered vaccinated if all doses of a vaccine against SARS-Cov-2 have been administered for at least two weeks before traveling.
Is a COVID-19 test required to enter Indonesia?
COVID test prior to arrival: PCR within 48 hours.

COVID test on arrival: Only unvaccinated travelers will be tested on arrival.

COVID test after the arrival: PCR on day 4 for unvaccinated travelers.
Do I need to quarantine when I get to Indonesia?
Quarantine requirements: 5-day quarantine.

Quarantine exemptions: Fully vaccinated travelers.
How can I obtain the Health Alert Card?
As you read before, you can get this document through an online form. The best part is that you can get your Indonesia Electronic Health Alert Card with iVisa.com. By using our website, you'll be able to get ready thanks to a team that will take care of the overall process.
Please, remember that without this document, you won't be able to enter Indonesia, so make sure you have it before planning the rest of your trip so you can avoid any issues at the airport.
What documents do I need to apply for the Indonesia Health Alert Card?
The online process to receive this document is easy, but you still need to get some requirements first. However, the list is short and you might even have part of these requirements:
Passport - this is essential to travel, and you should also scan its information page.
Email address. - remember that you'll get your Health Alert Card and your QR code via email.
Payment options - you can use Paypal or debit/credit card.
What are the processing times and prices to apply for the Indonesia 14 day quarantine requirement?
Keep in mind that if you decide to apply with the government, it'll probably be difficult for you to carry out all the procedures perfectly, especially since it requires a lot of time and research on your part. That's the reason why iVisa.com makes this part easier by giving you your document as quickly as you want and without having to spend so much time, but for this. you have to pay a fee. Still, with iVisa.com you have three options according to your budget, these are:
Standard Processing Option-

24 hours

and a price of

USD 20.00

.
Rush Processing Option:

4 hours

and the cost of

USD 35.00

.
Super Rush Processing Option:

30 minutes

and a total amount of

USD 60.00

.
How can I apply for this document?
iVisa.com has designed a user-friendly online application form with only 3 steps to follow. The steps are:
First, complete the online form by answering the first questionnaire. In this part, you have to choose your time of processing too.
Second, double-check the information you provided in the first step. Remember that after you submit the application form, it won't be possible to change any information. In case you need assistance while completing the form just contact us at any time. In this part, you have to pay for the service as well.
Third, attach the documents required at the beginning of the process. The final thing to do is to click on the "submit" button.
How much time do I need to apply with iVisa.com?
With iVisa.com's online form you'll enjoy an effortless process that was made to be completed in only 20 minutes.
What should I once I receive the email?
As soon as you complete your online form, we'll take care of the entire process and we will deliver your document once it is authorized by the Indonesian Government.
You should know that you'll get the Health Alert Card and all the instructions via email, including if you have to download a QR code and what other things you should consider. We recommend you to follow these instructions to avoid any issues at the airport.
Does the Health Alert Card replace a Visa?
The Indonesia Health Alert Card DOESN'T replace a visa, it is only part of the required documentation to enter the country, so keep in mind that if you need a visa, it'll be another document required once you arrive at the airport. You can use iVisa'.coms Visa Checker Tool to confirm if you need a visa or not. In case you need a paper visa, we recommend you to contact your Indonesian Local embassy.
Is it safe to use iVisa.com's service?
The best part of iVisa.com's online form is that has an easy-to-use platform with a high-security system that won't risk your data, so you can be sure that it's completely safe to use our service. Also, the price you pay includes professional 24-hour customer support ready to help you with any doubt.
Where do I get more information?
If there's still a question in mind, you can contact our customer service center or you can take a look at iVisa.com's website. Keep in mind all the information you see in this article, and don't forget that you can search for more tips on our website.
You can enjoy the beauties in Indonesia today! Apply for your Health Alert Card now and start your journey!