The Coronavirus has impacted every aspect of the world, including the way we work and live. The travel industry is no exception. Countries around the world are changing the way the travel industry works. Which is where iVisa.com comes in. If you are planning to travel to Ireland, we will make sure the process is uncomplicated, safe, and fast!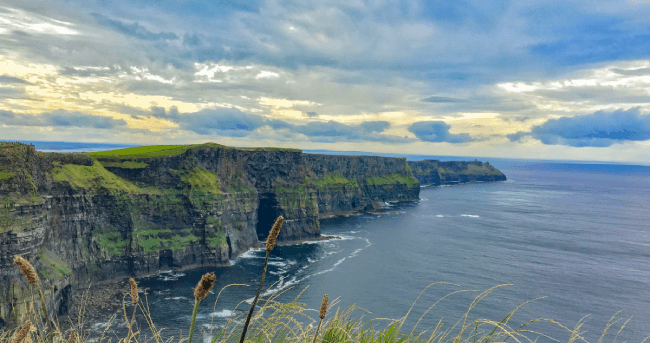 All you need to do is fill out iVisa.com's COVID-19 Passenger Locator Form online before you arrive in Ireland. Read our FAQs to know more about this process!
FREQUENTLY ASKED QUESTIONS (FAQs)
WHY IS THIS FORM IMPORTANT TO FILL?
Filling out the COVID-19 Passenger Locator Form is a part of the process that aids the government of Ireland in curbing and controlling the spread of Coronavirus. This form will also be used to help with contact tracing, should there arise a suspected or confirmed case on a flight or ferry coming into Ireland.
Do I need a COVID vaccine or vaccination certificate to enter Ireland?
No, you don't. COVID vaccination certificates are not mandatory to enter Ireland. Now if you are a Covid vaccine certificate holder, you won't need to present a negative PCR test nor to follow a quarantine.
Approved vaccines are Pfizer, AstraZeneca, Moderna, Janssen.
You are fully vaccinated:
7 days after the second Pfizer-BioNTech dose
15 days after the second AstraZeneca dose
14 days after the Janssen vaccine
14 days after the second Moderna, Sinovac, or Sinopharm dose
Do I need a negative COVID-19 test result to enter Ireland?
COVID test prior to arrival: Unvaccinated travelers only.
COVID test requirements: PCR within 72 hours.
COVID test exemptions: Children under 12.
Irish, EU and UK citizens who have been in Botswana, Eswatini, Lesotho, Mozambique, Namibia, South Africa, Zimbabwe within 14 days: PCR within 72 hours of arrival and PCR tests on day 2 and day 8.
Do I have to remain in quarantine?
Quarantine requirements: There are no quarantine requirements in Ireland.
Irish, EU and UK citizens who have been in Botswana, Eswatini, Lesotho, Mozambique, Namibia, South Africa, Zimbabwe within 14 days: 14 day quarantine to end early with negative results in days 2 and 8 PCR tests.
WHAT HAPPENS IF YOU DO NOT FILL IN THIS FORM?
The COVID-19 Passenger Locator Form will be used to facilitate a system of follow up checks by the Irish authorities to make sure the details entered are correct, to perform contact tracing, and to provide you with public health advice.
You are liable to be penalized by a fine not exceeding €2,500 or imprisonment for a term not exceeding 6 months, or both, if the form is not filled in or the information provided by you is false. So what are you waiting for? Check out the form now and get yours!
SEEMS IMPORTANT. HOW DO I GET IT?
iVisa.com has condensed the entire process into four easy steps. Get your passport out, set aside 15 minutes, and do the following:
1.Fill out the form i.e. input your contact information, passport number, and itinerary details.
Select the procedure from the following 3 options that fit your requirements best:
Choose the Standard Option if you have enough time as it will take about

24 hours

to process and will only cost you

USD 20.00

.
The Rush Option is at the price of

USD 35.00

and is for you if you need to rush the process and get the form delivered within

8 hours

.
Try the Super Rush Option if you need it urgently and expect delivery in

4 hours

, at just

USD 60.00

!
2.Validate the information you've provided in the form. Don't skip this step!
3.Pay the processing fee using Paypal or use a credit/debit card.
Submit the form and you're done, mate! iVisa.com will handle the rest. Once everything is processed, we will email the form to you as a QR code. What're you waiting for? Apply Now!
WHAT DO YOU HAVE TO KEEP IN MIND ONCE YOU REACH IRELAND?
Since Australia is one of the locations not included on the COVID-19 Green List, you are asked to restrict your movements for 14 days on entry into the state. Restricting movement is protection advice put in place by experts and officials for persons who might have a possibility of being infected by the Coronavirus to isolate and curb the spread of the virus. You will be encouraged to:
Stay indoors
Avoid contact with other people and social situations
Keep away from public places and avoid using public transport
Keep at least 2 meters distance from other people
The COVID-19 Passenger Locator Form is valid for 15 days after arrival in Ireland and must be kept on your person at all times. Check it out now and keep yourself well prepared.
WHAT IF I HAVE MORE DOUBTS?
You are our priority, and we are always looking for ways to help! Talk to us and let us answer all your questions. We'll do our best to make sure you are well equipped for your trip to Ireland.
Seems a bit too easy? That's because we did the hard work to make it that way for you! Now get going and fill out the iVisa.com Passenger Locator form!