Due to the current COVID-19 Pandemic, several countries have decided to implement a system to have greater control over the entry of tourists, especially those from high-risk countries such as China, Italy, and the United States. One of those countries is Ireland, which recently launched the Ireland 14 day quarantine requirement or Passenger Locator Form, a document that allows you to enter the country without problems.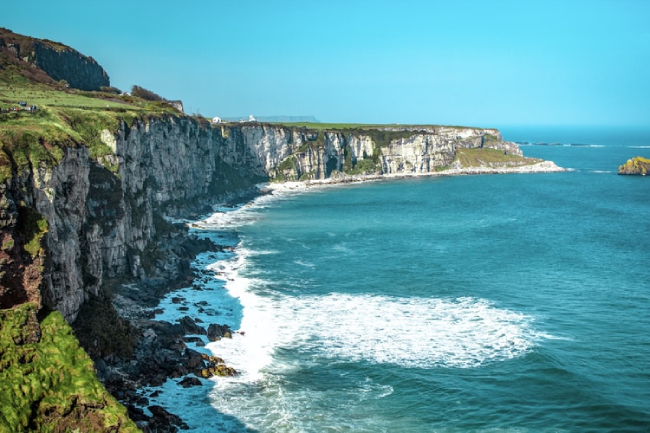 To obtain this document, you just need to follow a series of steps that you'll learn in detail by reading this article. For your convenience, you can get the Ireland Passenger Locator Form through an online process, and iVisa.com offers you a high-quality service and excellent security software so you can carry out this process without stress.
Take a few minutes of your day to read these FAQs and relax about your next trip to Ireland.
Frequently Asked Questions
What is the Ireland Passenger Locator Form and why do I need to apply for it?
The Ireland Passenger Locator Form is a travel requirement authorized by the Irish Government that allows you to enter the country while the COVID-19 Pandemic lasts. Even if you're a visa-exempt country, you still need to apply for this document.
This Passenger Locator Form was launched to avoid the spreading of the COVID-19 because this virus is extremely contagious worldwide. Keep in mind that requirements like this one are made to protect your health and the health of other citizens.
Can I apply for this document online?
The best thing about the Ireland Passenger Locator Form is that you can have it by completing an online form with iVisa.com. With this alternative, you'll only need at least 20 minutes to complete the 3-step method, which has a user-friendly software that will make the task very easy for you.
Take note of the documents you need before completing the online form, these aren't hard to find and you might even have all of them.
Do I need a COVID vaccine or vaccination certificate to enter Ireland?
No, you don't. COVID vaccination certificates are not mandatory to enter Ireland. Now if you are a Covid vaccine certificate holder, you won't need to present a negative PCR test nor to follow a quarantine.
Approved vaccines are Pfizer, AstraZeneca, Moderna, Janssen, Sinovac, Sinopharm, Covaxin, Nuvaxovid.
You are fully vaccinated:
7 days after your second Pfizer-BioNTech dose
15 days after your second AstraZeneca dose
14 days after the Janssen vaccine
14 days after your second Moderna, Sinovac, Sinopharm, Covaxin, Nuvaxovid dose
Do I need a negative COVID-19 test result to enter Ireland?
COVID test prior to arrival- unvaccinated travelers only: PCR within 72 hours.
COVID test exemptions: Children under 11 and fully vaccinated travelers
Do I have to remain in quarantine?
Quarantine requirements: There are no quarantine requirements in Ireland.
What documents do I need to apply online?
The list of documents to apply online is short and it shouldn't be a challenging task for you. These are:
A visible copy of your passport, it can be digitally scanned.
A valid email address where you'll receive the Health Statement.
A valid payment option. You can choose from Paypal or a debit/credit card.
What are the prices and processing times with iVisa.com?
Prices and procedure times will vary depending on your traveling needs:
Standard Processing Time:

USD 24.00

-

24 hours

.
Rush Processing Time:

USD 42.00

-

8 hours

.
Super Processing Procedure Time:

USD 72.00

-

4 hours

.
How can I apply for my Ireland Passenger Locator Form with iVisa.com?
iVisa.com created a simple 3-step system that will allow you to get your Ireland Passenger Locator Form in a few minutes. These are the 3 steps you have to follow to get your document successfully:
First, fill in the initial questionnaire with basic details required (full name, passport id, etc.) and choose a procedure time.
Second, verify all the information carefully and proceed with the payment of the service according to the procedure time you chose.
Third, Upload the copy of your passport and send your online form.
After you finish this easy process, you just have to stay alert to your email because you'll receive all the notifications this way.
If you have doubts or problems while filling in the form, you can reach out to iVisa.com's customer support to get assistance.
How much time do I need to apply?
With iVisa.com's 3-step method you don't need to be too skilled with forms, that's why it should take you about 15 minutes to complete. You can apply anytime and anywhere, even from the comfort of your home.
How will I get the Ireland Passenger Locator Form?
You'll receive a QR Code in your email inbox among the Ireland Passenger Locator Form. You should download this code and keep it at hand to enter the country without any obstacle on the way. After you land at the airport, the immigration officer will verify that all of your information is ok, including the COVID-19 Passenger Locator Form, so it's necessary to have the QR code at that moment.
Can children enter Ireland without the COVID-19 Passenger Locator Form?
The Ireland 14 day quarantine requirement or COVID-19 Passenger Locator Form is a necessary item for any foreign citizen, so children are included too. If you want to travel to this country with a child, then you'll need to apply for another COVID-19 Passenger Locator Form.
It's essential to take note of this information because this document was launched to protect not only Irish, but also tourists. That's why every child should also have a Passenger Locator Form on hand.
How many times can I enter Ireland with the COVID-19 Passenger Locator Form?
The number of entries will depend only on your visa or travel authorization according to your nationality. Some countries need a visa before entering Ireland, while others only need an ETA or Travel Authorization. What you should consider is that these travel documents are aside from the Passenger Locator Form since this is something that everyone must have, including visa-exempt citizens.
What you shouldn't forget is that the Passenger Locator Form expires 15 days after arrival (after you finish the quarantine.) After all, this document is made to cover that aspect of the current Pandemic.
Is it safe to use iVisa.com's 3-step method?
Yes, of course! It's safe to apply for your document using iVisa.com's 3-step method. It's hard to find another option by now because the Irish Government hasn't offered an official website, and you'll probably find obstacles trying to get this document with other systems. Therefore, iVisa.com is ready to help you by being a trustworthy third-party company. You can find our reviews here if you need to learn more about our service.
Where can I find more information about the Ireland 14 day quarantine requirement?
It's completely normal to have more questions in mind about the online process because it is the newest requirement launched to enter Ireland. If you're still having doubts, then you can reach out to our customer service to receive assistance. You can also find other information on iVisa.com's website.