People all over the world are slowly getting used to COVID-19 induced changes in every aspect of life, travel included. The "new normal" has pushed us to alter basic procedures and adapt to newer versions of systems as we know it. Every country all over the world is forced to take serious measures ensuring that their residents as well as visitors are protected and safe and the team at iVisa.com wants to help make this happen.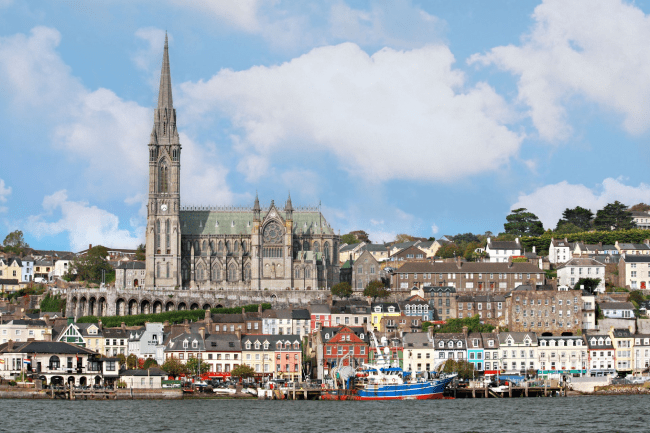 If your travels take you to Ireland in the next few months, do continue reading to get the latest and updated information about the Ireland Passenger Locator Form and all that you would need to know about it!
FREQUENTLY ASKED QUESTIONS (FAQs)
WHAT IS THE IRELAND PASSENGER LOCATOR FORM?
The Ireland Passenger Locator Form is an official document created by the Irish Government to limit as much as possible the spread of COVID-19 within their community. This would require you to declare authentic and accurate information about your planned travel itinerary and contact details, for your trip to Ireland.
To make things easier, iVisa.com has designed a few simple steps and a reliable system for you to process a digital health declaration before you commence your travels, so you only have to show it to the Irish authorities on arrival. Click here to begin filling out your online form!
WHAT INFORMATION DO I NEED TO PROVIDE?
You would be required to fill out an online form with the following details:
Your contact information
Basic biodata and nationality information
Your passport number - ensure that it has at least a 6-month validity
Details of your mode of transport
And your Travel itinerary
iVisa.com has made the entire process super easy for you by creating a COVID-19 Passenger Locator Form, designed to make the process efficient and quick!
Do I need a COVID vaccine or vaccination certificate to enter Ireland?
No, you don't. COVID vaccination certificates are not mandatory to enter Ireland. Now if you are a Covid vaccine certificate holder, you won't need to present a negative PCR test nor to follow a quarantine.
Approved vaccines are Pfizer, AstraZeneca, Moderna, Janssen, Sinovac, Sinopharm, Covaxin, Nuvaxovid.
You are fully vaccinated:
7 days after your second Pfizer-BioNTech dose
15 days after your second AstraZeneca dose
14 days after the Janssen vaccine
14 days after your second Moderna, Sinovac, Sinopharm, Covaxin, Nuvaxovid dose
Do I need a negative COVID-19 test result to enter Ireland?
COVID test prior to arrival- unvaccinated travelers only: PCR within 72 hours.
COVID test exemptions: Children under 11 and fully vaccinated travelers
Do I have to remain in quarantine?
Quarantine requirements: There are no quarantine requirements in Ireland.
WHAT WOULD MY INFORMATION BE USED FOR ONCE ENTERED?
Your personal information that is provided by you will be used by the Health Bureau for the objective of stopping the occurrence or spread of COVID-19 in Ireland. This information can be disclosed to other departments or other important institutions for similar reasons.
The contact details you enter into the COVID-19 Passenger Locator Form will be used to alert you in case you come in contact with any suspected case of COVID-19 in your flight or ferry.
CAN I GET AN IRELAND PASSENGER LOCATOR FORM ONLINE?
From August 26th onwards, the form will be available exclusively online. iVisa.com has created a very simple process to get your COVID-19 Passenger Locator Form from the comfort of your own home.
Once processed, your documents will be sent to you directly by email. Make sure you have this on you at all times for the first 14 days of your stay!
WHAT IS THE APPLICATION PROCESS TO GET THE IRELAND PASSENGER LOCATOR FORM ONLINE WITH IVISA.com?
As a first step you will need to apply here and fill out a form by answering a few simple questions. The information required is very simple and basic with a requirement to state your current health condition.
Once this is done, for the second step you can go ahead and select the processing time that best suits you and your travel requirements.
The third step would be for you to double-check the information provided by you. If any further information or assistance is required while filling the form, feel free to contact us!
Once you have completed filling out this form, the fourth step will allow you to complete the payment online. You can pay using Paypal or use a credit or debit card.
Voila! Now just click submit and we'll take care of the rest. Once your Ireland passenger locator form is issued by the Irish Government, we will send it to your email as a QR code. Simple and easy right?
WHAT IS THE PROCESSING TIME AND FEES?
iVisa.com has three different processing times that determine the final price. Given below are the choice of options offered, please choose the one best suited for you:
The Standard Option is for those who have more than

24 hours

to plan and will cost

USD 24.00

.
If you are rushed for time, choose the aptly named Rush Option and receive your form within

8 hours

for the price of just

USD 42.00

.
Need to travel at super speed? Choose the Super Rush Option and get your form in

4 hours

, at only

USD 72.00

!
We're always ready to help. Reach out to us with all your questions and get ready for Ireland.
IS USING IVISA.com TO GET MY IRELAND PASSENGER FORM, SAFE?
A foolproof and extremely safe process is guaranteed. A panel of experts head the review team who will take care of your application and provide you with the best possible service.
Our happy customers will vouch for us. Please read what they have to say about us here.
WHERE CAN I FIND MORE INFORMATION ABOUT THE IRELAND PASSENGER LOCATOR FORM?
In case you have any further doubts or questions, you can click here to contact one of our agents.
Just to remind you again, we are available 24/7! You can reach us by chat, phone or by emailing help@ivisa.com
Getting your Ireland passenger locator form with iVisa.com is simple, reliable, and fast. So get going and [apply now]!