Ireland may be small, but there is plenty to explore. We have hand-picked the best cities to visit in Ireland based on what they have to offer.
From cobblestone streets to botanical gardens, Irish cities often look like they were taken straight out of fairy tales. If you can't find an Irish city that steals your heart, you have not truly seen everything the emerald isle has to offer. Here are some of the best cities to visit in Ireland.
For more practical tips and visa information, read our ultimate guide to Ireland for practical tips and visa information.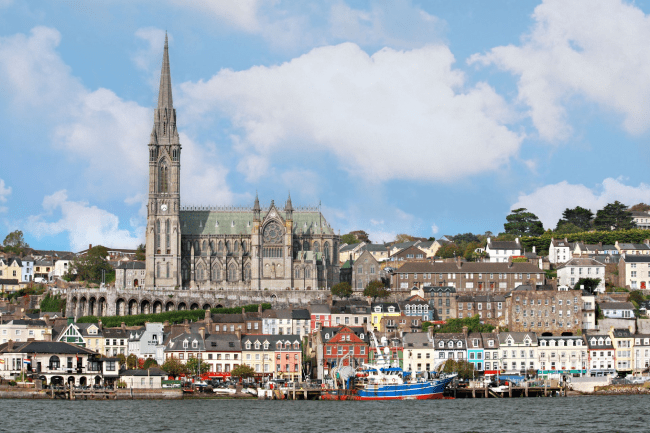 1. Ireland's capital city Dublin
As Ireland's capital, Dublin's cobblestone streets and attractions ooze Irish culture and charm. Most visitors indulge in the historical sites and traditional pubs that Dublin is renowned for.
From top-tier museums like the Kilmainham Gaol, which gives visitors an intimate glimpse into Ireland's history and struggle for independence. Dublin is also Ireland's largest metropolis, and as a result, it is one of the best cities to visit in Ireland.
Aside from the vast history, it is also a melting pot of culture. This means the city is home to the fabulous food and traditional Irish music scene in the country. To fully appreciate the restaurants and unique stores the city has to offer, you need to visit Grafton Street.
Another stop should be Trinity College. It is one of the most notable attractions in the city as it is the oldest university. Legendary writers like Jonathan Swift, Bram Stoker, and Oscar Wilde all studied here. The campus is also home to the Book of Kells.
From Dublin, you can also take a trip to Northern Ireland, as there is a great bus network to get you to the city of Belfast.
2. Countryside gem Killarney
A great place to visit to experience the countryside in Ireland is Killarney. The Irish countryside promises visitors an authentic Irish experience, surrounded by rolling green hills and lush valleys. It is the perfect place to kick back and enjoy nature.
A must-see in the area is Killarney National Park. Home to Ireland's highest mountain range, MacGillycuddy's Reeks, the park is a haven for hikers and those after a scenic view. Picnic at the lake or visit one of the many old churches or castles in Killarney.
3. Galway City on the Irish west coast
After spending a few days taking in the national park, head to the west coast of Ireland to experience the wonders of Galway. This eclectic city is known for its music, art, and colorful buildings that revive even the most jaded souls. The city that lies on the Wild Atlantic Way has a true Bohemian vibe, which contrasts with the medieval town walls and historical stone bridges over the River Corrib.
From dancing couples to street performers juggling axes, the city always has new entertainment to offer. Besides entertainment, there is plenty of food as chefs have access to the best produce from the fertile fields and deep ocean.
Other tourist attractions include Galway Market, St. Nicholas' Church, Galway Cathedral, and the Galway City Museum, located beside the Spanish Arch.
4. Picturesque Waterford
There is nowhere more picturesque to visit in Ireland than Waterford. As Ireland's oldest city, the city was founded by Vikings in 914 A.D and is also the hometown of the world-famous glass manufacturer Waterford Crystal, which was founded in 1783.
The city is extremely proud of its trademarked brand, and visitors are encouraged to visit the House of Waterford Crystal. The tour serves as a walk back into history, and visitors learn how different intricate items are created.
Aside from the glass maker's tour, there are also many remnants of Viking and Norman history to explore. Paired with the recent architectural upgrades, shopping centers, and restaurants, Waterford has something for everyone.
A great stop for history buffs is the Medieval Museum. The museum is a modern, curved stone building housing two medieval chambers and some of Ireland's oldest relics. After the museum, a good stop would be the iconic Clock Tower, which is a Gothic relic from 1863.
5. Towering Kilkenny
With towers in mind, the next place to visit in Ireland is Kilkenny. The Round Tower offers the best view of the city's limestone-infused alleyways and streets. From there, prepare to spend a few lazy days indulging in delicious meals from the wide array of restaurants and cute cafés Kilkenny has to offer.
This is one of the few and best cities in Ireland to visit for those who do not have a car. Laying on the banks of the River Nore, this quaint town oozes Georgian charm. Nearby, Kilkenny Castle is a must-see for history lovers.
Then, walk the Medieval Mile and take in Kilkenny's best attractions, from the National Design and Craft Gallery to the historic Black Abbey. This is without a doubt a city you absolutely must visit in Ireland.
6. Cultural Limerick
Ireland's first Irish City of Culture, Limerick, is a must-visit in the emerald isle. From its gorgeous waterfront to the busy Newtown Pery Quarter, Limerick has many shops and restaurants to enjoy.
The island city lies between the rivers Shannon and Abbey. Most of its 1,100-year history was spent under siege. However, it has been revamped into quite the gem. Its magnificent Georgian buildings, eclectic art galleries, and museums promise endless entertainment.
From the historic King John's Castle in Limerick to St. Mary's Cathedral and the Hunt Museum, Limerick has many amazing attractions for tourists.
7. Cosmopolitan Cork
Ever visited a city with a museum dedicated to butter? No? Then Cork City should definitely be on your list of cities to visit in Ireland. It is the second-largest city in Ireland and probably the most cosmopolitan.
Known for its gastronomic experiences, art galleries, unique shops, and fun museums like the Cork Butter Museum, Cork City is both chic and quirky all at once. Its stunning waterfront and quirky eateries only add to the charm and elegance of Cork city.
8. Foodie-favorite Kinsale
Fondly referred to as the gourmet capital of Ireland, Kinsale is the stop for foodies. This is the city to get a true taste of Ireland. In October, the town hosts the annual Kinsale Gourmet festival.
Not visiting in October? Do not fear, the town has many delicious offerings from a vast array of restaurants. Also, if you're worried about your waistline after indulging in the divine treats on offer, head to the Kinsale Harbor and take a walk to work off some calories.
9. Quirky Dingle
The next city to visit in Ireland is the quaint fishing town of Dingle Bay in the Dingle Peninsula in County Kerry. The little city is best known for its hilly, narrow lanes, quirky shops, and farm-to-table restaurants. Dingle is also home to an eye-catching lighthouse, a medieval stone tower dating back to 1847, and colorful buildings like Kinsale.
Despite being a small city, Dingle has a lot to offer and is favored by tourists eager to hike the natural trails & lush fields along the Wild Atlantic Way. Continuing along the Wild Atlantic Way, you can explore the secret sandy coves and beaches like Cumeenoole Beach.
10. The coastal Aran Islands
Finally, the last "city" to visit in Ireland during your trip is the Aran Islands. Those looking to get a feel for true Irish tradition and incredible scenery should have the Aran Islands on their bucket list.
The islands can be reached via ferry or plane from Rossaveal and Doolin on Ireland's west coast. They boast many notable historical sites and untouched landscapes with a glimpse into authentic Irish culture complete with live music.
Explore Inis Mór, home to the UNESCO World Heritage site of Dún Aonghasa. After, spend a few days unwinding on the other two islands before finally heading back to mainland Ireland.
Get your visa for Ireland online now
If we have convinced you to add the affectionately dubbed emerald isle to your travel bucket list with our list of cities to visit in Ireland, then all you need to do is start planning your trip. Check out more things to do in Ireland here.
Remember to check out our ultimate guide to Ireland for practical tips and the ETIAS Ireland guide for visa information during your planning to ensure you have everything you need to visit Ireland.