The Israel covid quarantine applies to all international passengers arriving from all locations. They will be forced to quarantine for up to 14 days in a state-designated accommodation upon arrival. This time may decrease to 10 if the isolated person takes two covid tests at the times set in the protocol and both test results are negative. For more information about the current situation please read the Frequently Asked Questions below.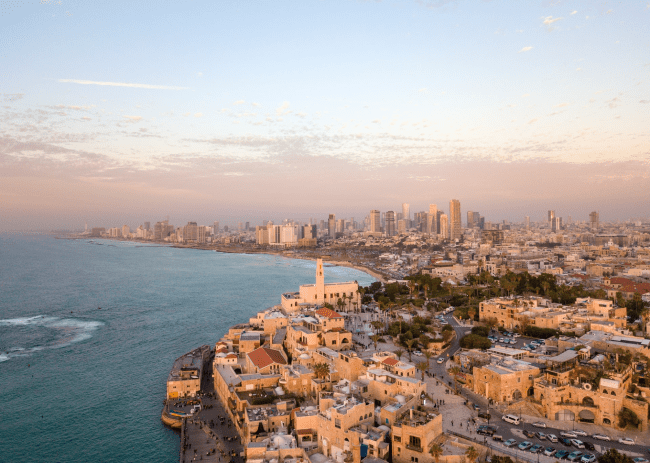 Please be aware that an Inbound Passenger Statement is mandatory for entry into Israel. You may apply now for this health declaration through iVisa.com's website.
What do I need to know about the Israel covid quarantine?
Every passenger coming from a foreign country must quarantine.
They will be required to self-isolate for up to 14 days.
Isolation should be done in a government-designated facility.
The time spent in isolation may be shortened to 10 days if the person gets tested twice and both results are negative.
An Inbound Passenger Statement is mandatory for all travelers who wish to enter Israel's territory.
This is a health declaration whose application form is available on iVisa.com's website.
Frequently Asked Questions
What is an Inbound Passenger Statement?
This form must be submitted no more than 24 hours before the scheduled departure to Israel. It has two sections: personal information and health declaration.
Who are the authorized visitors?
The following visitors are permitted to enter Israel:
Fully vaccinated travelers
Israeli citizens.
Permanent residents in Israel.
Foreign nationals. International visitors will also have to present health insurance that covers issues related to COVID-19 for their stay in Israel.
Do I need a COVID vaccine or vaccination certificate to enter Israel?
Yes, the Israeli authorities recently introduced a requirement that all international travelers entering Israel for tourism reasons must have proof of full vaccination against COVID-19.
Recognized vaccines include Pfizer, Moderna, Johnson and Johnson, AstraZeneca, Sinovac, Sinopharm and the Serum Institute of India. Israel will also accept the Sputnik-V vaccine, however, travelers who have received this vaccine will be required to take get a positive result in a serologic test as well.

Travelers are considered vaccinated if all doses of a vaccine against SARS-Cov-2 have been administered for at least two weeks before traveling.

Travelers must have received their final/booster vaccine dose within 180 days of the final day of their visit to Israel.

Since information may change quickly, we advise you to follow up on the latest Israel travel updates and/or contact your local embassy.
Do I need to take a COVID-19 test before traveling to Israel?
COVID test prior to arrival: PCR within 72 hours or antigen within 24 hours of departure to Israel

COVID test on arrival: All travelers will be PCR tested on arrival

COVID test after arrival- unvaccinated travelers: PCR on arrival and day 7 of quarantine.

Exemption: Travelers who exit and re-enter Israel within 72 hours are exempt from the pre-flight testing requirement
What about those passengers who recovered or were vaccinated abroad? Do they need to show that they tested negative in the covid test?
Yes, passengers who recovered or were vaccinated abroad will still be asked to show negative covid test results.
Do I need to self-quarantine upon arrival?
Quarantine requirements- fully vaccinated or recovered travelers: 24 hours in isolation until negative result from the PCR on arrival

Quarantine requirements- unvaccinated travelers: 14 day quarantine with PCR on arrival and day 7 PCR to end quarantine early with negative results.
Which countries are on the red list in Israel?
Red list countries: Angola, Benin, Botswana, Burkina Faso, Burundi, Cameroon, Cape Verde, Central African Republic, Chad, Comoros, Congo, Democratic Republic of Congo, Djibouti, Equatorial Guinea, Eritrea, Ethiopia, Gabon, Gambia, Ghana, Guinea, Guinea-Bissau, Ivory Coast, Kenya, Lesotho, Liberia, Madagascar, Malawi, Mali, Mauritania, Mauritius, Mozambique, Namibia, Niger, Nigeria, Rwanda, Saint Helena ,Sao Tome - Principe, Senegal, Seychelles, Sierra Leone, Somalia, South Africa, South Sudan, Eswatini, Tanzania, Togo, Uganda, Zambia and Zimbabwe.
What documents do I need to include with my application?
Valid Passport: it must be valid for a minimum of six months.
Valid Email Address: your electronic visa will be sent to this address.
Paying Method: via Paypal account, credit, or debit cards.
What are iVisa.com's processing times and rates?
Standard Processing Time: normal time to process the application at an affordable price.

USD 20.00

-

24 hours

.
Rush Processing Time: to get faster processing, the cost will increase.

USD 35.00

-

8 hours

.
Super Rush Processing Time: this option is to get the document as fast as possible, the most expensive.

USD 60.00

-

4 hours

.
How do I apply for an Inbound Passenger Statement on iVisa.com?
First: Fill the Inbound Passenger Statement online application form in iVisa.com's website with your personal and travel info (including the places the traveler has been in the past 2 weeks).
Second: Payment. There are three (3) processing speeds to choose from. Pay either with a credit/debit card or a PayPal account.
Third: Upload documents. Like your valid passport and picture.
Fourth: Our specialized team will send your Inbound Passenger Statement to your email inbox.
Fifth Print it or show an electronic copy to health screeners at the airport in Israel.
How faithful is iVisa.com to process my online order?
iVisa.com follows rigorous safety protocols to process all your travel documentation 100% online.
Who do I contact in case I have additional questions?
Please contact the support team which is available 24/7 to answer all your questions regarding the Israel covid quarantine.
iVisa.com Recommends
The hospitaller fortress
The Hospitaller Fortress is located in the city of Akko, a port city and main gate to the Holy Land during the time of the crusaders. This fortress served originally to house the Hospitaller's headquarters. They were also known as the Order of the Knights of Saint John, a military order of warrior monks that emerged during the Crusades to safeguard pilgrims on their way to the Holy Land. Akko, as one of the oldest ports in the world is nowadays a UNESCO World Heritage Site (2001) and a must visit during your stay in Israel.
The fortress has three floors that surround a central court. There are many underground sections, water reservoirs, and a sewage system. Among the many rooms within the fortress, the most notable is the refectory (dining hall).
Main buildings
St. John's Church
Knights' Halls (these headquarters were Akko's main defense during Crusader times in the 11th century)
Hospital
Other historic sites in Akko
Templars Tunnel: this underground tunnel situated between the port area and the fortress served Templars as a secret passage during battles.
Turkish Bath: a bathhouse which served as a social place for the rich and influential