Anyone wishing to travel to Israel must present a negative PCR (Covid19) test to the airport health screeners upon arrival in this territory. The test must be taken within 72 hours prior to your departure to Israel. This also applies to those who already have a certificate of vaccination or recovery from Covid19. Please refer to the Frequently Asked Questions section below for more details.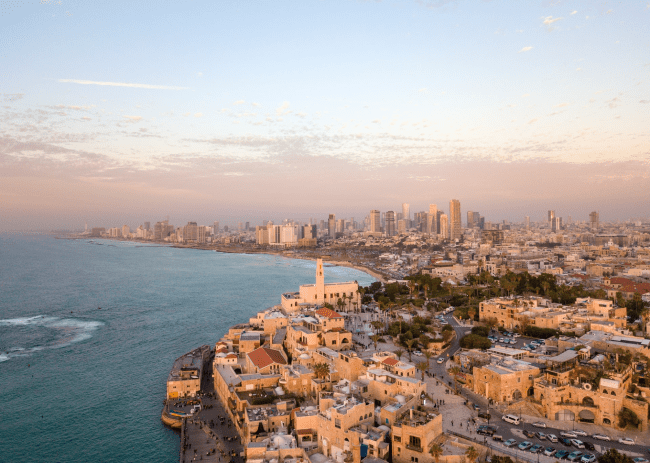 An Inbound Passenger Statement will be required as well for entry into Israel. Apply now for this health declaration through iVisa.com's website.
What do I need to know about the Israel covid test?
Every traveler to Israel will be asked for a negative PCR (Covid19) test result.
The test has to be performed within 72 hours before departing to Israel.
This test result must be presented to Israel's airport staff.
Having received the Covid19 vaccine or being recovered from coronavirus will not exempt the passenger from this entry requirement.
The Inbound Passenger Statement form is mandatory for those who travel to Israel.
This is a health declaration whose application form may be completed on iVisa.com.
Frequently Asked Questions
What is an Inbound Passenger Statement?
It's a compulsory form that every traveler must submit no more than 24 hours before the scheduled departure. It contains two sections: personal information and health declaration. The presentation of this document does not exempt you from an Israel covid test.
Do I have to present proof of negative PCR (covid19) test results upon arrival in Israel?
Yes. The test should be performed within 72 hours before the trip to Israel.
I have recovered/got vaccinated abroad. Do I have to show negative covid test results?
Yes, passengers who recovered or were vaccinated abroad against Covid19 will still be required to show the negative covid test results upon arrival in Israel.
Do I have to self-quarantine when I get to Israel?
Travelers need to quarantine for 14 days which can be shortened if two PCR test results are negative: the first test, which is mandatory for all travelers, the second test is taken on the seventh day of isolation.
Travelers who have been vaccinated or have recovered in Israel are not required to quarantine.
What documents do I have to attach to my application?
Valid Passport: it must be valid for a minimum of six months.
Valid Email Address: your electronic visa will be sent to this address.
Paying Method: via Paypal account, credit, or debit cards.
What are iVisa.com's processing speeds and costs?
Standard Processing Time: the usual time to process the application at an affordable price.

USD 20.00

-

24 hours

.
Rush Processing Time: to get more agile processing, the cost will increase.

USD 35.00

-

8 hours

.
Super Rush Processing Time: select this if you are late on getting your travel documentation, the most expensive.

USD 60.00

-

4 hours

.
How do I apply for an Inbound Passenger Statement on iVisa.com?
First: Fill in the Inbound Passenger Statement online application form with your personal and travel details (including the places the traveler has been in the past 2 weeks).
Second: Payment. There are three (3) processing speeds. Paying methods: a credit/debit card or a PayPal account.
Third: Attach documents. A valid passport, picture, etc.
Fourth: Submit to our specialized team for review and completion.
Fifth Once you receive your Inbound Passenger Statement in your email, print a hard copy or show it digitally to the airport's health screeners from a mobile device.
How reliable is iVisa.com to process my application?
iVisa.com follows rigorous safety guidelines to process all your travel documentation 100% online.
I still have additional questions.
Please contact the support team which will be willing to answer all your questions regarding the Israel covid test or any information about the Inbound Passenger Statement form.
iVisa.com Recommends
THE WESTERN WALL
Best known as the "Wailing Wall''. This is the most sacred site in the world for the Jewish and one of the main spots to visit in Jerusalem's Old City. This is where many believers from around the world come to pray or leave their written prayers on papers that they finally insert through its cracks to follow a centuries-old tradition. There is a section for men and another for women. It is always open and free of charge for everybody, the only condition is to dress properly: men must cover their head and women should cover their legs and shoulders. Many ceremonies such as military inductions and bar mitzvahs are usually held here in the Western Wall Plaza.
History
The First Temple, which was made by King Solomon, got destroyed by the Babylonians in the 10th century BC. In 536 BC, a Second Temple was rebuilt by Zorobabel, Ezra, and Nehemiah upon returning from exile in Babylon. Later, in 70 AD, the Romans destroyed the Second Temple during the first Judeo-Roman War, leaving untouched the wall that today stands tall in Jerusalem and is known as the Wailing Wall. Lots of Jews still go there to pray for the rebuilding of a Third Temple.