Traveling in the age of coronavirus is a bit different from what it used to be. Countries have been implementing new sets of rules and regulations to enter their lands in order to ensure the protection of residents and non-residents from the novel coronavirus.
Italy is one of them. Not only do visitants need to provide a Self-Declaration Form in which they truthfully declare their health condition, they also need to self-isolate for 14 days. You should keep in mind that this is a mandatory requirement if you are allowed to enter the country.
However, travelers that come from countries such as United States, Andorra, Schengen area, Monaco, Vatican City, and San Marino don't have to undergo quarantine unless they have traveled to any other country within the 14 days prior to their trip to Italy. Only visitants from those countries are currently allowed to enter Italy.
You will need to provide a health declaration at the moment of arrival no matter the country you come from. With iVisa.com services you can get your health required document online easily and safely from your laptop or mobile phone from the comfort of your home. Request your digital health declaration with iVisa.com.
Thus, if you're traveling to Italy within the next few weeks, please read this important information so you can fully enjoy the country's best highlights (and awesome pasta) without any inconvenience.
Note: Since May 1st, 2022, the Italy Self Declaration Form is no longer necessary to enter the country.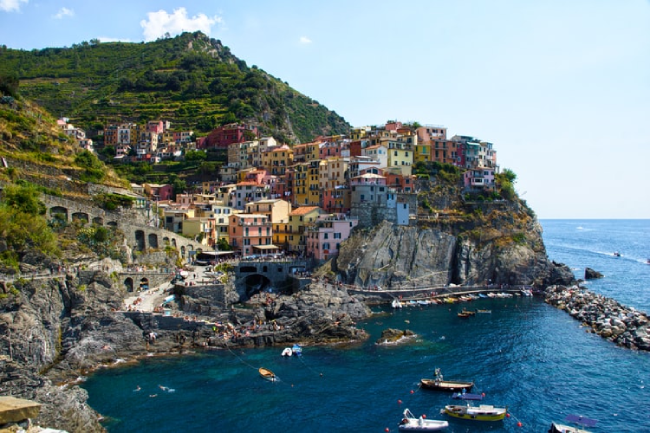 Frequently Asked Questions (FAQs)
Do I need a COVID vaccine or vaccination certificate to enter Italy?
No, you don't. As of today, COVID vaccination passports or certificates are not mandatory to enter Italy. Since information may change quickly, we advise you to follow up on the latest Italy travel updates and/or contact your local embassy.
Do I need a negative COVID-19 test result to enter Italy?
COVID test prior to arrival: Pre-departure tests are no longer required.
Do I need to quarantine when I arrive in Italy?
Quarantine requirements: There are no quarantine requirements.
WHAT IS A SELF-DECLARATION FORM?
A Self-Declaration Form is a document in which you will truthfully declare your health condition and provide your personal contact and travel information to limit the spread of the novel coronavirus in Italy. You can process your health declaration online through iVisa.com.
HOW DO I PROCESS MY SELF-DECLARATION ONLINE WITH IVISA.com?
Processing your digital health declaration with iVisa.com is easy, quick, and extremely reliable. Through our highly intuitive platform, you will be able to complete the process in around 7 minutes. Here's how it works:
First apply here to complete the application form by simply answering a few questions. Don't worry! We'll only require basic info and for you to truthfully display your health condition. After you've finished this, you will simply choose the processing time that suits you best in order to travel.

Second we'll kindly request for you to double-check the information you provided. You must remember that after you send your application no alterations are able to be done. But if you need further support while filling it out, just get in touch with us at any moment. We will be eager to solve any of your needs 24/7. When you're done filling out the application form, you will make the payment. It can be done with Paypal or with your credit or debit card.

Third you'll be asked to upload your passport scan and any other document that may be required. After this, just send your request and we'll be more than glad to help you with the rest. Our diligent team of experts will kindly examine your application and send your health declaration as a QR code directly to your email. This way, you will only have to show it at the airport when you arrive.
WHAT ARE THE PROCESSING TIMES AND FEES TO GET MY DIGITAL SELF-DECLARATION FORM?
We have three different processing times that alter the final price of the Italy Self-Declaration Form. Here are the three options for you to choose the one that works best for your travel needs:
Standard Processing Time: USD 20.00 - 24 hours

Rush Processing Time: USD 35.00 - 4 hours

Super Rush Processing Time: USD 60.00 - 30 minutes
HOW SAFE IS IVISA.com TO GET MY ONLINE SELF-DECLARATION FORM TO TRAVEL TO ITALY?
The services of iVisa.com are 100% reliable. Our team of experts will take care of your application carefully, so rest assured that we will provide you with the best possible customer service. If you want, you can read what other customers' have to say about us here.
WHERE CAN I FIND MORE INFORMATION ABOUT ONLINE HEALTH-DECLARATIONS?
You are able to find more information about our online health declarations by getting in touch with one of our agents here. They are available 24/7 to answer any of your questions. Please contact them through chat, phone, or by emailing [email protected]
Traveling to Italy during COVID-19 does not have to cause you a headache if you choose to process your digital health declaration with us before your trip. The process is simple, fast, secure, and can be performed through desktop or mobile at any time from the comfort of your own home. Request your self-declaration form with iVisa.com here.