The showcase of the Italian Renaissance, Florence can at times seem like one giant art museum. The Duomo, the Cathedral of Santa Maria del Fiore, is a landmark of world architecture, topped by its gravity-defying massive dome. Together with its marble-inlaid bell tower by Giotto and its octagonal Baptistery with its incomparable bronze doors by Ghiberti, this is one of the world's finest ensembles of Renaissance art.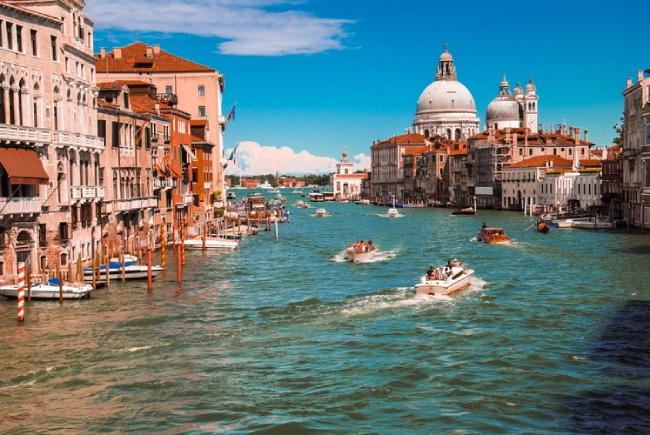 Citizens of Pakistan must apply for a Schengen Visa if they are about to travel to Italy. Enjoy the speed, simplicity, and security that we offer for all our services.
Continue reading about the Italy (Schengen) Visa for Citizens of Pakistan at the iVisa.com website.
Frequently Asked Questions
WHAT IS A SCHENGEN VISA?
In order to understand the Schengen Visa, we must discuss the Schengen zone. This area that gathers 26 countries in Europe, including Italy, was created by the European Union. The purpose was to create a free movement zone that will allow Europeans to travel around without national borders.
Now, international travelers can access the Schengen zone with a valid Italy (Schengen) Visa for Citizens of Pakistan.
I'M A CITIZEN OF PAKISTAN. SHOULD I APPLY FOR A SCHENGEN VISA?
Yes! Citizens of Pakistan must have a Schengen Visa to enter Italy. Pakistan is among the countries that require a Schengen Visa to enter the Schengen zone. For this reason, citizens of Pakistan must apply for a Schengen Visa.
HOW LONG CAN I STAY IN ITALY WITH THE SCHENGEN VISA?
Citizens of Pakistan can stay for up to 90 days within a 6-month period in Italy or any other Schengen country with a Schengen Visa. Remember that the Italy (Schengen) Visa for Citizens of Pakistan is valid for short stays in the Schengen zone.
WHAT INFORMATION IS REQUIRED?
Citizens of Pakistan must complete an online application with personal information and details about your trip to Italy. Also, you must have 2 photos with specific requirements. Check those details on the application page.
Make sure you have the next items:
A passport with a validity of 3 months beyond the end of the trip.
A valid email address.
Payment methods, iVisa.com has two alternatives for payment. * Pay with credit/debit card or use a Paypal account.
In case you move forward with the process, collect the following supporting documents for the interview at the Italy embassy:
Copies of your passports and visas, if you have any.
Travel insurance covering 30,000 Euros.
Flight tickets and hotel reservations
Proof of civil status.
Bank statements.
Reach out to our support agents in case you have doubts about the Italy (Schengen) Visa for Citizens of Pakistan.
WHAT ARE THE PROCESSING TIMES?
Citizens of Pakistan can choose how quickly they want the electronic form to start the Schengen Visa process:
Standard service, the regular option with the minimum fee.
Rush service, if your trip is getting closer, then pay for a quicker alternative.
Super Rush service, the fastest option for your Italy (Schengen) Visa for Citizens of Pakistan.
After you attend the interview at the Italy consulate, the immigration officials will take around 15 days to process your application. The processing time could reach 60 days.
WHAT IS THE PROCESS?
Citizens of Pakistan can start with the following steps:
Fill out the online form with personal details and choose a processing time according to your preference.
Check your information and pay with a credit/debit card or a Paypal account.
Attach any documents required.
The iVisa.com team will let you know once your application is ready for the interview phase. Check your email inbox as iVisa.com will only communicate through the email address detailed in the application. We can give you full guidance for the Italy (Schengen) Visa for Citizens of Pakistan.
CAN I TRUST IVISA.COM?
Yes! iVisa.com works with the highest security standards, which means your information is safe with us. We have years of experience with visa procedures. For this reason, we are sure we can handle your Schengen Visa.
Read more about iVisa.com services in the comments section.
WHO SHOULD I CONTACT IF I HAVE SOME DOUBTS?
Get in touch with our customer service agents who are available at any time. We have all the information you need for your Schengen Visa.
Traveling was never this easy with iVisa.com. Go to the application page and keep exploring all the steps to get your Schengen Visa.
Visiting Italy will be an incredible experience! Don't wait any longer to start your trip and get your Italy (Schengen) Visa for Citizens of Pakistan!
iVisa Recommends
One of the marked attraction of Italy, Mt. Vesuvius, a volcano that is still smoking, quietly looks down upon the remains of the city that it destroyed completely in AD 79. But the exact same volcanic eruption also preserved some of the city's art treasures: mosaics, sculptures, and frescoes that were encased in the lava. All these were restored once the lava cooled down.
Hundreds of years have been invested in procuring the remains of several markets, houses, baths, theaters, temples, streets, and even human remains. Tourists get to tour the site, stroll along the old streets that were once scattered by chariot tracks. You can witness the engineering that were used by the Romans more than 2,000 years ago.
Right next to Pompeii, is the deserted city of Herculanuem that was destroyed by the same eruption in in AD 79. The city naturally got buried in lava and ash that eventually solidified and froze down to regain the town in its own intact shape. You can choose to visit both the sites in a single day, but if you choose to stay longer, you can opt for visiting the very rim of the Vesuvius volcano, that's still active by the day.