As you should already know COVID-19 has entangled all in its path. Travel is certainly no exception.
If you're a person looking to travel to Italy for the summer or a business trip, you should know that "Stivale" recently reopened its borders on June 3. However, it did not clear restrictions to all countries.
Italy is really looking to ensure the safety of its travelers by taking all the necessary measures at its port of entry. One of them is asking their visitants to truthfully declare their health condition when they arrive. This means that Italian health authorities will ask you to fill out a Self-Declaration Form where you'll provide personal information and answer control questions that will help them determine if you have the new coronavirus or if you have, in fact, come in contact with someone who has it.
The good news is that you don't have to wait to arrive at Italy's airport to get your Health Declaration. You can also request a digital self-declaration form from the comfort of your own home with the help of iVisa.com. The process is performed easily, quickly, and safely.
Click here to read the whole instructions you need to follow in order to apply for this health document.
If you're someone who needs to travel to Italy soon, please keep reading to find out the countries that are not restricted from entering this European region and what you need to be allowed entry upon arrival.
Note: Since May 1st, 2022, the Italy Self Declaration Form is no longer necessary to enter the country.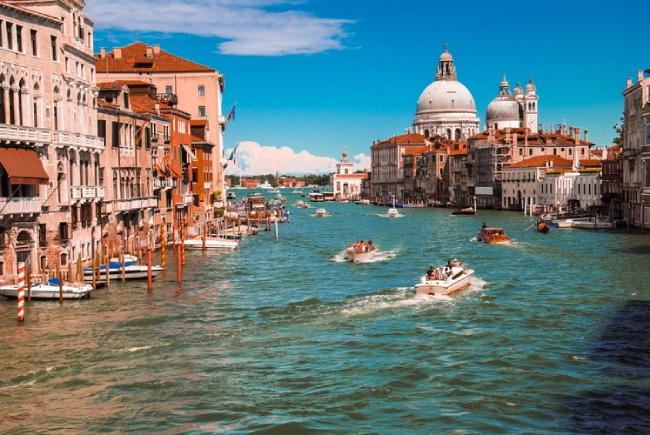 Frequently Asked Questions (FAQs)
Do I need a COVID vaccine or vaccination certificate to enter Italy?
No, you don't. As of today, COVID vaccination passports or certificates are not mandatory to enter Italy. Since information may change quickly, we advise you to follow up on the latest Italy travel updates and/or contact your local embassy.
Do I need a negative COVID-19 test result to enter Italy?
COVID test prior to arrival: Pre-departure tests are no longer required.
Do I need to quarantine when I arrive in Italy?
Quarantine requirements: There are no quarantine requirements.
WHAT COUNTRIES ARE ALLOWED TO ENTER ITALY DURING COVID-19 PANDEMIC?
So far, the countries that can enter Italy during coronavirus include the United States, Andorra, Schengen area, and Monaco. Italy has also opened its borders with Vatican City and San Marino. However, you will need to provide a health declaration upon arrival.
Click here to learn more about this health document.
WHAT IS THE PROCESS TO REQUEST A SELF-DECLARATION FORM ONLINE WITH IVISA.com?
Requesting your self-declaration form through iVisa.com is simple, fast, and very reliable. It takes around 7 minutes to complete the process and once you're done, your health declaration will be sent to your email as a QR code. Here's what you have to do:
First apply here and fill out the form by answering the questions. We will only need some basic info and then, we will ask you to truthfully indicate your health condition. After you've done so, you will be asked to select the processing time that is best for you.

Secondly we'll ask you to please double-check the information you have provided. Do not forget that once you submit your application no adjustments can be done. If you need help or further assistance while completing your form just contact us at any time. Our agents are eager to solve your needs 24/7. After you've done filling out the form, you may proceed with payment. You can do it by Paypal or with a credit or a debit card.

Lastly we'll ask you to upload your passport scan and any other document that is needed. Next, just submit your form and we'll take care of the rest for you! Our team of experts will review your application and send the health declaration in the form of a QR code to your email so you only have to show it at the port of entry at the moment of arrival.
WHAT ARE THE TIMES AND FEES TO PROCESS MY HEALTH DECLARATION?
We have three different processing times that vary the final price. These are the options, please select the one that works best for you:
Standard Processing Time: USD 20.00 - 24 hours.

Rush Processing Time: USD 35.00 - 4 hours.

Super Rush Processing Time: USD 60.00 - 30 minutes.
Get your Self Declaration with iVisa.com now!
HOW SAFE IS IVISA.com TO PROCESS MY DIGITAL SELF-DECLARATION FORM?
iVisa.com is very secure! We have an expert review team that will take care of your application in order to accommodate you with the best service possible. You can read our customers' comments and reviews here.
WHERE CAN I FIND MORE INFORMATION ABOUT SELF-DECLARATION FORMS?
You can find out more information about our digital health declarations by contacting one of our agents here. We are available 24/7 to solve any of your concerns. Please contact us via chat, phone, or email at [email protected]
Now that you know the countries that are allowed to enter Italy during coronavirus and what you need yourself to travel there, make sure to process your self-declaration form online with iVisa.com today. The process is easy, quick, and 100% reliable. Our highly intuitive platform and our skillful review team will process your request diligently and send you the QR health declaration to your email so you only have to worry about experiencing Italy at its best! Request your online health declaration from the comfort of your own place with iVisa.com here.