Beautiful landscapes, breathtaking beaches, breathtaking museums, fantastic wine, good food, and more are what make Italy such a great destination for foreigners. You don't need to go to the most tourist and classical traveling cities to get a taste of history, culture, and cuisine, every corner of Italy offers these.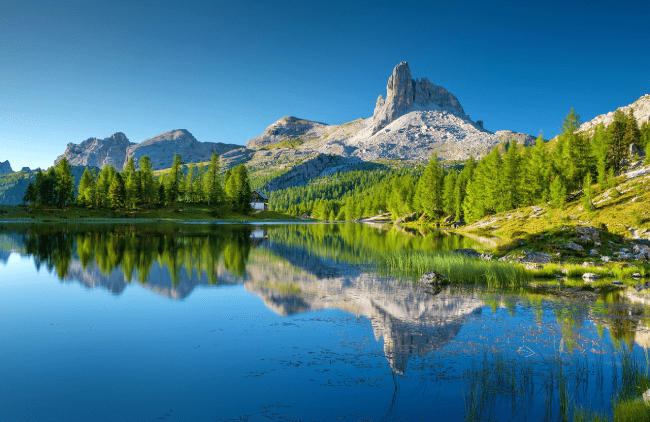 Citizens of Georgia that want to visit Italy on a short visit for tourism or business purposes should write down what they really want to get out of the travel experience. Some travelers are searching for beaches, others the Roman ruins and art museums, or maybe just in for a taste around the local culinary world.
Are you interested in reading more about the Italy ETIAS for citizens of Georgia? Continue reading this article to discover information and tips about the Italy ETIAS application with iVisa.com.
Frequently Asked Questions
WHY IS THE ITALY ETIAS FOR CITIZENS OF GEORGIA NEEDED?
Although it's every travelers' fantasy to be able to travel the world with no need for documentation, citizens from Schengen visa-exempt countries will now need to acquire an ETIAS. The Italy ETIAS for citizens of Georgia is an online document that allows the holder multiple entries to any of the Schengen region countries. The paper will work as a prescreening process of the traveler's details and ensure that they're not a threat to the Schengen area.
ARE GEORGIAIAN CHILDREN REQUIRED TO HAVE AN ETIAS?
In a few months time, all travelers from visa-free countries that want to enter the Schengen region will have to apply for the Italy ETIAS. The Italy ETIAS for citizens of Georgia application process will be done by travelers with a slight difference of payment for those under the age of 18 or over 70.
WHAT PARTS OF EUROPE CAN I VISIT WITH AN ETIAS?
When applying for the Italy ETIAS for citizens of Georgia, you must know that the document only allows you multiple entries to any of the Schengen states. You can enter as many Schengen countries as you like as long as you don't stay more than 90 days in the region every 180 days.
IS THERE A STANDARD ETIAS VALIDITY FOR CITIZENS OF GEORGIA?
There is no specific validity based on travelers' citizenship. Once you apply for your Italy ETIAS for citizens of Georgia, you will get a notification on the final validity of the documentation. It could be restricted to the length of your trip or up to 3 years. At this time, you can't stay more than 90 days in the Schengen region.
HOW LONG CAN CITIZENS OF GEORGIA STAY IN ITALY WITH AN ETIAS?
Travelers from Schengen visa-exempt countries are required to apply for an Italy ETIAS for citizens of Georgia if interested in traveling for short periods of time. The travel authorization has the condition that the visitor may only stay in Italy or any other Schengen country for a maximum of 90 days every 180 days.
WHICH DOCUMENTS DO CITIZENS OF GEORGIA NEED TO APPLY FOR THE ITALY ETIAS?
Users look for straightforward and uncomplicated processes when looking for online documentation. That is the case of the Italy ETIAS application and the documents iVisa.com requests from the visitors.
These are the essential documents you will need:
Valid passport: it must have at least 3 months of validity for your entire trip and it will be used to provide your personal details and contact information. You should also have a digital copy in case the application requests one.
Email address: this will be the way of communication so you can get a notification as soon as the ETIAS results are ready.
Payment method: you can select between a credit/debit card or a PayPal account to pay for the ETIAS fee.
HOW DOES THE ITALY ETIAS PROCESS WORK FOR CITIZENS OF GEORGIA?
To make the users experience less stressful, iVisa.com offers a three-step process to getting the Italy ETIAS application for citizens of Georgia running smoothly. Part of their service also includes a couple of options on how to receive the final ETIAS results in less time.
Follow the iVisa.com steps for an easy ETIAS application:
First, you fill out the online questionnaire with your personal information details and specify the processing option selected for your results.

Standard processing: this is the most affordable choice for the delivery of your ETIAS results but takes longer than other methods.
Rush processing: it is a quicker solution to receiving your ETIAS results but at a higher price.
Super rush processing: this is the most expensive choice but it will deliver your ETIAS results ASAP.

Secondly, you need to verify that the details submitted above are accurate and make the online payment.

The third part is for the applicant to attach any additional document request in the process and finally submit your form.
CAN I TRUST MY ETIAS APPLICATION WITH IVISA.COM?
Online processes can be quite convenient but doubtful regarding security measures. That's why the iVisa.com website not only offers the users an easy ETIAS application process but is done on a safe platform with a reliable security system.
You can review some of our clients' comments about service and safety to verify it.
I WANT TO READ MORE INFORMATION ABOUT THE ITALY ETIAS, WHERE SHOULD I LOOK?
If you are looking for more details about the Italy ETIAS for citizens of Georgia, you should visit the iVisa.com website. For personalized help on specific questions you might have on the topic, you can contact our customer service team through an email or chat message to solve them.
iVisa Recommends
An ideal destination set up on the three hills in the heart of Tuscany, Siena is one such place that lets tourists go back into the Middle Ages. Siena's historic center and the medieval tradition of horse racing, popularly known as II Palio, are still prevalent out here. A wealthy city at a certain time in history, Siena still houses many of its incredible works of art and architecture hailing from that era.
One of the most famous Medieval squares in Europe is Siena's Piazza del Campo. Architectural treasures such as the Mangia Tower, the Fountain of Joy, and the Palazzio Pubblico are the notable features of this fan-shaped plaza. Another notable attraction of Siena is its Duomo, a stunning black and white cathedral. This structure with Italian Romanesque design houses stunning features like stained glass, sculptures, marble floors, carvings, and paintings. The piazza is also a good place to wind off, mix with the locals, and enjoy delicacies like pizza, focaccia, coffee, wine, and gelato.
The traditional Palio horse race draws huge annual crowds from ages, something that is being hosted in the Piazza del Campo, twice every summer. This has been drawing representatives from 17 different districts who go on to race bareback on the cobblestone plaza. Siena also houses the iconic University of Siena, famous for its Schools of Law and Medicine.