UK citizens who want to visit the Ivory Coast can avoid the bureaucratic hassle at the Ivorian embassy and apply for their visa online. The application process is very accessible, and iVisa makes sure that you will have a short and pleasant experience. You can apply from home, at any hour of day or night, and all you need is 20 minutes of your time.
Frequently Asked Questions(FAQs)
WHAT IS AN IVORY COAST EVISA FOR US CITIZENS?
An Ivory Coast eVisa is a document that allow travelers to enter Ivory Coast in a certain amount of time.
What are the requirements for UK citizens?
iVisa asks only what is necessary of you so that you do not make too much of an effort. The purpose is to enjoy a less time-consuming process than the one you must go through at the embassy.
The Ivory Coast visa requirements for UK citizens list is the same as for everyone else, and the list is not very long. In fact, take a look at what you need to put together before moving on to the application process.
Passport – UK citizens need to have a passport. Moreover, the passport needs to maintain its validity for at least another 6 months from the date of arrival in the Ivory Coast. At the same time, the passport needs to have at least one blank page. You should have a quick look at its expiry date before applying.

Means on online payment – when you apply online with iVisa, you need to make the payment while you complete the application process. The payment is owed for both the visa itself and the service fee for iVisa. However, iVisa offers you multiple means of payment. You can use a credit or a debit card, but the company also takes PayPal, Alipay, or WeChat. You can choose the one that you find most convenient.

E-mail address – when you apply online, your visa is linked electronically to your passport. Nevertheless, you will receive a copy of your pre-approval document via e-mail in PDF format. Do not forget to print out a few duplicates before you leave. You will need it when you pick up your visa once you arrive in the Ivory Coast.
What are the the fees and processing times for UK citizens?
This concerns a lot of travelers, but worry not! iVisa offers three options, affordable and reliable. They are as follows:
Standard Processing: This option is the most chosen one of the three for being the cheapest at USD 119.00. Your eVisa will be ready within 7 days.

Rush Processing: Not too hot not too cold, this option stands in the middle. It costs USD 149.00 and your eVisa will be issued within 5 days.

Super Rush Processing: The fanciest of all! You will be charged USD 184.00 And it's as fast as 3 days.
How can UK citizens apply for the eVisa?
Another requirement that you need to meet is the application form. Lucky for you, with iVisa, the application form can be completed entirely online.
It takes about 20 minutes to fill in.
There are three steps you need to go through.
The first one targets your basic information, and you must also select a processing time. Keep in mind that your choice determines the cost of your visa.

The second step consists of payment and revision. Keep in mind that the revision is crucial. One mistake and your eVisa will be invalid.

The third will ask you to upload some documents.
Once you are done, you can submit your application and then wait for the document to arrive in your e-mail inbox. If you have any questions related to the three steps, you can contact iVisa's support service. It is available 24/7 and is free of charge.
How long is this eVisa valid for?
For UK citizens, this eVisa is valid for 90 days after arrival.
HOW LONG CAN I Stay IN IVORY COAST IF I'M FROM THE UK?
You can stay for 30 days Total with your electronic visa.
HOW MANY TIMES CAN I ENTER IVORY COAST IF I'M FROM THE Uk?
Since you have Multiple Entry you have no limits as for entering the country, as long as you stay for30 days Total in each entry.
May I see a sample of the eVisa?
Sure: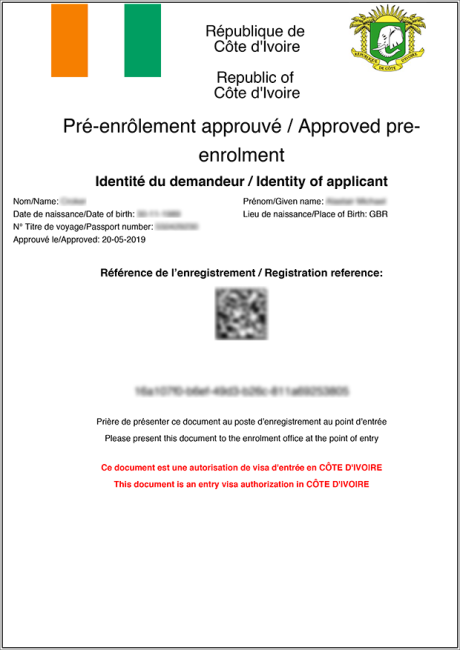 I have more questions, where can I fin out more?
For a faster and more private answer we suggest contacting iVisa's customer service support. And for more FAQs, you can click here
The bottom line is that the Ivory Coast eVisa requirements for UK citizens are accessible and easy to meet. You should have no trouble in getting your Ivory Coast eVisa. iVisa makes this whole process a stress-free one. You can just focus and enjoy your trip!