Traveling from Singapore to Jordan can be a fantastic experience. This Middle Eastern country is a destination with fascinating World Heritage Sites, welcoming people, and beautiful desert landscapes. The land was the location for films like Dune (2021) and (1989), and constantly receives tourists from around the world.
You might be asking yourself, "Do Singapore passport holders need a visa to Jordan?". iVisa is here to help you with information about Jordan's visa requirements, how the visa application works, entry restrictions, and everything a Singapore citizen needs to know to enter Jordan.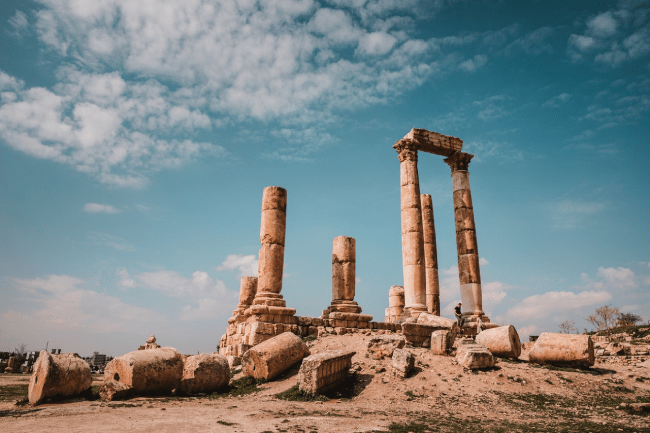 Travel Documents to visit Jordan
Jordan is a small country full of precious attractions. Arriving at the airport you can rent a car and go from north to south in six hours, so it's an excellent destination for a road trip. However, before the adventure begins, you must be aware of the documents required and some other entry requirements for Singaporean citizens.
The main requirements for this trip are to apply for a Jordan Pass and obtain a visa on arrival. The first one you apply for online and receive in your email before departure, and the second one you'll get when in Jordan, so you don't even have to apply in advance, like an e-visa or visiting an embassy.
Read more about the requirements for Singapore citizens below.
Jordan Pass for Singaporean citizens
You'll get the Jordan visa on arrival, but the Jordan Pass is a travel document you can apply for online and will facilitate things for you. It's a travel authorization designed to give some advantages to tourists and makes traveling in Jordan easier.
Some benefits for Singapore passport holders with the Pass are that the document waives the Jordan visa fee and gives free entry to over 40 tourist attractions, including three consecutive days to visit Petra.
The Jordan Pass is not a visa but will allow a Single Entry for a maximum stay of 30 days Per Entry. There is a condition for this: the visitor has to stay a minimum of 3 nights (4 days) and apply online before entering Jordan.
Minors under 12 years old can visit Jordan's tourist attractions for free, so in this case, they don't need the Jordan Pass. However, they still need an entry visa and can count on the visa fee exemption with the pass application.
Among the tourist attractions that you can access for free are Petra, Jerash, Wadi Rum, Amman Citadel, Quseir Amra, and Umm Ar-Rasas.
Jordan Pass Requirements
It's effortless to apply for the Jordan Pass. Only a few requirements and minutes are required to complete the application form. You must have the following documents:
A credit or a debit card to pay the Jordan Pass fees;
A passport valid for at least six months.
How to apply for the Jordan Pass
The process to apply for the Jordan Pass is quite simple. Please follow these instructions:
First, fill out the form with your information on the iVisa application page.

Second, double-check if all details are correct. Then, pay the fee through a debit or credit card.

Third, you'll receive the document in your email. Then you can print it and present it to enter Jordan and the tourist attractions.
Jordan Pass: Processing time and fee
The time to issue visas varies according to the service chosen by the applicant. You can choose between the following options:
Standard processing time:

3 days

-

USD $180.99

. If you have time before departure, this is an option at an affordable price.
Rush processing time:

2 days

-

USD $232.99

. This option allows you to have the visa in a short time, paying a little more.
Super rush processing time:

24 hours

-

USD $290.99

. You can have your entry visa in one day with this option, which is ideal if you have an emergency and need to travel.
Jordan Visa on Arrival
Once you have the Jordan Pass, getting the Jordan Visa on Arrival will be quicker because you don't have to pay during the visa application on arrival. Just be aware that to have the visa issued on arrival, Singaporean citizens must arrive in the territory at one of the entry points: the Queen Alia Airport or the Sheik Hussein Bridge border checkpoint.
Foreign affairs officers provide travelers with a form they must fill out with their data and pay the entry visa fee if they didn't apply for the Pass.
The arrival visa is valid for Single Entry and tourism purposes. However, if you need a multiple entry visa or long-term visa, you should ask for further information at Jordan's embassy.
Jordan Visa Requirements
The visa on arrival is a travel document you get once you enter Jordan. The requirements for travelers from Singapore to obtain their visa issued are simple:
A passport valid for at least six months beyond the period of intended stay,

At least two blank pages in the passport.
What to visit in Jordan
Jordan is a peaceful country in the Middle East and keeps some beautiful treasures. The country's small size makes it easy to go from one tourist attraction to another. Be prepared to get fascinated by the old and colossal buildings and for the warm welcome of the locals.
Read below to learn about some main destinations in Jordan.
Petra
One of the Seven Wonders of the World, Petra was a lost city rediscovered by the Swiss explorer Jean Louis Burckhardt more than 200 years ago.
Petra is the most prominent landmark, without a doubt. The pink-hued necropolis is sculpted in Jordan's sandstone escarpments. It's impossible not to be amazed by the colossal monuments and their colors. But, from there to the Dead Sea, there are attractions and landscapes for all tastes.
The impressive city has 800 registered sites. Some places you can miss are the Djinn Blocks (the mysterious stone monuments at the town entrance whose original purpose remains unknown), the Obelisk Tomb, and the Siq (the famous canyon pathway flanked by tall walls).
Dead Sea
The Dead Sea is the lowest point on Earth, accessible by road, at 418 meters below sea level. It's worth visiting, and floating there is quite an experience. This sea is known for its mineral-rich water, which some people believe has healing properties for the skin. Another curious fact is that the water is so dense and salty that all you can do is float on the surface.
Wadi Rum
This incredible place is known as the Valley of the Moon. It is a sandstone and granite rock valley with towering cliffs, giant dunes, beautiful archways, and caverns. A UNESCO World Heritage Site since 2011, the spot served as the set of Lawrence of Arabia (1962) and Dune (2021).