If you have travel plans to go to this ancient country, you will need a Jordan Pass which you can request through iVisa.com. The Jordan Pass will be valid for 1 year. Additionally, you must be up-to-date with the vaccine listing that you will find in the Frequently Asked Questions (FAQs) later on.
Jordan is an Asian country located in the Middle East, surrounded by Syria (north); Irak (northeast); Saudi Arabia (east and south); the Red Sea (southwest); the Dead Sea, Israel, and Palestine (west). Its main tourist attraction, Petra, is considered one of the Seven Wonders of the Modern World and UNESCO World Heritage Site since 1985.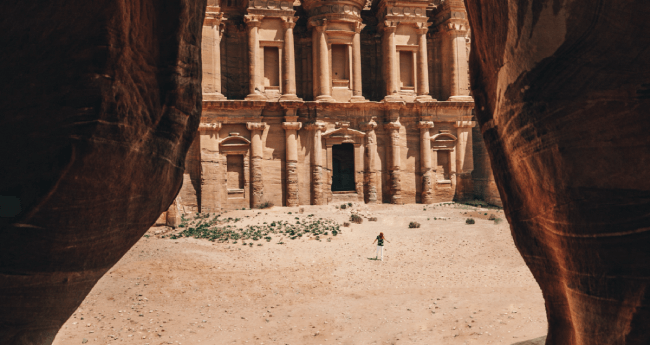 How to get a Jordan Pass online
A Jordan Pass will be mandatory to have access to Jordan territory.iVisa.com may assist you in getting this travel document, but consider the following:
The Jordan Pass is valid for 1 year for a single entry.
To apply, fill out the online application form.
Make the payment with a credit/debit card or PayPal account.
Upload your valid passport (minimum of 6 months).
Submit to the specialized team for processing.
Receive your Jordan Pass right into your email inbox.
Sign up today for a Jordan Pass
Frequently Asked Questions
Do I need a Vaccine to travel to Jordan?
Yes, you will need some vaccine requirements before entering this country.
Which are the vaccine requirements to travel to Jordan?
Recommended
Hepatitis A
Hepatitis B
Typhoid
Rabies (if your activities include you being close to dogs or wildlife)
Required
Yellow Fever
Polio
Measles Mumps Rubella (MMR)
TDAP (Tetanus, Diphtheria, and Pertussis)
Chickenpox (Varicella)
Influenza
What other potential dangers to traveler's health are there in Jordan?
The Middle East Respiratory Syndrome (MERS). It is common in middle eastern countries such as Jordan. There is still not enough information though on how people get infected, but it may be due to human contact with camels. Symptoms are fever, cough, and shortness of breath. To prevent infection, wash your hands often and thoroughly, avoid touching your eyes, ears, and mouth, and stay away from the sick, especially if they have MERS.
Can iVisa.com help me get the Jordan Pass?
Yes, we can! We have an online form that allows you to apply for the Jordan Pass within a few minutes.
What are iVisa.com processing times and fees?
Standard Processing Time:

USD 158.00

-

3 days

.
Rush Processing Time:

USD 178.00

-

2 days

.
Super Rush Processing Time:

USD 198.00

-

24 hours

.
Take me to the Jordan Pass application form
What is the government fee for getting my Jordan Pass?
USD 118.00 per applicant.
What documents are necessary to process the Jordan Pass?
A credit/debit card or a PayPal account.
Valid passport with at least 6 months validity.
Email address.
Is it safe to use iVisa.com to get my Jordan Pass?
Yes, it is. The mission of iVisa.com is to facilitate a rapid and safeguarded service online to permanently keep your personal information protected.
If I need more information, where can I find it?
iVisa.com's support team will be available for you 24 hours a day, 7 days of the week for any questions or concerns you may have.
iVisa.com Recommends
Petra and The Treasury Temple
A historic and archaeological city in southern Jordan. It is still the country's symbol and its main tourist attraction. Also known as the "Rose City" because of the stone color from which it is carved. UNESCO World Heritage Site since 1985. Its surrounding area has been inhabited since 7000 BC. Based on archaeological findings, it is estimated that the Nabataeans (nomadic Arabs) lived in this area from the second century BC and that this was also their capital and core of their commercial activities. Due to its proximity to trade routes, Petra soon became the focus of their wealth.
You get there through the "Siq", a 1.2km long canyon that will lead you to Al-Khazneh temple (means "The Treasury"; the Bedouins called it like that in the early 19th century because they believed there were treasures inside). This might have been the mausoleum of the Nabatean King Aretas IV in the 1st century AD.
Al-Khazneh temple became famous after its facade appeared in the 1989 Hollywood film, "Indiana Jones and the Last Crusade" but it has been featured in many other films and television series.