Disclaimer: We are currently not offering the Jordan tourist visa product. However, you must know all the information to complete the process when we enable it. We offer the Health Declaration Form, a mandatory travel document.
Did you know that the Hashemite Kingdom of Jordan has one of the world's seven wonders as one of its main attractions? Are you a fan of countries with a lot of cultural interest? Then Jordan is the perfect destination for you!
Once you have chosen a destination, the next step is to find out what documents are needed to travel there. For example, as a Bangladeshi citizen, you need a tourist visa and a Health Declaration Form.
The tourist visa is an essential document that sometimes takes time to obtain or becomes a tedious process. But with iVisa, that is not the case. We have a simple method; besides, you will have the support of an expert during the whole process.
If you want to know more about the Tourist Visa, keep reading this article.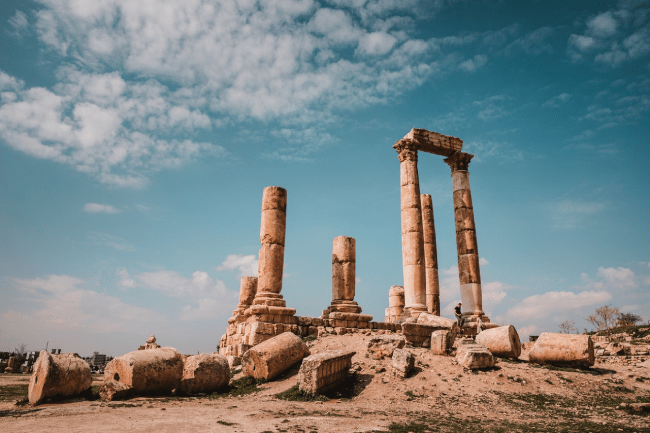 Everything you need to know about the Jordan tourist visa and more.
Continue reading about visa application requirements, processing times, required documents for the travel document, and COVID-19 restrictions.
What is a Jordan visa, and how to obtain this visa from Bangladesh?
To enter Jordan, you need a visa. A Bangladeshi citizen must apply for this document if you are visiting friends or relatives in Jordan. People employed there or holding residence permits don't need one. This visa category is a single-entry travel document that allows you to enter this foreign country for a maximum of 30 days. This is not a student or business visa.
To obtain a visa through iVisa, simply provide us with basic personal information and details about the visa you require. We will then submit your application to the appropriate authorities on your behalf. In addition, we will email you all the information necessary to complete this process.
Remember, this process is online, so you can do it from any electronic device with Wi-Fi.
If you need help, you can find a Jordan Embassy and ask for requirements in person. Remember to go to the nearest embassy from your hometown; however, not all embassies are considered visa application centers.
Does everyone have to apply for this type of document?
Not everybody needs a tourist visa to enter the country; there is a small group of exempt countries. These countries are Bahrain, Egypt, Kuwait, Lebanon, Oman, Qatar, Saudi Arabia, Palestinian Territories, Turkey, United Arab Emirates, and the United Arab Emirates.
On the other hand, everyone must apply for a tourist visa on their own, regardless of age. Therefore, the minor's passport should be filled out. A parent or guardian can help if the minor cannot finish it by himself.
What documents do I need to apply for this travel document?
To apply for this tourist visa, you must present the following documents:
Valid passport - You must present a Bangladeshi passport with a minimum validity of 6 months and two blank pages for visa stamping at the border.

Passport photo - You must have a passport-size photo taken with white background and without any accessories. If you do not have one, iVisa has a photo service available.

Proof of financial support - It is crucial to present a document or bank statement supporting that you have the financial means to travel.

Proof of lodging - You must present all hotel reservations where you will be staying.

Proof of airline ticket - You must present your round-trip airline ticket.

Other documents - You need documentation showing ties to your home country and a document confirming the purpose of your trip.

Email - You must provide your email address to receive your visa.

Payment method - To pay at iVisa, you only need a credit or debit card.
What is the cost of this travel document for Bangladesh citizens?
There are 3 processing options. The visa fees vary depending on your budget. These are as follows:
Standard Processing Time: The first option is slightly slower than the others but at an affordable price. It is perfect for travelers who are not in a hurry and prefer to spend their budget on the trip.

Rush Processing Time: The second option is faster than the previous one but comes at a higher price. Travelers can use it if they have an estimated date within the processing period.

Super Rush Processing Time: The third option is the fastest. This is perfect if, for some reason, you must make an urgent trip, and you need this document as soon as possible.
These prices include the government fee and the service visa fee.
When is the best time to visit Jordan?
If your main destination is to visit the King's Highway, the best time to pick it up is during spring or autumn. From November to March, it rains a lot and can be very dangerous.
The King's Highway is famous because many ancient civilizations have passed through it. Walk along it and discover it with friends or family before reaching the Wadi Mujib gorge, a breathtaking landscape of hills and olive groves where calm and tranquility reign.
Another must-see destination is the Mujib nature reserve. This imposing wilderness area is complemented by the river and steep valleys sculpted over centuries. It is known as the lowest nature reserve in the world and descends slowly towards the saline waters of the Dead Sea.
Today, it is visited primarily by adventure tourists and tour operators, who offer everything from intrepid rock-climbing excursions to zip-lining through the canyons.
Try also visiting the Homestead Gulshan link tower. This place is well known in the country and a magnet for tourists.
COVID-19 Requirements and Restrictions in Jordan
Jordanian health authorities have no restrictions on entry to the country, such as a negative PCR test upon arrival, quarantine, or a vaccination certificate.
Before planning a trip to Jordan, check the following requirements: First, buy an international health insurance plan. And second, this insurance must include a COVID-19 risk and health plan.
We recommend you check our website for any changes to your travel plans for COVID-19 at least a few days before your scheduled departure date.
Where can I contact you?
If you have concerns about the Health Declaration Form or the Tourist visa, we recommend contacting our customer service team or writing at [email protected]. Our experts are available 24 hours a day to assist you.